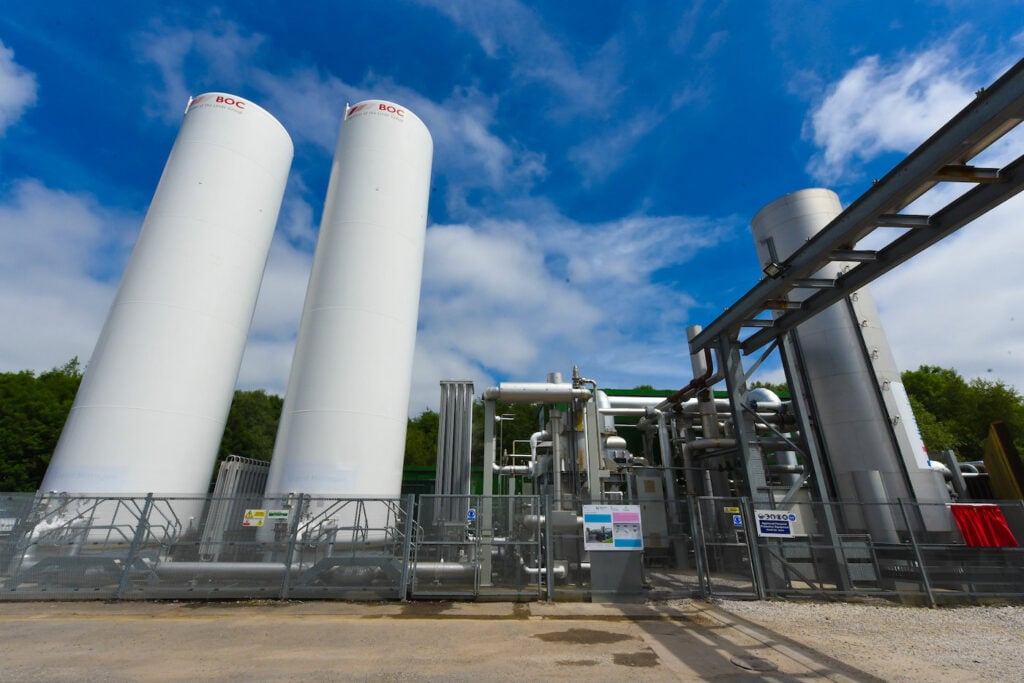 A meeting between energy storage industry representatives and the UK's energy minister Greg Hands took place last week, with discussions centring on unlocking investment in energy storage technologies.
Organised by the Long-Duration Electricity Storage Alliance, the meeting saw representatives from energy companies Drax and SSE Renewables and technology providers Highview Power and Invinity Energy Systems meet with Hands, the Minister of State at the government Department of Business, Energy and Industrial Strategy (BEIS).
According to the Alliance, representatives spoke on how decarbonising the UK's electricity system by 2035 will require a range of flexible home-grown, long-duration energy storage (LDES) technologies in order to strengthen the contribution of renewables and deliver system stability.
A recent report from Aurora Energy Research highlighted the need for LDES, suggesting that up to 24GW of LDES could be needed to effectively manage the intermittency of renewable generation in line with a net zero electricity system by 2035.
Aurora said that a cap and floor mechanism would be best positioned to support the deployment of LDES, echoing similar findings from KPMG.
Finlay McCutcheon, SSE Renewables, director of onshore Europe said: "The swift introduction of an adapted cap and floor mechanism by government this year could unlock billions of pounds of investment in these vital technologies and create thousands of skilled jobs."
In a cap and floor mechanism, revenues or margins are subject to minimum and maximum levels. Below the 'floor' customers would top-up revenues, and earnings above the 'cap' would be returned in whole or in part to customers. It is a model currently used for interconnectors.
The Alliance said LDES will "not only play a major role in significantly reducing the UK's reliance on imported gas" – a key focus of the UK government in light of rising gas prices – but it will also deliver significant efficiency gains to the UK grid, helping to lower consumer energy bills.
Energy bills are set to rise next month as a new price cap comes into effect- 54% higher than the current price cap.
"The Long-Duration Electricity Storage Alliance is a key part of our plan to get the full benefit from our world-class renewables sector," Hands said, adding that the government has already committed £68 million (US$90.38 million) of funding towards the development of LDES technologies.
In July 2021, the government also announced a call for evidence on how to enable long-duration energy storage.
The Long-Duration Electricity Storage Alliance is a new association of companies aiming to progress plans across a range of technologies to be first of their kind to be developed in the UK for decades.
It intends to work with the government to unlock potential developments in new pumped storage hydro capacity, as well as to accelerate the commercial deployment of emerging technologies such as liquid air energy storage and flow batteries.
The group could be considered a UK-based counterpart to the international Long Duration Energy Storage Council, a CEO-led organisation which launched last year at COP26 talks. The Council's members include large renewable energy off-taker companies like Microsoft and Google, alongside various energy storage and wider energy sector stakeholders.
The US government has taken a similar approach to the UK in launching competitive funding opportunities to support the commercialisation of long-duration energy storage tech, as well as making other commitments such as the construction of a long-duration R&D centre at PNNL, one of the country's national laboratories.
The US Department of Energy (DoE) has set a target to lower the cost of long-duration storage 90% by 2030 to make it competitive.
Meanwhile, in continental Europe, industry groups have urged European Union lawmakers to recognise the importance of energy storage, especially long-duration, to enable the low-carbon energy transition while maintaining reliability and suppressing the costs of modernising the electricity network.
Additional reporting for Energy-Storage.news by Andy Colthorpe.
This story first appeared on Current±.