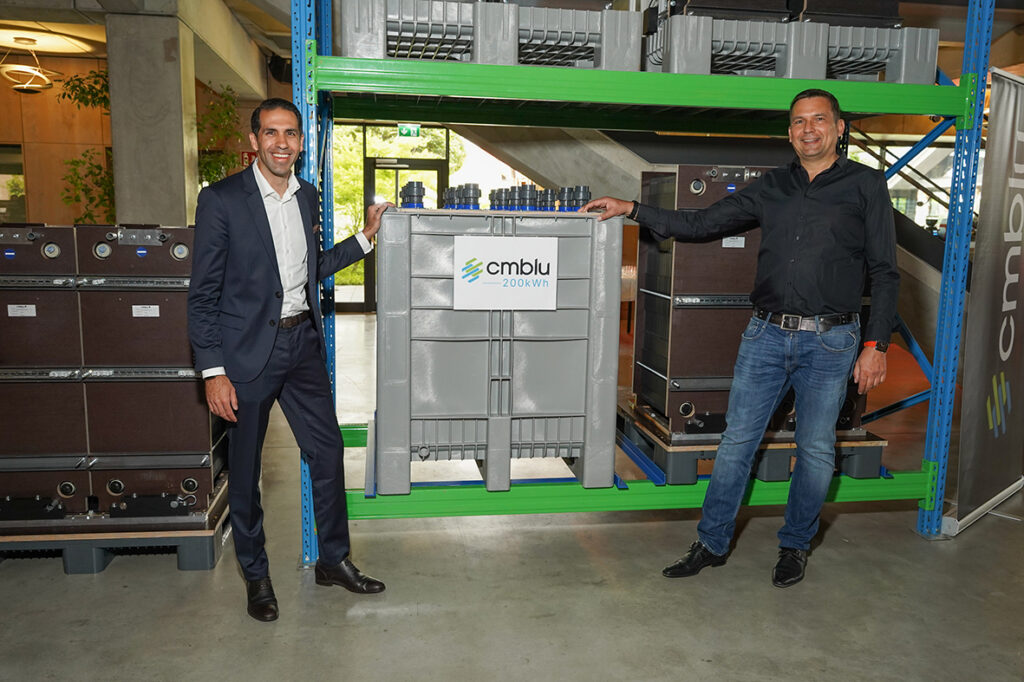 Flow battery companies CMBlu Energy and Redflow, both of whom have developed solutions using alternatives to vanadium, have struck commercial deals in Austria and the US, respectively.
CMBlu partners with Austrian utility and UK consortium
Germany-based flow battery company CMBlu Energy has struck a long-term research and pilot project agreement with an Austrian utility to test its technology.
CMBlu has struck the deal with Burgenland Energie AG, an electricity and gas utility serving around 200,000 customers, to cooperate on large-scale energy storage in the 'multi-megawatt range'.
The companies said that CMBlu's flow battery technology could help make Burgenland, the easternmost region of the country, energy self-sufficient and climate neutral by 2030. The utility's CEO Stephan Sharma said the region needs 100MW/300MWh of energy storage to integrate its renewable resource potential, and that CMBlu was one partner that could help it get there.
However, the first phase of the project is much smaller in scale, comprising an energy storage system attached to a 650kW solar PV farm at a winery.
Dr. Peter Geigle, founder and CEO of CMBlu Energy, said: "This new project is intended to show what is technologically possible with organic solid flow storage. Our organic solid flow energy storage systems can solve a fundamental problem of renewable energies, namely the divergence between generation and demand."
He added that the project would demonstrate its technology's potential to smooth out intermittency of renewable generation, generating business models in energy trading and ultimately reduce costs for consumers in the region. CMBlu has in the past said its technology comprises a flow battery system using lignin, an organic polymer, though does not mention it in recent press releases and its website mentions only that the electrolyte stored in its systems' tanks is carbon-based.
The company is supplying the flow battery technology for Bluestor, a consortium project which was recently awarded funding to pilot its long duration technology in the UK market by the government's Department of Business, Energy and Industrial Strategy (BEIS). The project in Portsmouth will test its potential to displace diesel generators by providing power for boats while docked and also enable port-based energy storage to help the grid.
Phase one of Bluestor's project, set to conclude this month, has shown that flow batteries suit large-scale storage needs in environmentally sensitive areas like the sea, the company said. It is now going to apply for phase two funding which will allow it to build and operate a pre-commercial prototype organic flow battery on a floating barge to supply power to two visiting cruise ships while docked in Portsmouth. See the design below.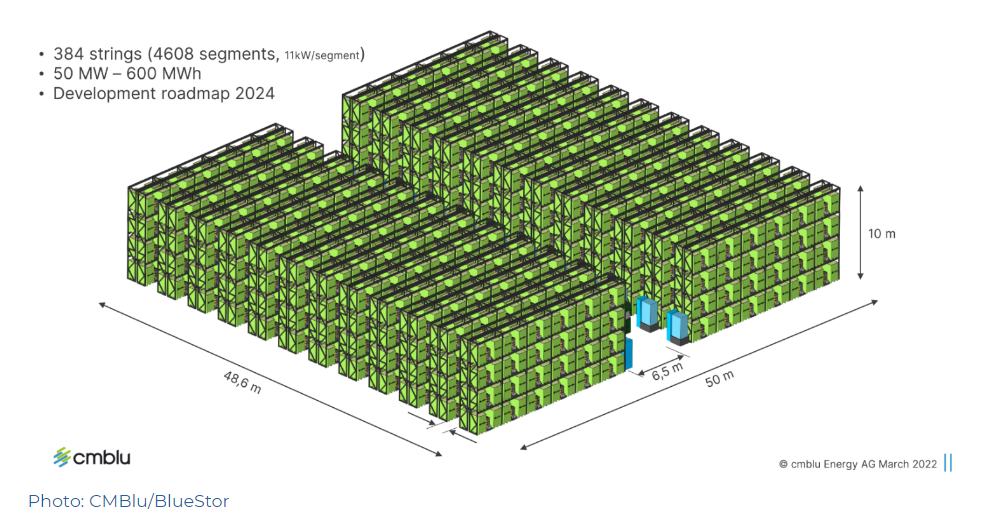 You can read more about other recipients of BEIS' funding for long duration storage in a separate Energy-Storage.news piece published earlier today.
Redflow's zinc flow battery
Australia-based zinc bromine electrolyte-based flow battery company Redflow said its solution can now be used with solar and storage technology company Sol-Ark's hybrid inverters.
Texas-based Sol-Ark builds inverters that manage solar panels and attached battery storage for on and off-grid applications and its products are certified for the California grid operated by CAISO. The partnership should help Redflow build on its presence in the state, which includes a 2MWh system at a waste-to-energy plant, its largest project to-date.
The integration testing was completed at the Redflow Integration and Testing facility in Australia. The company said it demonstrates a complete compatibility between Redflow's ZBM3 zinc-bromine flow battery and Sol-Ark's product line of advanced hybrid inverters for solar PV and energy storage.
"Integration with Sol-Ark's well established product line enables Redflow to deploy its zinc-bromine flow batteries in the United States SME and C&I markets, creating exciting opportunities for Redflow and Sol-Ark to work together to deploy new smaller scale systems across the US, and deliver sustainable and environmentally friendly renewable energy storage solutions," said Redflow CEO Tim Harris.
The company has to-date mostly deployed systems for off-grid applications in Australia, New Zealand and parts of Asia but has recently been making a push into the US market.
Redflow is listed on the Australian Securities Exchange (ASX). In its financial results for the half-year ending 31 December 2021, the company said revenues for the period were AU$1,174,242 (US$853,000), a 172.3% increase on the same period for 2020. It also recently struck a deal with global safety certification company Underwriters Laboratories Inc (UL) for the latter to test its battery technology for six months.