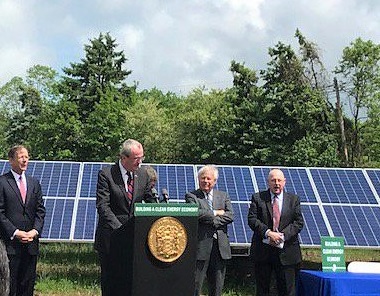 A set of ambitious policy measures have been put in place in New Jersey, after Governor Phil Murphy signed off documents that aim towards 100% clean energy for the state by 2050.
The Renewable Energy Bill, A3723, and Zero Emissions Certificate Bill S2313, were passed in April, but as PV Tech blogger Edgar Gunther wrote a few days ago, had yet to be given the rubber stamp of approval by the Governor.
Renewables bill includes storage target
As reported by Energy-Storage.News at the time of the bills' passing, A3723 on renewable energy includes a target to achieve 600MW of energy storage by 2021 and then 2,000MW by the year 2030. Technology types or applications are not specified.
It also includes energy efficiency standards for businesses – including 2% reduction targets for electricity and 0.75% for gas. Also included is the establishment of community solar programmes, a 3,500MW offshore wind capacity target by 2030 and recommendations to improve the sustainability of solar market design.
The overall renewables targets are for 21% of energy sold in New Jersey to come from Class 1 renewable sources by 2020, then 35% by 2025 and 50% by 2030. In addition to the two bills, Murphy signed an Executive Order to investigate the potential for the Garden State to reach 100% clean energy by 2050.
ESA welcomes renewables bill
Energy Storage Association CEO Kelly Speakes-Backman issued a statement applauding Governor Murphy's action. Speakes-Backman said the "new goal for increasing energy storage will deliver significant economic, environmental and societal benefits to the state."
"Gov. Murphy joins leaders from California, New York, Massachusetts, Oregon, Nevada and Arizona who are enacting policies to encourage energy storage today," Speakes-Backman's ESA statement said.
"The legislation directs the state Board of Public Utilities to study the benefits and costs of energy storage, and to develop a plan to attract energy storage companies to New Jersey. The priority on increasing rapidly growing investments and hiring in New Jersey is a boon for the energy storage industry and its potential new employees.
"This effort to increase energy storage capacity in New Jersey will help lower costs for ratepayers and integrate more wind, solar power and distributed energy onto the grid. In addition, this storage will provide back-up power to critical facilities and enhance the resiliency of the grid during hurricanes and other extreme weather events."
The ESA said it looked forward to working on the cost-benefit analysis with the Public Utilities Board and subsequently helping develop "policies, programs and mechanisms to reach the full potential of energy storage in New Jersey."
Low emissions via nukes
Perhaps more controversially, the Zero Emissions Certificate bill, S2313, includes protection for New Jersey's nuclear power resources as a carbon-free source of energy.
"Plants seeking to participate in the program would be required, among other things, to demonstrate that they make a significant contribution to New Jersey air quality and that they are at risk of closure within three years," a statement from Governor Murphy's office read.