VC funding for battery energy storage companies in the first half of this year has already exceeded 2016's total and looks on the way to bettering 2017, with US$539 million raised across 29 deals.
That's according to Mercom Capital, the analysis and communications group, which issues quarterly reports on VC funding and mergers and acquisitions (M&A) in battery storage, as well as looking at the energy efficiency and smart grid sectors.
Energy-Storage.news reported back in late January 2018 that the full year for 2017 showed US$714 million raised across 30 deals, while 2016 saw 28 VC deals brokered, for a value of US$365 million. Furthermore, the 2017 total included Chinese EV battery maker Microvast Power Systems' US$400 million investment, led by Chinese investment bank CITIC Securities.
This time out, the VC cash appears to have been spread a little more evenly, and readers will note that three of the top five recipients of VC investment identified by Mercom Capital are active in behind-the-meter energy storage. As seen in the chart below, US C&I 'artificial intelligence-backed' energy storage fleet provider Stem Inc's Series D financing round, which closed at US$80 million to scale up activities in Ontario's fast-growing market, tops the list. The company has since netted a further significant investment, reported this week, and it has been noted that in both those rounds of funding, an institutional investor, Ontario Teachers' Pension Plan group, played a prominent role.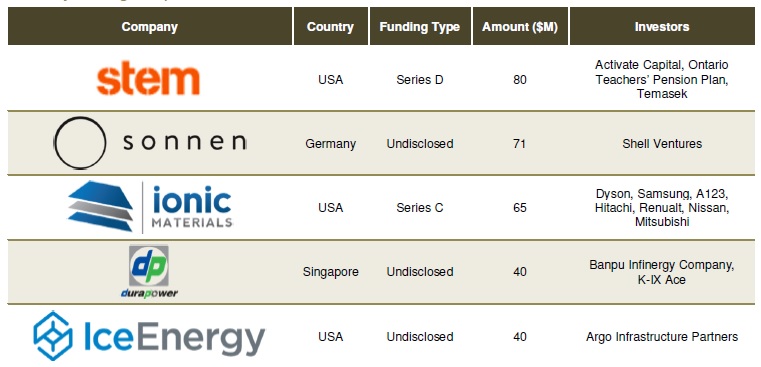 In second place is another familiar name – Sonnen's €60 million (US$70.23 million) investment round this year included the participation of oil and gas major Shell. At the time, a Shell spokesman said that the investment was in line with a strategy "to partner with leading companies to deliver more and cleaner energy solutions to our customers". The investment came from Shell Ventures, the Dutch company's VC subsidiary. Sonnen CEO Christoph Ostermann said in a Q&A with Energy-Storage.news that this proved the fossil fuel company was among those taking action and not simply just talking about investing in clean energy.
"This investment enables us to combine Shell's power business activities with sonnen's high quality, innovative products and business model to enhance our consumer energy offerings," Shell VP for energy solutions Brian Davis, said.
Ice Energy, a maker of thermal energy storage that offers a low cost efficiency boost for air conditioning units, was the other well-known behind-the-meter company to benefit from VC cash, coming in fifth in the table after solid state battery tech company Ionic Materials and battery integration specialist Dura Power. Ice got a commitment for around US$40 million from private equity manager Argo Infrastructure Partners.
The inclusion of Ionic Materials is perhaps interesting for the profile of investor as much as the sum (US$65 million) raised in a Series C round. UK tech company Dyson, which invested in another sold state battery innovator, Sakti3, Samsung and energy storage tech specialist A123 (which spun out most of its system business and sold it to NEC a while ago to create NEC Energy Solutions), were among the investors, along with Hitachi, Renault, Nissan and Mitsubishi, which of course all have stakes in EV battery and energy storage battery development.
In debt and public market financing, while the first half of 2018 compared favourably with the first half of 2017, with US$142 million raised in five deals this time out, compared to US$129 million in H1 2017 – although that was spread across more deals (nine).