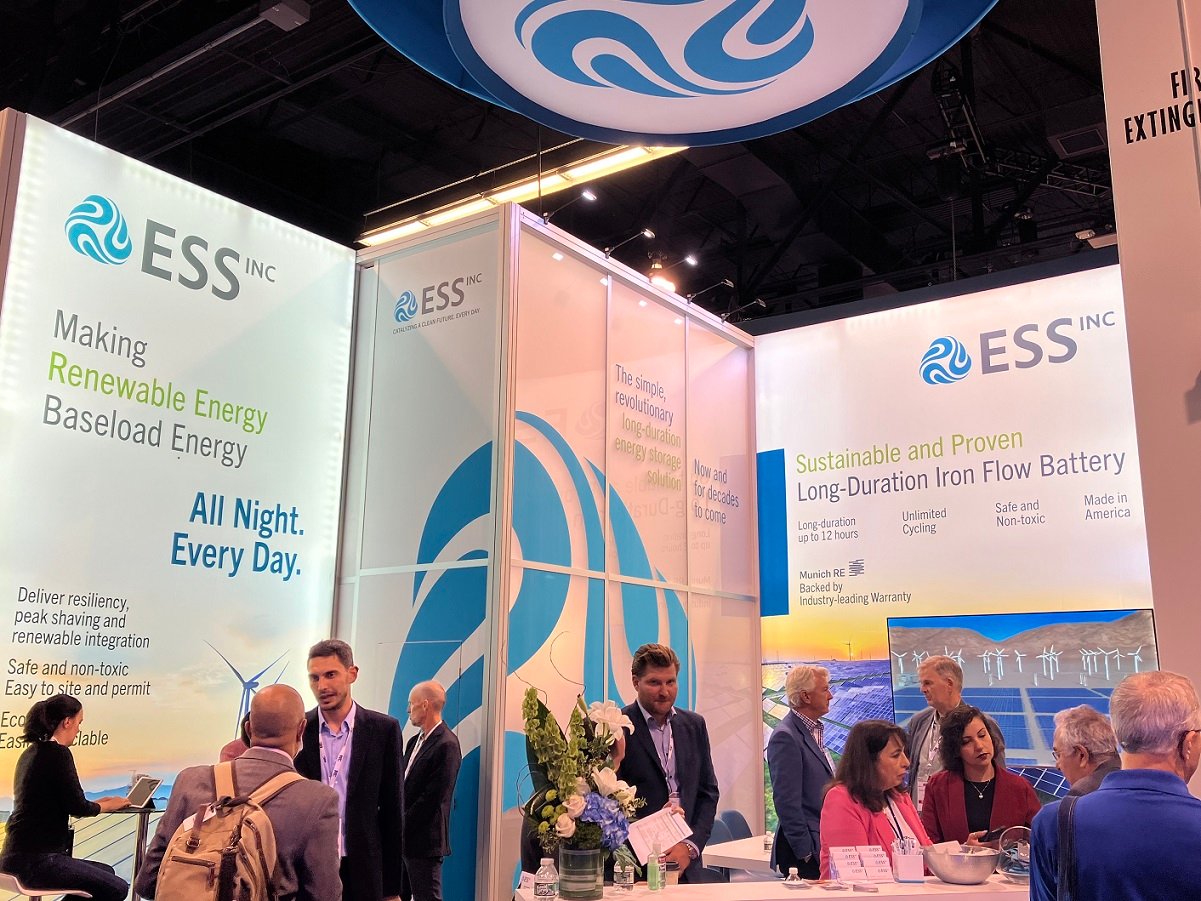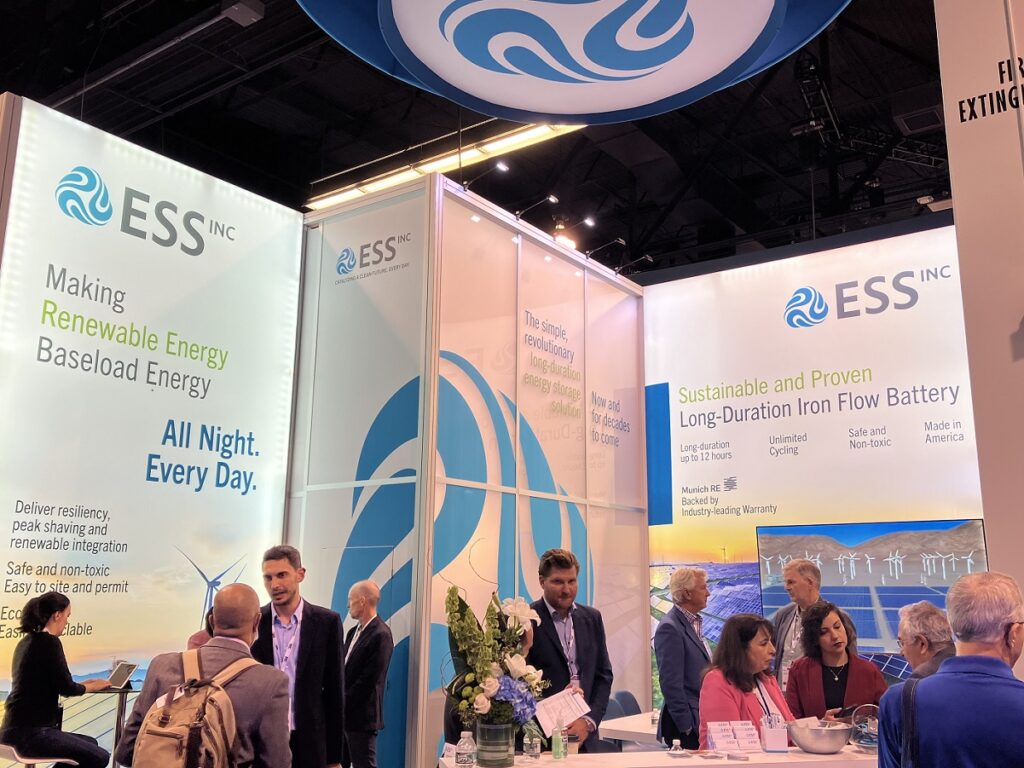 Our series of energy storage industry leader interviews at RE+ 2022 continues as we speak to Hugh McDermott and Alan Greenshields of iron flow battery company ESS Inc.
ESS Inc holds the IP and is the only manufacturer of the battery technology, which features a non-toxic iron and saltwater electrolyte and is targeting the multi-hour long-duration energy storage segment. That sets it apart from the majority of other flow battery companies, which use vanadium electrolyte, such as Invinity Energy Systems, whose own interview was published earlier this week.
This article requires
Premium Subscription
Basic (FREE) Subscription
Enjoy 12 months of exclusive analysis
Regular insight and analysis of the industry's biggest developments

In-depth interviews with the industry's leading figures

Annual digital subscription to the PV Tech Power journal

Discounts on Solar Media's portfolio of events, in-person and virtual
Or continue reading this article for free
While ESS Inc only began recognising revenues earlier this year as it targets commercialisation and ultimately profitability, it had already ramped its production lines to 500MWh of annual output by the middle of this year, aiming for 750MWh of annual capacity with the addition of automated lines in Q4.
In addition to growing its customer base in its home market of the US, ESS Inc has opened a European office, formed a partnership to tackle the Australian market – including the construction of a factory by strategic partner Energy Storage Industries Asia-Pacific (ESI) – and is thought to be in talks with a potential partner in Malaysia.  
ESS Inc even hosted a visit earlier this year from US Secretary of Energy Jennifer Granholm at its facilities. Granholm remarked that ESS Inc was the type of company finding answers to the question that keeps her awake at night – namely, how to provide long-duration grid storage at scale.
During the RE+ 2022 show, the US' biggest trade show for solar PV and energy storage, the company announced an agreement for up to 200MW/2GWh of iron flow batteries with California utility Sacramento Municipal Utility District (SMUD).
You can read about that partnership with SMUD in our previous coverage here. In this interview we explore in detail what the iron flow battery can do, what its main characteristics are and why ESS Inc believes it's a perfect enabler for the transition to a decentralised, decarbonised energy system.
Hugh McDermott is ESS Inc's senior VP for business development and sales, and Alan Greenshields is its director in the EMEA region.
ESS Inc listed on the New York Stock Exchange in 2021 and began recognising revenues this year with the delivery of several 400kWh commercial and industrial (C&I) units. We have heard for a while from flow battery companies and their backers that a tipping point could be near. What's changed for ESS Inc in the last couple of years in terms of industry and customer interest?
Hugh McDermott: Two years ago, I would say we were still evangelising on long-duration storage. We were a thought leader then and seen as such, but there was not widespread conviction that long duration storage was needed or [people] didn't even understand exactly what it does.
The inflection point was probably the middle of last year, leading up to COP26. McKinsey did their analysis looking at all the decarbonisation goals globally in the electricity sector and working backwards to solve for hitting a decarbonisation of the electricity grid, they analysed and resulted in a figure of 140 terawatt-hours of long-duration storage.
That sounds like this colossally big number but it's about 3% of projected total consumption in 2050. It's a ridiculously small tick, and of that 140TWh, some 80% of it is long duration, which they defined as more than four hours and up to 24 hours, which is the spot we play in.
You've got evidence now in multiple places that if you get above penetrations of 20% to 25% renewable energy on a grid, four hours of storage no longer is sufficient. The Duck Curve shows that, and that trend is only getting worse between the duration of the ramps in the morning the durations of the ramps in the evening.
People now are starting to figure that that's the requirement. There's no major market, anywhere in the world, where there's not major players that have reached out and want to know more about what long duration storages are, about our technology and our capability.
In terms of that technology, what are ESS Inc's manufacturing plans over the next few years?
We can't have enough manufacturing expansion. Just the first three major deals we've announced are 2GW of backlog for the next 10 years. So, manufacturing scale is probably the single biggest corporate focus right now. Every next new deal that comes along is going to need additional manufacturing expansions to support it.
Right now, we'll be very modestly getting our first fully automated lines up in Wilsonville, Oregon. They've already been installed; they're going to start producing modules next month. By the end of next year, we're aiming to be somewhere between 100MW and 150MW of battery module production capacity. Then we're going to be looking to just replicate that.
We've also announced an assembly plant partnership in Australia, and our partners aim to have that up and operating by sometime mid-2024.
In the meantime, we're supplying them finished products from the US to meet their immediate demand, we'll shift to components that will be shipped there, the battery modules primarily. They'll do all the local sourcing in Australia and assembly of the products for that market. That's a model that is pretty reasonable to expect, in some form or fashion, that we're going to be doing in other markets, not only overseas, but also domestically.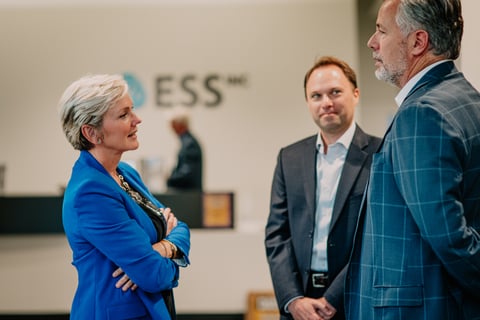 In terms of the product development, what are some of the iterations that the iron flow battery has been through? In terms of the battery chemistry and electrolyte, is that mostly fixed and unchanging, and on the software and energy management system (EMS) side, how is that changing and is it a question of responding to different customer or application-related requirements?
At a high level, on the product side we're focused on things like increasing energy density and slightly increasing power. There are some theoretical limits to how much more power you can squeeze out of the battery.
In our roadmap, we want to start building and designing products in the next iteration that will support the next generation of inverters that are coming to market, the higher voltage input inverters.
Elsewhere, adding new functions: we're deploying the first flow batteries with black start capability. They're being commissioned as we speak. You wouldn't think a flow battery would have that, because you need energy to run the [electrolyte] pumps.
On the software side, we've got plenty of scope to make some improvements there, but our software is really limited to running the pumps and drives.
The actual real smarts are going to be coming from a third-party vendor or a SCADA system of some sort, where it's going to be plugging into the back end of a distribution management system, optimising distribution requirements, sending that back out to the inverter and communicating what it needs the battery to do. We partner with companies in that space.
Since late August, every conversation around the US energy storage sector has focused at some point on the Inflation Reduction Act (IRA). It's safe to say the industry is excited and optimistic about that and its incentives for deployment and manufacturing of battery storage technologies. We've heard flow batteries could be boosted as well as lithium-ion, from some sources. What do you expect the IRA's impact to be for ESS Inc and for the wider industry?
With the investment tax credit (ITC) for standalone storage factored in now, it's going to make what was formerly borderline or uneconomic business cases pencil out and buy down risk that they would not otherwise have been in position to take.
We tick the 40% ITC threshold, because we meet the prevailing wage requirements, we also have the domestic content requirements. So, we're very pleased with the IRA.
At a high level, if you think about the demand creation [that will result], that's equivalent to about a trillion-dollar injection into the US economy over the next decade. You have close to half a trillion of the of the IRA ITC benefits, that's going to be matched by the private sector, so you're closing in on a trillion dollars that's going to be flooding into the sector.
My expectation is that things are going to accelerate a lot faster than people actually think. We've seen uptick in demand already since the IRA passed into law.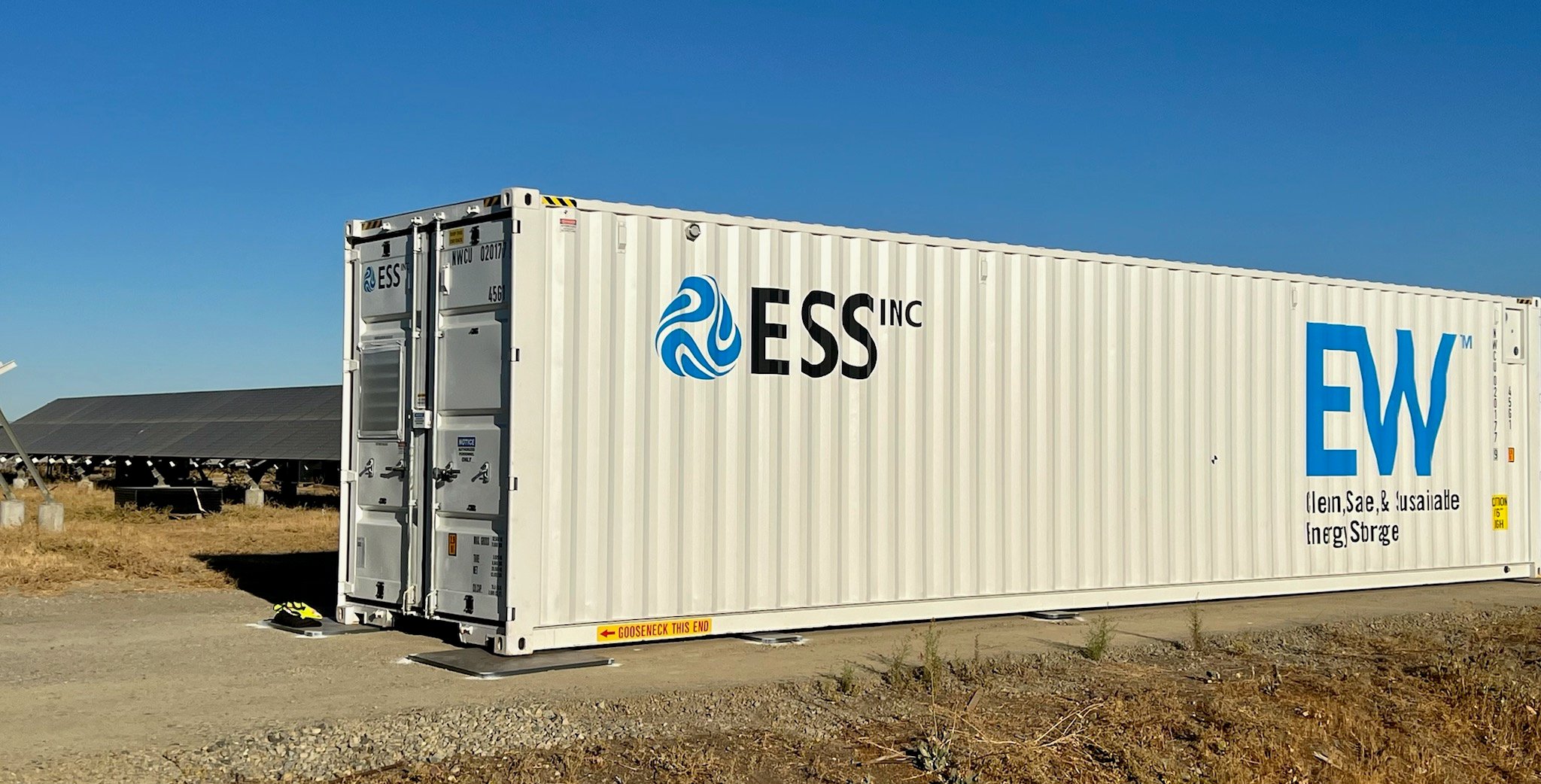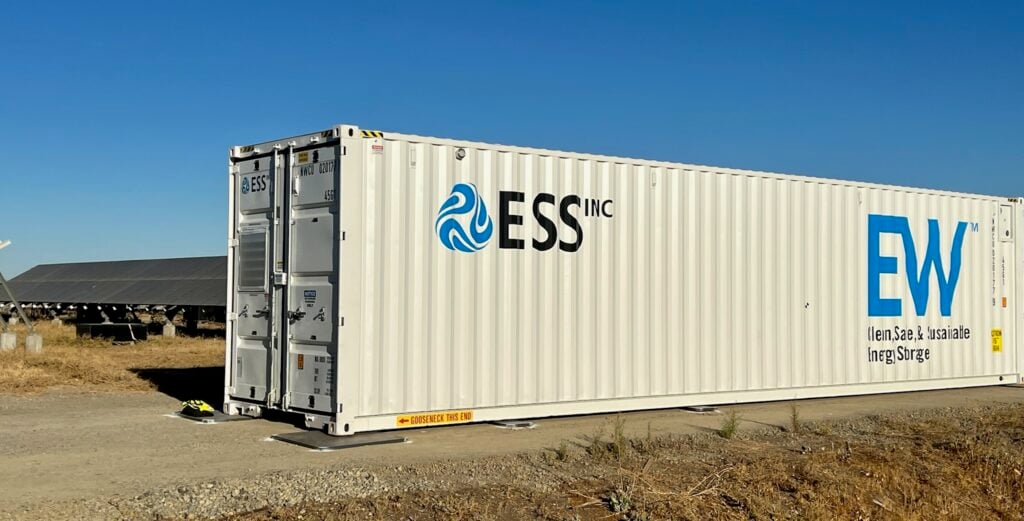 That's the US, but what's the situation like over in Europe and what's the outlook for ESS Inc and the wider long-duration energy storage technology suite there?
Alan Greenshields: If you just reflect on what's happened in the last few months, at the highest level, you have things happening now like the Prime Minister of Finland, in their speech to the EU, saying: "Our future depends on renewable energy, investment in transmission and storage".
The word 'storage' never appeared at any of these types of speeches even six months ago.
There's been a lot of thinking about how we solve the current crisis, and it really accelerated the thought process to say, "you can't do it without energy storage".
Look at what happened in Germany, which until two months ago didn't have a legal definition of what a storage system is within the framework of an electricity system. It's now enacted and in law.
These are important forward-looking indicators of how things are going, that at the EU and also a country level, at government level, storage is on the agenda as a key item, because it's really the missing piece to fully decarbonise.
As long as the strategy in continental Europe was: "We can burn dirt cheap Russian gas, and have an intention to replace it with green hydrogen at some point in the future," there was an argument to not do anything.
But that's changed. Storage is mentioned in just about every strategic strategy document for energy now because to address the current crisis, obviously, we can't rebuild the power grid by next winter, but we can start doing the steps to make sure that we fix the problem for the long term.
You have to replace the function of gas in the power grid and the only way to do it is long-duration storage, because the function of a gas peaker plant goes way beyond what you do with a lithium battery.
There are a lot of business cases for long-duration flow batteries in the C&I space and for resiliency, and all of these things are important.
Now in Europe, you [also] have a special case where it's been made an important survival goal to replace gas with something else, and the only something else you can do in a reasonable timescale is renewables and combine it with storage so that you can cut down the amount of gas you're burning. For that function in the power grids at that level, I would say it's been a really tectonic shift.