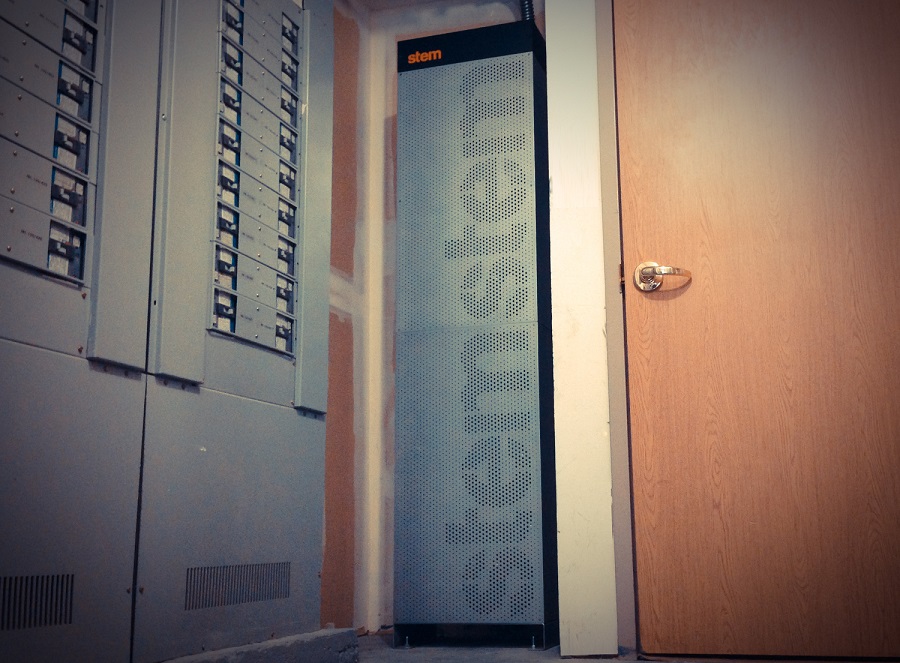 Stem Inc, which offers commercial and industrial (C&I) customers battery storage systems to lower their energy costs, has partnered with Canadian state-owned utility Ontario Power Generation to offer Ontario businesses 'no-money-down' energy storage solutions.
US-headquartered Stem, which describes itself as an 'Artificial Intelligence for energy storage company', has a track record in its home country, particularly in California, of delivering battery and software solutions to C&I customers that reduce the host business' need to draw energy from the grid at peak times.
The batteries can also be used to provide other services that could accrue revenues or make savings, such as ancillary grid services, or integrating onsite solar self-consumption. Provider and customer effectively 'share' the net savings on energy bills that Stem guarantees, enabling the company to offer its solutions on a 'no-money-down', long-term contract basis. Essentially, Stem and rivals including Green Charge (now ENGIE Storage) and Advanced Microgrid Solutions (AMS) have made their name through creating a market for 'energy storage as a service'.
As well as making limited expansion moves into other territories and markets, including a virtual power plant (VPP) project in Japan and a recent launch for a solar-plus-storage offering in Arizona, the company has been active in Ontario for some time. The company has a number of projects executed or in the pipeline in the province and in late July announced it had netted CA$200 million (US$151 million) in project finance from institutional investor group Ontario Teachers' Pension Plan.
The Canadian province has been identified as a hot market in C&I energy storage, not least because of the Global Adjustment Charge (GAC) policy mechanism, which uses peak electricity pricing tariffs to pay for grid upkeep and clean energy policies, with commercial customers levied the highest rates. Recent developments include a 42MWh deal between developer NRStor – another big recipient of project finance from institutional investors – and solutions provider IHI Inc and a single 48MW / 144MWh energy storage system provided by Fluence to PUC Distribution, a designated electricity distribution provider in the Ontario city of Sault Ste. Marie. The largest single C&I project already up and running in the province is a 10MW / 20MWh battery system installed by Convergent Energy + Power and made by IHI Inc.
GAC not the only game in town
Meanwhile, OPG is Ontario's single largest power generator, with close to 1GW annual generation and supplying around half of Ontario's inhabitants with electricity. A website created for the partnership with Stem states that the OPG-Stem offering is specifically designed for Ontario and "is ideal for large manufacturing plants and other industrial operations that seek to reduce energy costs".
A Stem representative told Energy-Storage.news today that the offering will be focused on the Global Adjustment Charge as the primary driver for energy cost savings. Energy-Storage.news asked how central to the proposition the GAC policy was, and whether there was an expectation that even if policies change in this area, savings could still be delivered.
"Stem's services in Ontario are focused on providing industrial customers with no-money-down options to control their energy costs, using artificial intelligence to help manage energy decisions now and into the future," the representative said.
"Global Adjustment is the leading mechanism for savings today but Stem will be providing other services, including demand response and other applications as new opportunities for savings arise."
The Stem-OPG partnership will not be focussing on solar-plus-storage, Stem clarified, with opportunities for those combined technologies currently more interesting in "many US states", the representative said. The company said it is not presently focused on targeting other specific partnerships of this type but "will continue to explore other partnerships as available," while the representative added that in Ontario, as with its work in other regions, the company expects to find success through "working closely with strong, local partners".
Having opened an Ontario office and hired staff, the company is expecting to "announce several more projects from the [OPG] partnership in the coming months". Projects are expected to utilise Stem's AI platform, dubbed 'Athena', which performs real-time energy optimisation tasks.