20 April 2020: Victoria plays up growing importance of aggregation as rebate scheme expands
The Australian state of Victoria has confirmed the continuation of a rebate scheme applying to residential purchases of solar and battery energy storage.
The Victoria Solar Homes Program was introduced in 2018, representing 10 years and AU$1.8 billion (US$1.13 billion) commitment to supporting solar PV, solar hot water systems and battery storage for solar systems at residential level. To date, around 67,000 homes have used the scheme.
The programme will be expanded as of July to include rebates for around half the price of an average 11kWh household battery and rebates for aggregated batteries to serve communities. The Victorian government said that aggregation of solar to help meet the peak – a la virtual power plants – "will increasingly become a vital tool to enable the increased visibility of energy usage across the grid", as well as boosting reliability and security of the grid and allowing solar penetration of the grid to go to ever-higher levels without causing grid congestion. Some of the other new regulations for the scheme, for example, include that after 1 September, solar PV systems must come with internet connectivity.
In a programme currently pencilled in to support 10,000 battery deployments over 10 years, the government will hand out 500 rebates between July and December this year. For more details, including eligible vendor lists, the government has put out this guide. Several of Australia's states now have rebate or other incentive schemes in place to support solar-storage batteries, with South Australia – where hundreds of batteries have already been integrated in a virtual power plant – perhaps the most prominent example.
21 April 2020: Vanadium mining and processing plant plans given support as WA state government targets battery industry strategy
The government of Western Australia (WA) has handed support to a project by Australian Vanadium Limited, a vanadium mining company seeking to vertically integrate its supply chain with its vanadium flow battery subsidiary VSUN Energy.
Stock Exchange-listed Australian Vanadium has been given Lead Agency status in WA by the state government's Department of Mines, Industry Regulation and Safety (DMIRS) for its project to develop vanadium supply from a mining project and concentrator as well as a processing plant nearby (pictured below).
The Australian Vanadium Project was awarded Major Project Status by the Federal Government last September, with vanadium on a "critical materials" list not only in Australia but also in the UK and US. The metal is used not only in the energy storage industry as electrolyte material for redox flow batteries by some makers but is also used in the steel industry and aerospace construction.
At state level, the DMIRS will now "provide advice and assistance" to Australian Vanadium on how to coordinate getting project approvals across government. Australian Vanadium says that the project could create 500 jobs during construction, while resources thought to be available could support an initial 17-year lifetime for the facilities over just 2.5km of a total 11km of vanadium minerals thought to be in the area.
WA's government is also targeting becoming a leading exporter of battery materials through a Future Battery Industry Strategy. Australian Vanadium and flow battery subsidiary VSUN meanwhile signed an agreement to work with the Future Batteries Industry Cooperative Research Centre (FBI CRC) on developing vanadium extraction and processing skills, particularly in Western Australia, in late 2018.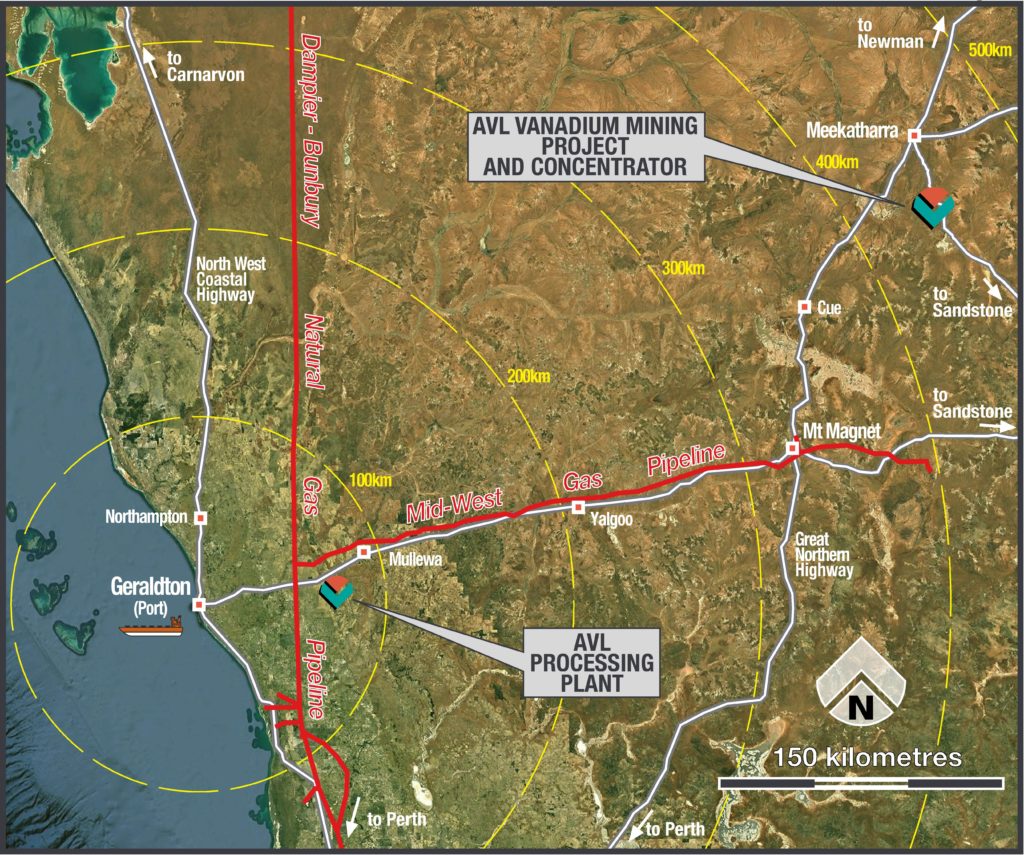 Early April 2020: Neoen targeting AU$300m, 600MW battery project in Victoria
Also in Victoria, independent power producer Neoen, which earlier this month completed the 50% capacity expansion of its Hornsdale utility-scale battery in South Australia, filed an application to build a AU$300 million (US$189 million) battery project.
Energy-Storage.news had reported the expansion of the then-129MWh Hornsdale Power Reserve project last year, with the backing of the national Clean Energy Finance Council, for a project which is located near sizeable wind farms and expected to pay for itself within a few short years due to the important role it plays in ensuring grid stability and helping integrate renewable energy.
The France-headquartered firm more recently filed a project application to build what is expected to be an even bigger new battery project with developer Mondo Power. It will be located around 13km from the City of Geelong at the site of Moorabool Terminal Station, close to power network infrastructure and according to the documents and plans filed with the local authorities, will have a capacity of "up to 600MW," and referred to as the Victorian Big Battery.
The plans put forward in support of the project note that Neoen's Hornsdale project reduced electricity costs and prices for customers in South Australia by AU$50 million in its first year of operation alone. Consultanct Aurecon had found the first year to have been an "undeniable success" as this site reported back in late 2018. Energy-Storage.news sent a request for more information to the Neoen representative in Canberra, Australia, who's name is listed on the planning application but has not heard back in response. Back in September it was also reported that Neoen is developing a South Australia "energy superpark" including 1.2GW of wind, 600MW of solar and 800MW of battery storage capacity.