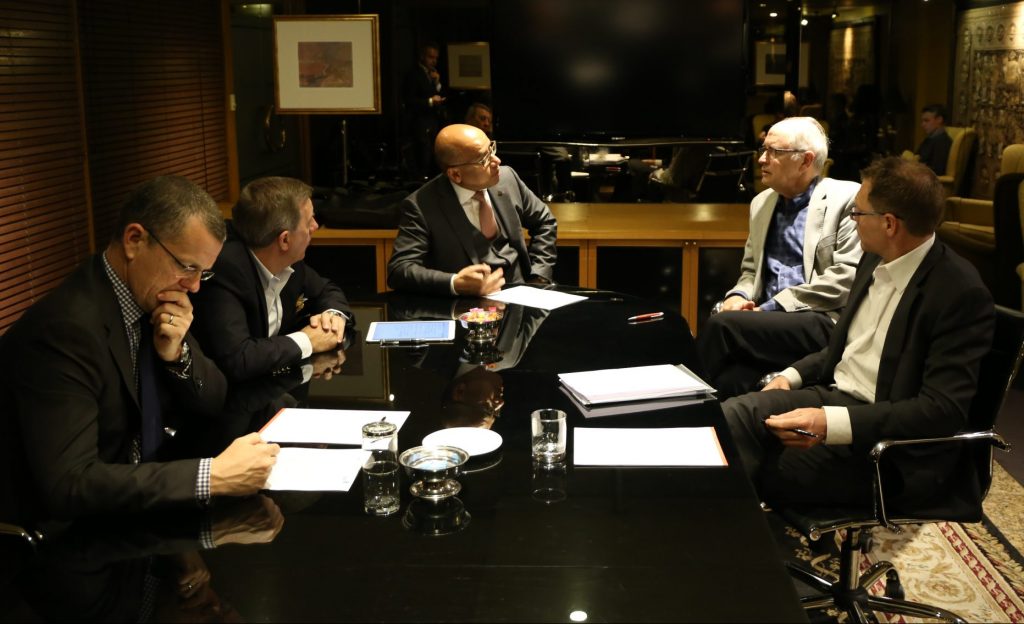 Hospitals, schools and railways in South Australia will be powered by an electricity retailer started up by billionaire steel trader Sanjeev Gupta, following the signing of an agreement between the state government and Gupta's SIMEC ZEN Energy.
South Australia's premier, Jay Weatherill, who has been a recent high-profile supporter of renewables and energy storage, particularly over coal, announced yesterday that SIMEC ZEN will supply over 80% of the South Australian government's electrical load in 2018.
Developer SolarReserve is currently executing a 150MW solar thermal power plant with eight hours' energy storage duration in South Australia's Port Augusta. The project was described by Weatherill as a "stark example" of the way the state's economy is transitioning from "dirty coal fired" power stations to renewables.
When completed in 2019, it will enable SIMEC ZEN to be supplying all of the state government's electricity demand. From November 2020 onwards, the retailer will also supply South Australia's government with "ongoing retail services" while the Port Augusta solar thermal plant, dubbed Aurora, will support the load.
With an existing electricity supply agreement due to expire at the end of this year, the "bridging" supply deal has been brokered to fill the gap.
"It's fantastic that we were able to secure the electricity to supply our hospitals, schools and electrified rail for the next few years while supporting the growth of a new retail business that will bring some much-needed additional competition into the energy market," Weatherill said.
A first customer for SIMEC ZEN
Jay Weatherill's colleague, energy minister Tom Koutsantonis, said he saw SIMEC ZEN becoming a "major national player in the supply of renewable energy firmed by storage," particularly in the commercial and industrial (C&I) sector.
Gupta, an entrepreneur and head of Liberty House Group, involved in everything from steel and aluminium production and commodities trading to engineering, power generation and banking, launched SIMEC ZEN earlier this year. Gupta's family-run GFG Alliance made a strategic entry into Australia's energy market in September, acquiring a majority ownership stake in power producer and project developer ZEN. GFG took just over 50% (50.1%) of ZEN.
Sanjeev Gupta explicitly spelled out the potential he and his companies saw in the C&I sector in October, as ZEN launched a plan to deploy 1GW of dispatchable renewables aimed at industrial users – including steel companies within the GFG Alliance-owned group.
At the first board meeting of the newly-created company, executives endorsed project plans including 200MW of solar PV, 120MW of which will be built on land owned by Gupta's LibertyOne Steel, a 100MW / 100MWh battery energy storage project at Port Augusta, 100MW of demand response, including some sited at group-owned steelworks plants, and a 120MW / 600MWh pumped hydro storage facility as well as a further 480MW of solar PV planned for industrial operations sites.
South Australia's government therefore becomes SIMEC ZEN's first retail electricity customer. Energy minister Koutsantonis said the company's entrance added "new competition into the retail market, putting downward pressure on power prices that will benefit all South Australians".
"This is the beginning of a journey that will see SIMEC ZEN Energy redefine the energy landscape of Australia, bringing down costs dramatically and making globally competitive energy a key advantage for Australian industry," Sanjeev Gupta said.
"Australia deserves a competitive energy industry. This will drive jobs and growth, it will encourage the private sector to invest and entrepreneurs to take more risk, not only in South Australia but across the country."