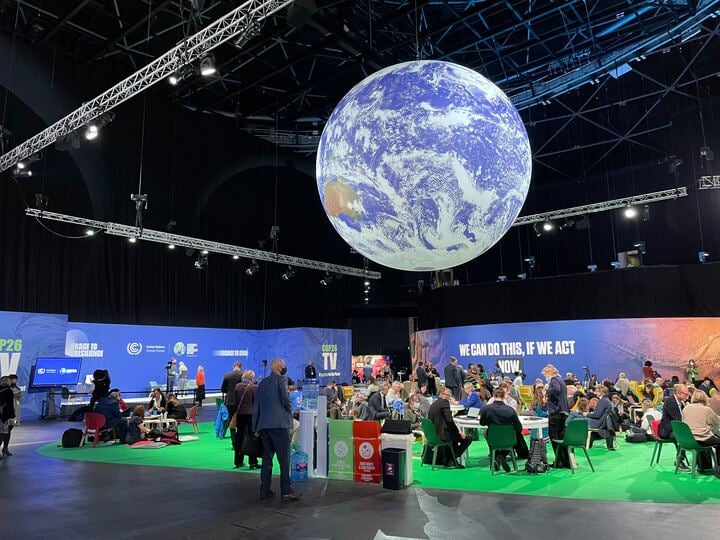 Energy storage is vital to allow renewable energy to replace fossil fuels at the heart of the global energy system, but batteries and other storage technologies have largely been ignored in discussions at and around COP26 climate talks. That's not good enough, argues Amit Gudka, entrepreneur and founder of clean energy infrastructure company Field.
There are many urgent issues topping the agenda at this year's COP summit, which for obvious reasons has been billed as 'the big one'. Ranging from reducing coal use to establishing a global carbon market, policymakers are under immense pressure to turn the tide on the climate crisis, and quickly.
But for all their good intentions, battery storage – a crucial enabler of the transition to renewables – has been broadly missing from the net zero conversation.
Simply put, renewable generation can't scale without energy storage.
Let's look at why COP26 is the pivotal moment to change that.
1. Time is running out to avoid climate catastrophe.
If we're going to hit net zero before it's too late, we need a huge change to our energy infrastructure in a very short amount of time.
Bloomberg's 2021 New Energy Outlook report found that global energy-related emissions need to drop 75% by 2040 to reach net-zero in 2050. This requires a major transition to renewable energy – which also means overcoming challenges like how to store renewable energy and solve grid intermittency.
To do this requires a massive amount of new renewable infrastructure (including storage) – fast. We'll need to invest at least US$15tn globally over the next 30 years. 
The good news is that a lot of the technology to get us to net zero is actually available already. We just need to deploy it much faster, and energy policy across the world needs to catch up to allow that to happen.
2. Developed markets need to commit to renewables + storage over gas-fired generation
Policymakers and financiers in developed countries need to now commit to building storage instead of building out more gas. Whilst gas generation has clearly been an improvement on coal, methane leakage is a big problem and it is only a mid-term solution on the path to net zero – instead, we need to think bigger and invest more in the real, long-term solutions that will get emissions to where they need to be.
Energy storage technology is now economically viable, and is improving rapidly, with robust manufacturing which is now scaling up everywhere. Now is the time to commit to it, invest heavily, and keep iterating to make it more efficient and profitable – and, not for instance, continue to construct new gas peaker plants to manage grid intermittency. 
The recent gas price volatility hopefully reveals to policymakers around the world the significant risks in taking this short-term strategy, without even going into the obvious climate related reasons for doing so.
The UK, Australia, US (Texas and California in particular), and China are some of the most advanced on grid-scale battery deployment, but still remain in their infancy.
While there is still a long way to go, decision-makers in these markets should be lauded for adapting much faster to the new paradigm, and pushing to create a grid that integrates storage more effectively, with multiple available revenue streams. The rest of the world needs to follow suit urgently.
3. Developing countries have the potential to phase out coal and leapfrog a reliance on gas
Now that renewable generation and storage solutions are economically viable, developing countries have a unique opportunity. These countries can move from coal straight to scaling storage in tandem with renewable generation, and largely avoid the intermediate stage of high gas generation.
Developed countries had to follow the gas path while renewable generation and storage technology was still nascent, but now that the technology is maturing fast, developing countries don't have to take the same path.
This is a win-win: domestically, they end up with greater energy self-reliance and more efficient spending on energy infrastructure, and globally, it accelerates the world's transition to net zero.
4. The world is watching – let's be bold
This is a critical moment where everyone in the world, regardless of their sector, has their eyes on COP26.
Now is the time for policymakers to make bold long-term decisions to take us to net zero.
Now is the time for financiers from other sectors to consider investing in bold infrastructure companies that want to scale solutions faster than ever before.
Now is the time for existing infrastructure investors to become a bit more flexible to the new energy paradigm, and consider taking on a higher degree of merchant risk for storage assets.
Now is the time to show the world the potential if we align capital wealth with planetary health.
What do we want to see at COP26?
So we know why COP26 is the time to act on battery storage. But what should that action look like in practice? Over the next two weeks, and beyond, we need to see:
Immediate policy commitments from lagging countries to create the right market conditions for energy storage to manage intermittency efficiently (with viable economics) alongside renewable generation.
Developed countries start to take serious action on their pledge to mobilise $100bn in climate finance per year – enabling developing countries to start committing to scaling renewable generation and storage in parallel now.
Commitments from developed countries to take on more innovation risk, betting on new technologies that have the potential to accelerate the net zero transition.
About the author
Amit Gudka has founded the UK company Field to finance, build and operate the renewable infrastructure needed to reach net zero and avoid climate catastrophe – starting with battery storage. He has experience of trading electricity and gas for nearly a decade and prior to launching Field founded a renewable energy retail utility group.