Ok, my colleagues and family are bored of hearing how great Solar Power International / Energy Storage International was in Utah last week and indeed, of how welcoming Salt Lake City was to the 12,000+ renewable energy industry professionals and interested parties that attended. Here are my top takeaways from the show in order of narrative, if not in order of importance:
1. The capacity factory – how and why tomorrow's solar-plus-storage can be an equal on the grid to today's fossil fuels
This article requires
Premium Subscription
Basic (FREE) Subscription
Enjoy 12 months of exclusive analysis
Regular insight and analysis of the industry's biggest developments

In-depth interviews with the industry's leading figures

Annual digital subscription to the PV Tech Power journal

Discounts on Solar Media's portfolio of events, in-person and virtual
Or continue reading this article for free
Of the dozens of panel discussions taking place, perhaps the most animated involved some shouting and finger-pointing that occurred apparently almost as soon as this reporter left the room for another meeting.
In short, Alex Au, CTO of NEXTracker, came out fighting passionately for solar to find its rightful place on the grid. We caught up with Alex afterwards and he told us that, despite the huge success enjoyed by the industry, a solar power plant still isn't considered the equal of a thermal generator by the utilities. PV plants, using technical solutions that rely on smarter system architecture and energy storage, could help solve the issue of curtailment that looms larger as shares of renewable energy on the grid increase rapidly.
Solar is still "just one small part of generation" that nonetheless gives the grid operators a headache in integrating, Au argues. Back in 2016, NEXTracker's famous request for proposal "Decapitating the duck" looked at how to best use renewable energy to flatten the peaks of grid energy demand versus supply. It's a problem the industry had seen for a long time coming before that too, Au told us.
"It's now almost 2020 and we have not done anything to build our plants differently to allow modification and future proofing of our power plants to meet and address constantly changing utility market needs," Au said.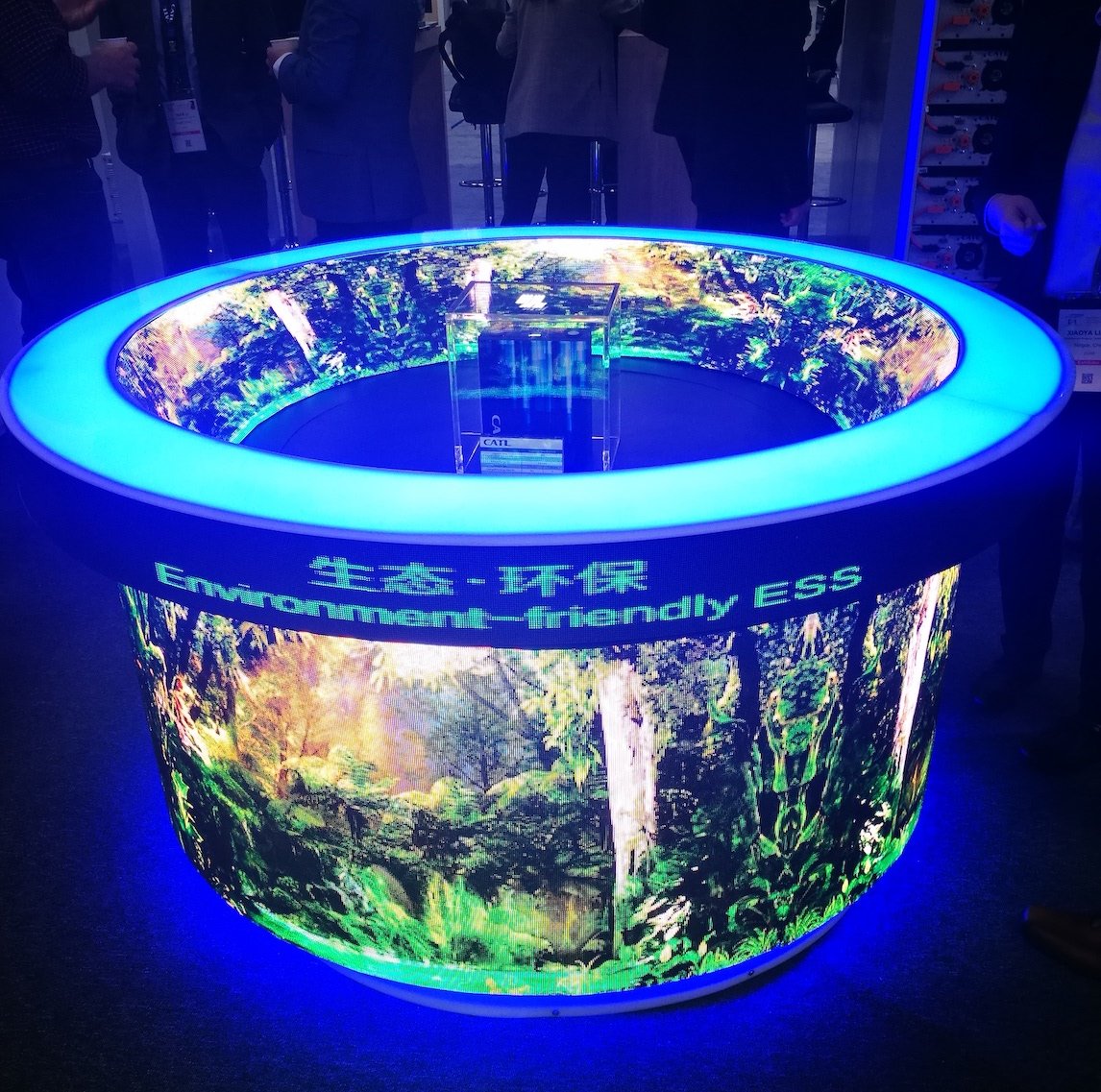 2. LFP vs NMC – reaction to safety fears provokes new turn in the discussion
Well, it's not a debate over which is better, so much as deciding which of the two main lithium-ion sub-chemistries is more suitable for your application, when it comes to lithium iron phosphate (LFP) batteries 'versus' nickel manganese cobalt (NMC).
That's what we heard from a range of manufacturers: first-time exhibitors at the show included the likes of KORE Power, a US start-up which tapped a major Chinese 631 ratio NMC high power cell producer Duo-Flouride Chemicals, which had previously never exported before, to create large commercial and utility energy storage racks with 110.7kWh capacity in a standard 19" rack.
Conversely, another first-time SPI / ESI exhibitor was China's CATL (Contemporary Amperex Technology Limited), which again, despite major status and high volume sales in China – primarily to the EV market – has not targeted the US or Europe markets heavily, until an industry show debut at Intersolar Europe in Munich this year.
CATL is a major player in e-mobility, but has now developed an LFP battery energy storage range of products that it plans to deploy at scale. We heard at the show that some utility requests for proposals (RFPs) in the US are appearing to stipulate the use of LFP rather than NMC or other cells, due to a perceived concern over the safety of deploying the latter in large systems. The company is set to go up against the likes of Eon Battery and SimpliPhi, two well-known domestic providers of LFP-based energy storage batteries and systems.
3. Energy storage-as-infrastructure – creating an asset class for the 'workhorse' of the grid
We've heard all about energy storage as-a-service, primarily in the commercial space, where batteries are used to help business customers cut their running costs, or to enable more renewable energy use onsite.
For the really big stuff, it doesn't make sense to work on merchant opportunities, or multiple contracted revenues: echoing the thoughts of many that we heard from at the Solar & Storage Live show in Birmingham, England last week, better recognition of the role energy storage could play as an infrastructure asset could be key to unlocking not just the whole benefit and usefulness of energy storage, but also unlock investment in the technology as an asset class.
Andy Tang at Wartsila told Energy-Storage.news at the Salt lake City show that the key to doing that in the US is to encourage and enable more and more utilities to consider energy storage in their long-term resource planning. That's already starting to happen, but as we heard on a panel hosted by NREL, transparency, quality of data and proactive planning to capitalise on the benefits of distributed energy resources (DER) are also vital assistance that the industry can bring to the table.
Longer-term planning also potentially means more long-duration energy storage projects could be invested in. Proponents of vanadium flow batteries, for example, would argue that without degradation in the battery stack after even decades of use, it will be easier for investments to be justified to ratepayers and financiers alike, while the show was awash with numerous long-duration storage providers. In terms of which chemistries folks pointed out as promising, most said just one word: zinc.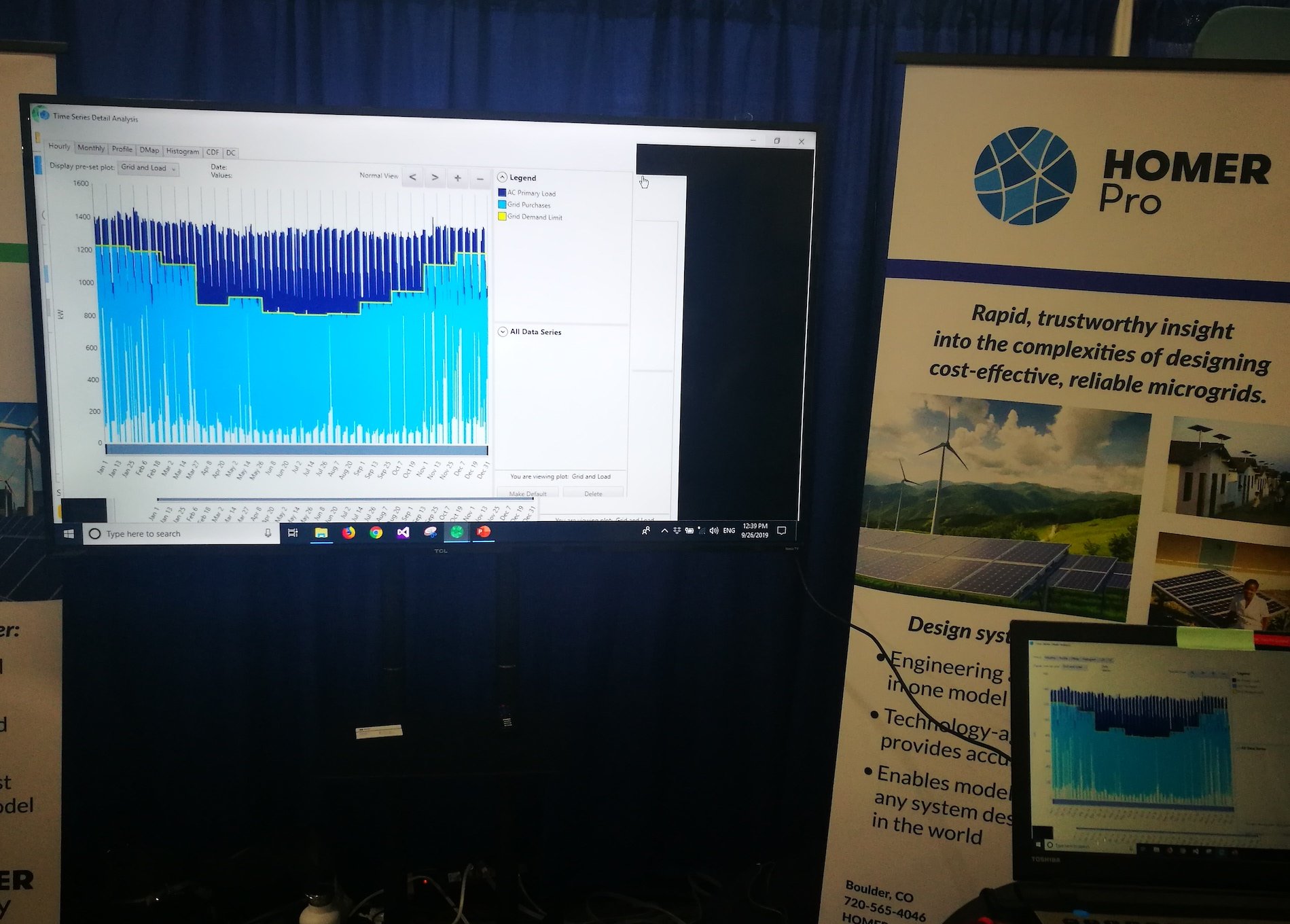 4. #StorageITC – a market accelerator, not a market saviour
An ITC (investment tax credit) for energy storage. I went along expecting this to be a real bone of contention, but it goes to show that you can't really ever tell what you'll find until you arrive.
The industry has advocated it for some time, because at present, energy storage equipment purchases can only qualify for the 30% tax credit if installed simultaneously with a solar system i.e. not even a retrofitted battery at an existing solar site would qualify and a standalone battery, no chance.
I get the sense, as an outsider looking into America, that the industry doesn't want to 'rock the boat' by making aggressive demands for what could still – rightly or wrongly – be perceived as a handout or a major subsidy. So, I agreed to keep comments off the record, but in short, between five and 10 company representatives spoken to all said that they were supportive of an ITC for storage, that it would make sense and would be a fair way to help accelerate the industry in a manner analogous to how the ITC has supported solar.
However, and this is perhaps the most encouraging thing, no respondent said the ITC is in their view essential to the successful deployment of energy storage in the US, although desirable. That said, its establishment – which currently enjoys bi-partisan political support – could send positive signals to investors and create better certainty over the business case for storage in an increased number of applications and jurisdictions, while the likes of the US Energy Storage Association would perhaps argue that it could also help create domestic jobs and a sustainable industry ecosystem.
5. Is software actually the single most important 'component'?
There was a lot technology on show as usual and I've written about and tweeted a good few photos of interesting things we saw and heard about. The increased number of DC-coupled solutions promising to dramatically increase efficiency of solar-plus-storage would probably be the headline.
In a more general sense, however, there's a real recognition of the role software has to play in the wider energy industry, as well as in specific energy storage-related applications. For instance, Pason Power, a previous E-S.n guest blog contributor, was there with its modelling software for project outcomes and contracts.
Meanwhile, Homer Energy, perhaps best known for its work with the micro- and off-grid space, demonstrated to us a software package that incorporates dozens of US utility rate tariffs, market and local data and then uses that to calculate how much individual businesses can save from peak shaving.
If it works effectively, software solutions like these have the potential to greatly reduce the risk perceived by investors, giving much greater transparency to all stakeholders. However, as we've seen in solar, the software and modelling will only be as good as the data available, and often it can take a while for that accuracy to filter into modelling.
Going forward, one company with a 'corporate PPA matching solution' software platform, LevelTen Energy, touted the use of its services to help corporate customers work with developers and offtakers to create 'blended' portfolios of PPAs. Company representatives told Energy-Storage.news that this has not impacted on the energy storage space yet, but could well do in the near future.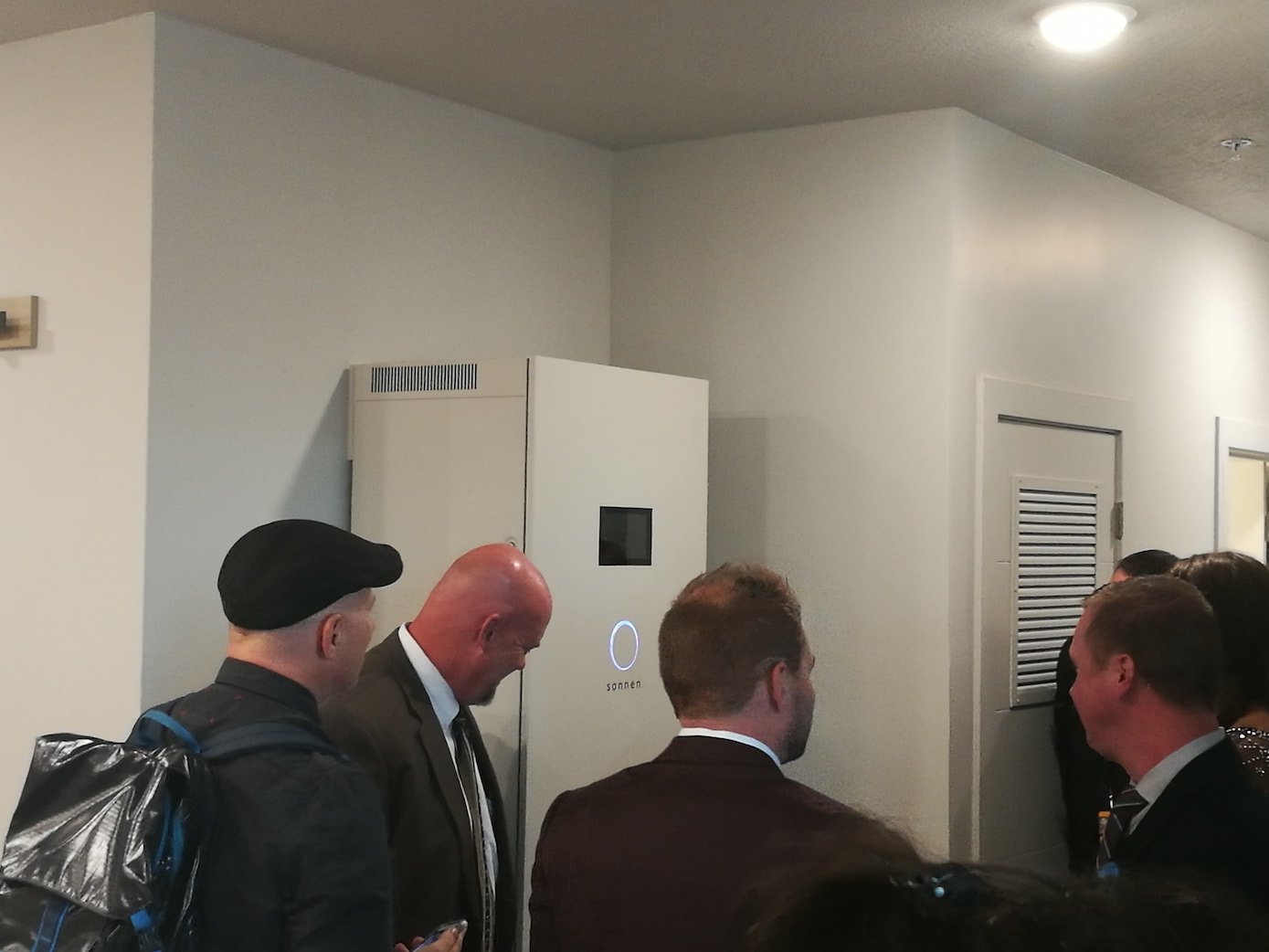 …and finally:
Renewable, unstoppable
The SEIA produced a roadmap for solar PV to become 20% of US generation by 2030, which would've sounded like crazy science fiction not long ago, but certainly seems a darn sight more feasible today. Especially when you look at how the trade group has carefully broken down the milestones and markers to that goal.
As I mentioned on the latest edition of the Solar Media podcast, perhaps we were in a little bit of an industry bubble at the show itself, but we did not meet any people outside the show that expressed antipathy towards renewable energy, nor scepticism of climate change.
Indeed, one local that we met said that members of friends' families have died from 'black lung' as a result of years working in coal mines and that this was not an uncommon story. Conversely, another local told us his friend had launched a solar developer business and was now able to support his extended family comfortably. For these people, the energy transition can't come soon enough and it occurred to us that actually, for all the high-level pro-nuclear advocates and coal revivalists quoted in newspapers, there's a huge base of ordinary people and workers around both industries keen to see what cleaner and safer alternatives might look like. While not many are prepared to put names to comments, we've also heard that many workers in the UK and all over the world would much rather figure out how to be a part of the new world being created before our very eyes than continue to watch their industries flail endlessly to keep nuclear and fossil fuels economically afloat.
We also visited Soleil Lofts, a housing development not far from Utah's 'Silicon Slopes', the metropolitan area around Salt Lake City that has attracted a growing number of tech workers in recent years. The project includes 17.1kWh of battery energy storage in each household, adding up to 12.6MWh in total, all supplied and fitted by Sonnen, alongside rooftop solar generation. As well as offering backup power, and allowing local utility Rocky Mountain Power to use the batteries as a virtual power plant (VPP) to balance the grid.
The whole community is therefore going to be electrified, with residents already moved in to some of the apartments. What I hadn't realised before going there is that Salt Lake City sits in a huge bowl surrounded by mountains, meaning that despite the beautiful weather, air quality can be really bad. So the project's apartments don't just have an emotional or 'eco' appeal to customers, they also appeal to their general sense of well-being, offering a potential pathway to dramatically improving the quality of the air residents of Utah breathe every day.
Bonus point:
Bifacial modules
There was definitely a lot going under the 'business as usual' column for the solar folks at the show. While I was almost permanently called away on energy storage business, I did manage to speak afterwards with PV Tech's founder, senior news editor Mark Osborne.
Mark told me that with at least 5% expected gains in the amount of power a ground-mounted solar farm can generate annually, bifacial PV modules (front and rear-side generation) is now a "no-brainer" for US utility-scale projects.
As we mentioned on this week's podcast, there's still a lot of discussion about what bifacial modules and their extra generation are worth, as – again – data from the field is still only just beginning to emerge.
The exclusion of bifacial modules from import tariffs has undoubtedly created a boom in demand in the US, Osborne said, although increasing panel sizes and weight, partly due to modules being mounted between panes of glass, mean that bifacial modules may not yet be optimum for use with many types of tracker, with the likes of LONGi's HI-MO 4 modules utilising 166mm wafer / cell sizes.
However, according to the 'Osborne Oracle', shortages of glass from China at the required 2.5mm thickness could mean that bifacial cells with transparent backsheets could also gain in popularity of use.
This article has been amended from its original form to accurately reflect that NEXTracker's 'Decapitating the duck' RFP came out in 2016, not 2012.