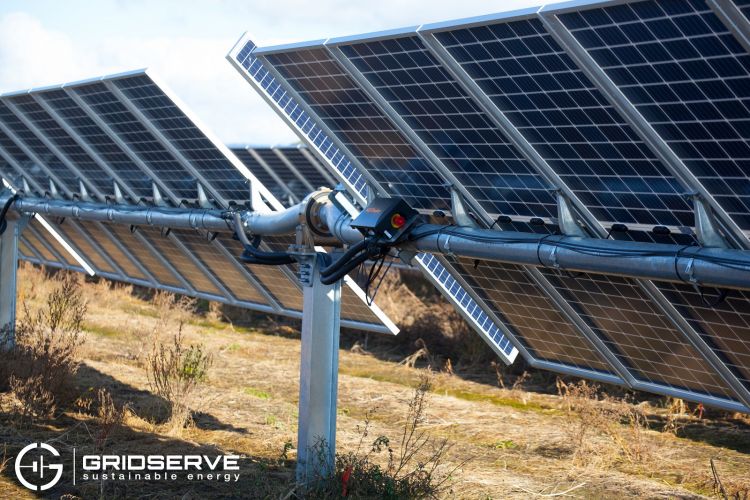 UK renewables developer Gridserve's reach spans utility-scale solar, battery storage and electric vehicle chargers. Its project in York has been lauded by the company as "game-changing" due to its single-axis trackers and bifacial trackers. The site also features a 27MW lithium-ion battery, a key element of the company's commercial model.
Mark Henderson, chief investment officer of Gridserve, spoke to Alice Grundy about making a bankable business case for storage, how to convince investors to take the plunge and the revenue stability that comes from solar-plus-storage.
Energy-Storage.news: How did you get involved with Gridserve's fundraising?
I came across Gridserve in its infancy when it was looking to raise funding. After knocking hard on my door several times to ask if I could fund their project, they then said look, why don't you come and work for us and be the person who raises funding for our projects?
The energy storage world, they convinced me, is going to be an absolute gamechanger for not just renewable energy but also power systems worldwide so it's great to be at a heart of it.
How do you convince investors that storage is, in your words, a gamechanger?
Funnily enough, most of them do agree with that basic premise straight away or very early on. Most of them realise that more renewable energy will have to be brought onto the electricity grid, and that means there's a need for more storage to even out the intermittency.
If you're wanting to even out the grid and you want to decarbonise, then storage is an absolutely essential part of that. Investors immediately go 'yes, we get that storage has to be there' and then they ask 'but how do we finance it?'
That is the biggest problem: understanding how you can make a bankable business case out of revenue streams which are still largely not well understood and which have a lot of different streams to them, a lot of which at the moment are not capable of being contracted for at all or not capable of being contracted for on a long term basis.
People who have been involved in the renewable energy sector are used to having very price certain revenue streams. And even though we believe there is a very good business case, they are used to the fact it should be a fixed price, even though they may well be investing separately in motorway service stations or airports and none of these things have contracted fixed prices. There's a little bit of disconnect with some of the investors.
The other thing is that some of them don't want to invest until those first few stations are built and running. So we have a queue all the way down the street and around the corner of investors that are really excited and believe its going to take off but need to see the first ones built before they can take the risk to their investment committees.
Presumably the pairing of solar alongside storage makes for a stronger business case?
Absolutely. That's why we do this. Whilst standalone batteries do work and there's a good business case to be had there, that really works only if you are funding it through your own equity or you have a large trading desk and can assimilate the storage operation, generation and revenues into that. Without the benefit of a large trading desk or large amount of equity behind us, we felt we had to then make the revenue more certain.
So that's one of our main business streams, the other main business stream – certainly in the UK – is to do large-scale electric vehicle charging stations. One thing third parties always say when they look at EV charging at scale is what effect is this going to have on the grid? It's a bit of a clue to our name: Gridserve. We have the storage there in order to solve those problems and to stabilise the grid, smoothing out any potential fluctuations in power loads. That's what you need if you're going to have a large-scale EV charging station as we are building at the moment.
How did the construction funding from Leapfrog Finance and Investec for the York and Hull sites come about?
The investors we've worked with to date are ones we've worked with previously, so that really helped.
We all had a very good trust in each other and each other's ability to deliver projects so it's really that old thing in finance of just having confidence and a strong track record with those parties.
Are you looking for more funding any time soon?
We are a very capital-intensive business. We are very well funded at the moment so we're in a nice position but we do not need extra funding, but if we can find the right kind of funding then yes, we will be looking to add to our capital base because that would allow us to accelerate the project development and acquisition.
Mark Henderson will be speaking at Energy Storage News publisher Solar Media's 5th annual Energy Storage Summit event in London, which runs 25 – 26 February 2020. Details of the event and how to attend can be found here.