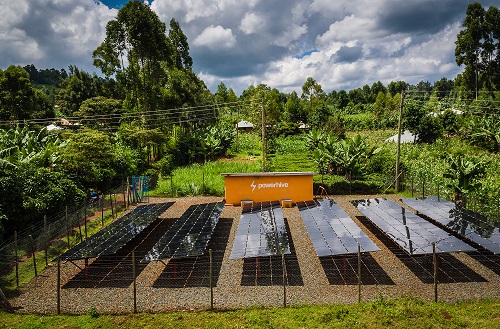 Providers of solar-plus-storage into the continent of Africa have said that it is a misconception that lead acid batteries used in off-grid systems are recycled efficiently back into the supply chain.
Energy-Storage.News spoke with Powerhive and Offgrid Electric, two US-headquartered providers of solar which have both focused on the off-grid sector in Africa to date. Powerhive provides community microgrids and in essence acts as a utility, selling 240V AC power by the kilowatt-hour, while Offgrid Electric leases or sells solar home kits to individual households. The former is active in Kenya, with Rwanda and Nigeria expected to be its next ports of call, while Off Grid Electric is focused on Tanzania, Rwanda, Ghana and the Ivory Coast at the moment.
This article requires
Premium Subscription
Basic (FREE) Subscription
Enjoy 12 months of exclusive analysis
Regular insight and analysis of the industry's biggest developments

In-depth interviews with the industry's leading figures

Annual digital subscription to the PV Tech Power journal

Discounts on Solar Media's portfolio of events, in-person and virtual
Or continue reading this article for free
Powerhive currently uses lead acid batteries, sourced from manufacturer Trojan, but is currently looking for a lithium battery provider, having decided that the technology is a good fit on price and for its capabilities. Off Grid Electric meanwhile is already using lithium batteries for its low voltage DC systems.
The pair were interviewed for the Global Energy Storage Supplement 2018, which our publisher Solar Media made available as a free download. The full interview covers the pair's shared view that lithium batteries are now a viable option in Africa from an economic and environmental perspective.
In addition to the topics covered in that discussion, the subject of recycling of batteries and materials was broached. The argument is often made that while lead acid contains toxic materials, in much of the world supply chains exist to recycle large proportions of the materials used, reducing the overall impact of the waste.
However, both Rick Wuts, VP for business development at Powerhive and Joshua Pierce, Off Grid Electric's CTO, said that there are a few angles to this argument that many people overlook when it comes to real-world experiences of using batteries in the field in Africa.
"I would actually dispute that fact [that recycling for lead acid is effective] pretty vehemently. This is an area I feel very passionately about," Joshua Pierce said.
'Countless piles of dead batteries'
Pierce argues that the pro-lead recycling argument is "clouded by short-termism" and "a bit of antiquated thinking about the way business is done". Instead, he sees a shift towards companies that work to become "good custodians of the environment and the economies they work in".
While it is true that lead acid is highly recyclable with reusable raw materials, Off Grid's Joshua Pierce said that this is only true where a supply chain exists to do so, which Pierce strongly argued does not in Africa, from his own experiences of living and working there.
"Where it's worst, where the impact is the worst for any battery technology but especially for a toxic one like lead and sulphuric acid, is the most vulnerable populations. So the people who have the least access to that recycling supply chain are the ones that are most impacted by its negative attributes."
The other thing that Pierce had observed is that 'unofficial' recycling channels can do more harm than good. Although a lead acid battery might "make it out of the ecosystem", they will have already done a fair bit of damage by that point, according to Pierce's anecdotal observations.
"I've seen countless piles of dead lead acid batteries… that is a resource people will use until there's nothing left in it. They'll use it in their car until it won't start their car. Then they'll use it in their business until it won't run the business and then they'll use it in their house for lights until it won't run their lights. Then they'll use it to charge their phone. It's amazing how resourceful people are but then that battery may sit and corrode and pollute the local groundwater, which is what children drink. That's what I mean and I've seen it time and time again."
Recycling efforts already underway for lithium
Meanwhile, Rick Wuts at Powerhive said that because of the computer industry's use of lithium batteries for laptops, "there is already a supply chain" for recovering and recycling materials where possible.
"Every laptop, every cell phone has a lithium-ion battery obviously. So there is already, even in Kenya there's that supply chain. It's actually harder for us with lead acid because we have to ship it back to the vendor, who's on another continent. So it's actually going to be easier doing it with lithium-ion where there's much more savvy systems around that than there is with lead acid technology."
Off Grid Electric's Joshua Pierce also said that his company has begun acting as the "critical first link out of that first mile" to get batteries and materials recycled.
"Any time we take a battery back from a customer who has either had a technical problem or in the future when those batteries begin to reach their end of life we store them locally and we ship them up to Europe at our own expense and have them recycled there. That doesn't exist for some of the other traditional battery technologies."
It is also part of Off Grid's business model to do so, Pierce said. Fostering long-term customer relationships means that the company helps them where possible to upgrade systems, to purchase bigger systems to be able to do more productively, which obviously brings the company back into the loop of taking old systems away and recycling parts and materials. The longer lifetime of lithium versus lead also means this process potentially has to be repeated less frequently.
Finally, Pierce said, lithium itself has advantages within the field. While it would be a mistake to characterise any battery technology as completely non-toxic, the lithium phosphate batteries Off Grid has selected will have lower toxicity even than other lithium batteries.
"Lithium chemistry is much less likely to be exposed to the elements and to hinder the environment in the short term. Partly because of toxicity. I won't say lithium phosphate batteries are non-toxic, but they are much lower toxicity than other lithium chemistries like cobalt, nickel and other heavy metals and lead acid, by an order of magnitude."
Read the full interview with Powerhive and Off Grid Electric on lithium-ion batteries and their suitability for Africa's off-grid sector in the Global Energy Storage Opportunity 2018, the free report, here.