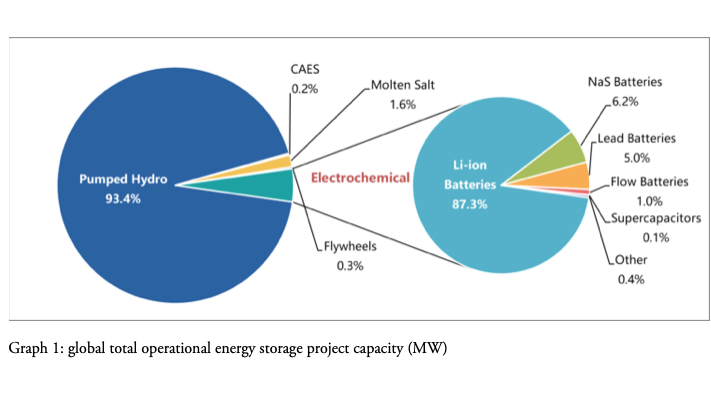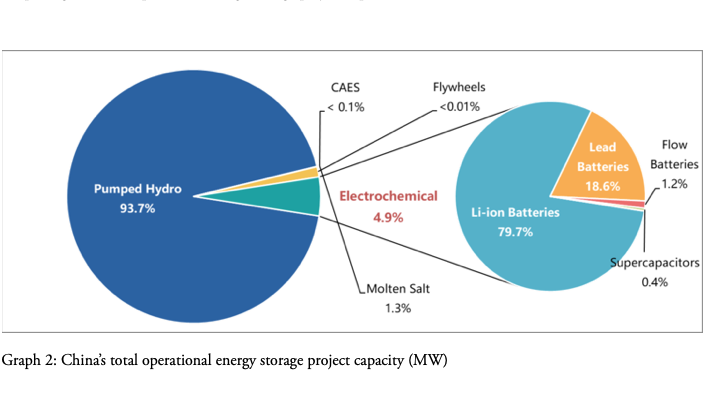 China's energy storage industry entered a period of "rational adjustment" in 2019, as overall growth in new projects and capacity slowed down, yet deployed around 519.6MW/855MWh of new electrochemical energy storage capacity domestically.
The latest quarterly report figures from the China Energy Storage Alliance (CNESA) were sent to Energy-Storage.news at the very end of February. As is generally the case with the year-end editions of quarterly market reports, it gave a short year in review synopsis.
CNESA notes that the report's statistics are provisional and a full year review is pending, however, from the figures given, it is indicated that electrical energy storage project capacity in China now exceeds 32.3GW – including mechanical or physical and molten salt thermal storage as well as electrochemical. That compares to 183.1GW of operational energy storage of all types installed worldwide to date, meaning that China is host to about 17.6% of the global total.
In total more than 1GW of new operational capacity was deployed in China, so just over half of that figure was batteries, it appears. China experienced a 3.2% increase in total capacity, while the global increase was about 1.2%. According to CNESA, the industry began – and is still undergoing – a "period of rational adjustment".
Indeed, the Alliance has also posted a year-in-review set of survey interviews with some of China's key industry players. In his interview segment CNESA Chairman, Chen Haisheng, pointed out that the slowdown in growth was quite steep; in 2018 an annual growth rate of 464.4% of new electrochemical storage capacity was experienced in China, compared to 2019's far more modest increase.
Renewables, and distributed energy: Storage is still of 'strategic importance'
Chen Haisheng said that the drivers of energy storage deployment have not changed however, with large-scale growth of renewable energy and distributed energy projects the main focus. He noted that "the development of any industry is a process, on which there will be several ups and downs, all of which are normal".
"In many ways, the necessary adjustment of an industry once it has reached a certain stage is more conducive to the long-term development of the industry than if no such adjustment were to occur," the CNESA Chairman said.
Analysis from ESResearch, a group created to produce CNESA research products and services, shows that in the final quarter of 2019, both in China and on the global stage, the rise of solar-plus-storage has been a dominant driver of activity.
China also saw its first front-of-meter grid-scale storage systems deployed that will perform grid-balancing services on a market basis, as well as the launch of financial products funded to the amount of US$750 million which the Alliance said "should help alleviate some of the financial difficulties within the industry and boost development".
In a December blog post, the China Energy Storage Alliance referred to that ongoing industry slowdown in the context of the China State Grid Corporation releasing a document in November titled: Notice on Increasing Stricter Control of Grid Investments (aka 'the 826 Document'). The Corporation said that it would no longer support "investment, leasing, or energy management contracts for the development of grid-side electrochemical energy storage infrastructure, nor develop new pumped hydro storage projects".
Taken in conjunction with an April document, Transmission & Distribution Pricing Cost Supervision Methods, which excluded energy storage as a T&D cost, it was unquestionable that the industry had entered that aforementioned "rational adjustment period," CNESA said. However, the Alliance pointed out that energy storage remains of strategic importance to China's "energy revolution," including quotes from expert voices from a CNESA event to that effect.