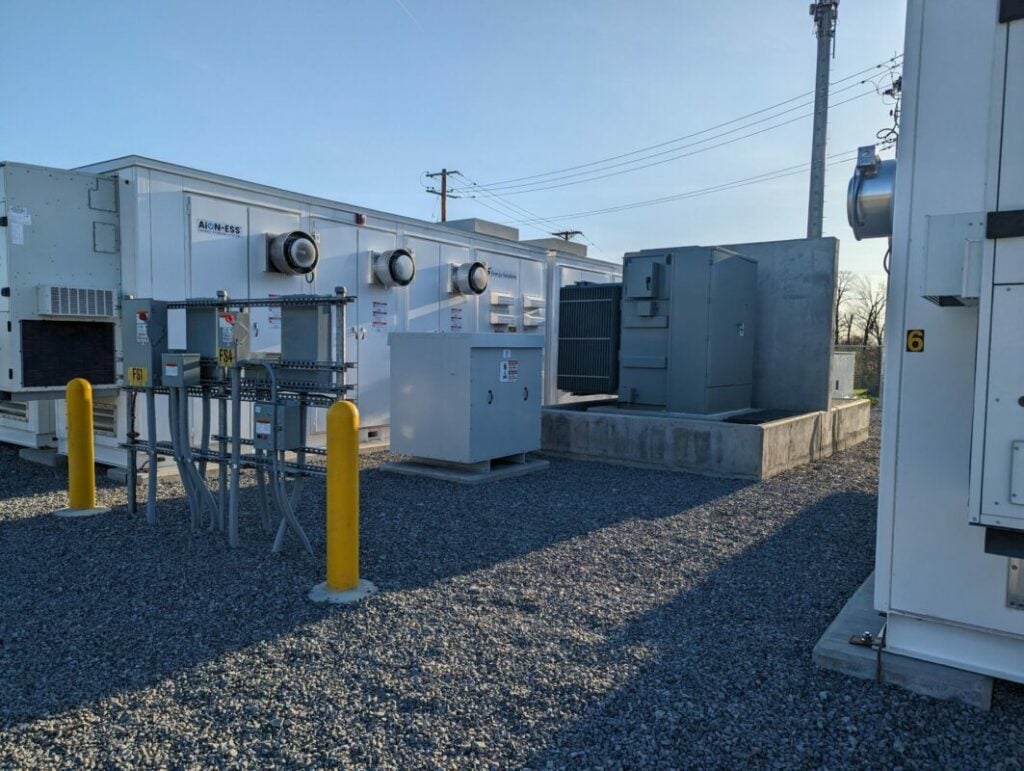 The Inflation Reduction Act passed into law just over a year ago, and Ravi Manghani, director of strategy and market analytics at battery storage system integrator LS Energy Solutions, discusses its impact.
The IRA brought in what has been considered the biggest legislative action on climate seen in the US including investment tax credit (ITC) incentives for standalone energy storage, answering one of the industry's biggest asks of policymakers.
This article requires
Premium Subscription
Basic (FREE) Subscription
Enjoy 12 months of exclusive analysis
Regular insight and analysis of the industry's biggest developments

In-depth interviews with the industry's leading figures

Annual digital subscription to the PV Tech Power journal

Discounts on Solar Media's portfolio of events, in-person and virtual
Or continue reading this article for free
However, as we saw in Part 1 of Ravi's article last week, there are still unanswered questions around the implementation and interpretation of the act, and Part 2 here leads off with the subject of compliance with domestic content guidance.
Read Part 1 of Ravi Manghani's article, published 30 August 2023 on Energy-Storage.news, here.
Pathways to domestic content requirement-compliant product under the Inflation Reduction Act
The uncertainty of the Inflation Reduction Act's exact domestic content requirement mechanism has the industry looking for multiple options to meet the requirements once they are finalised.
Some strategies that will be adopted range from maximising domestic manufacturing on one end to using flexible and global supply chains on the other. We lay out three potential pathways and their impact on estimated domestic content % (without regard to the current cell-focused NOI).
Pathway #1 US manufactured cells: This pathway makes the most compliant domestic content product as cells are the single most significant cost component in an energy storage system.
In this scenario, at least 50% and as much as 65% of the energy storage system cost could be domestic, even if the inverter and parts of the container (such as cabling, fire suppression, etc.) are imported.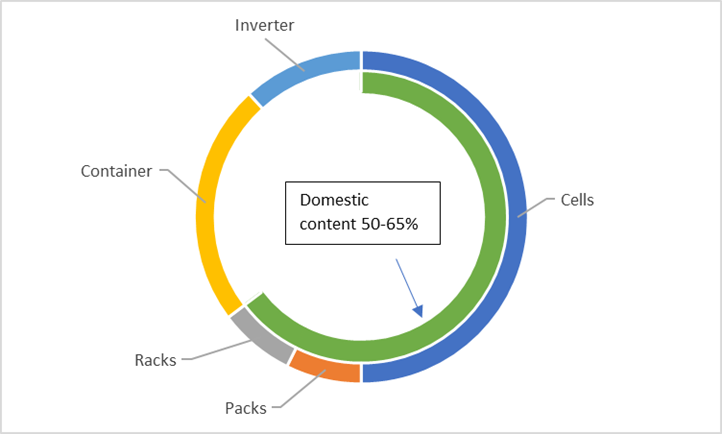 Pathway #2 US assembled modules: This pathway will, in likelihood, be an interim option. Most battery manufacturers building manufacturing capacity in the US will start with module assembly before they ramp up their cell manufacturing.
US-assembled modules using imported cells will have a relatively small domestic cost addition in the 15-20% range. Almost all other components, including containers and inverters, must be domestically sourced to qualify for the domestic content adder.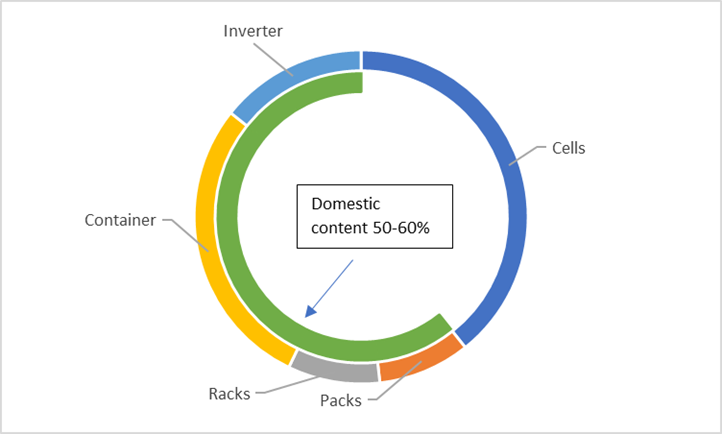 Pathway #3 imported modules: It will be challenging for products under this pathway to qualify for the Inflation Reduction Act domestic content requirements, especially as the threshold is raised from 40% to 55% over the next three years.
Even in the best-case scenario of extremely competitive batteries from Asia and US-made containers and inverters, some systems could have 35-50% of the overall cost qualify as domestic content.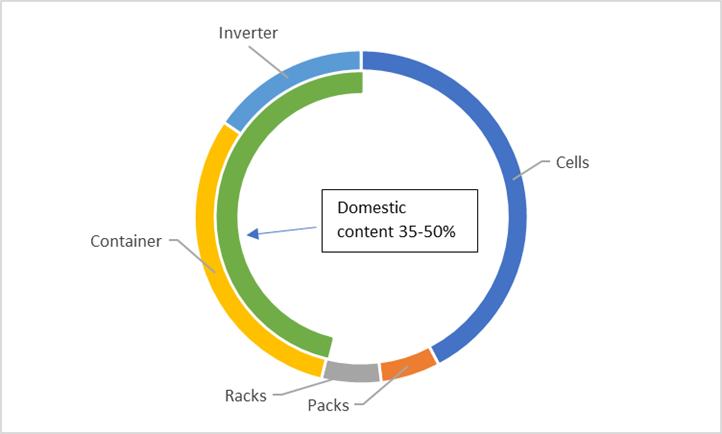 Challenges and timelines for domestic content bonus compliance
As evident from the discussion, the easiest pathway to domestic content bonus compliance will be with US-made cells. However, this compliance route has its own set of challenges.
First and foremost, for projects to make the 10% domestic content bonus work economically, systems using US cells can be a maximum of 10% more expensive than products using non-US batteries. Systems with a price delta substantially higher than 10% won't be economically viable even with the domestic content adder.
Even if we assume that US-based battery manufacturers pass on the entire 45X manufacturing credit to the customer (US$45/kWh for US-made cells and modules and US$10/kWh for US-assembled modules), the cost delta may not be sufficient to get the overall system cost low enough to make the 10% ITC bonus pencil out in many projects.
For example, suppose an energy storage system using Asian batteries costs US$250/kWh. A similar product cannot cost more than US$275/kWh (without passing on 45X credit) or US$320/kWh (passing 100% of 45X credit to the customer) under Pathway #1.
Similarly, projects using Pathway #2 cannot cost more than US$285/kWh (passing 100% of 45X credit to the customer).
The other challenge will be the timeline to establish fully operational manufacturing facilities. The common consensus is that it could take two to three years to identify a manufacturing site, acquire site control and permits, and complete construction before starting manufacturing.
This timeline takes us into 2027, almost halfway through the 45X credit benefit, as it's set to expire in 2032. While the 45X incentive is designed to incentivise the initial capacity building of domestic manufacturing, it is unclear if the battery manufacturers will recover their upfront investments with only five years of manufacturing credits.
In any case, it will be 2027 before system integrators and developers can count on benefiting from US-made cells for their projects.
Divergence of supply chains post-Inflation Reduction Act
Given the manufacturing timelines and uncertain economics of domestic content-compliant products, system integrators don't want to put all their eggs in the domestic product basket.
It is plausible to imagine an IRA world with a divergent supply chain and bifurcated product offerings, one that is domestic content bonus compliant and one that is not. Project developers and owners may only sometimes want to capture the domestic bonus and will procure products that are available for delivery to match their development timelines and project economics.
We should see a rise in domestic content-compliant products for projects with federal or state end users or where owners have prescriptive ESG goals or are averse to trade risks.
In any case, the market needs a flexible and diversified supply chain, and the Inflation Reduction Act incentives are already accelerating this divergence, both for lithium-ion batteries and other non-lithium-ion technologies.
Read Part 1 of this article here. The Inflation Reduction Act is also be a major focus of the latest edition of our quarterly journal, PV Tech Power (Vol.36), available now. You can subscribe to the journal, either as a standalone subscription here or as part of the package for Energy-Storage.news Premium. Printed and digital copies will also be distributed to attendees at the upcoming RE+ trade show in Las Vegas, Nevada (11 – 14 September).
About the Author
Ravi Manghani is director of strategy and market analytics at LS Energy Solutions, a US-based provider of battery energy storage system (BESS) solutions at grid and industrial scale and part of South Korea's LS Group. With more than 15 years of strategy and technical experience in the energy storage and solar industries, Ravi Manghani was previously director of market intelligence at Clean Energy Associates (CEA), and prior to that led the market research teams for solar and energy storage at Wood Mackenzie.