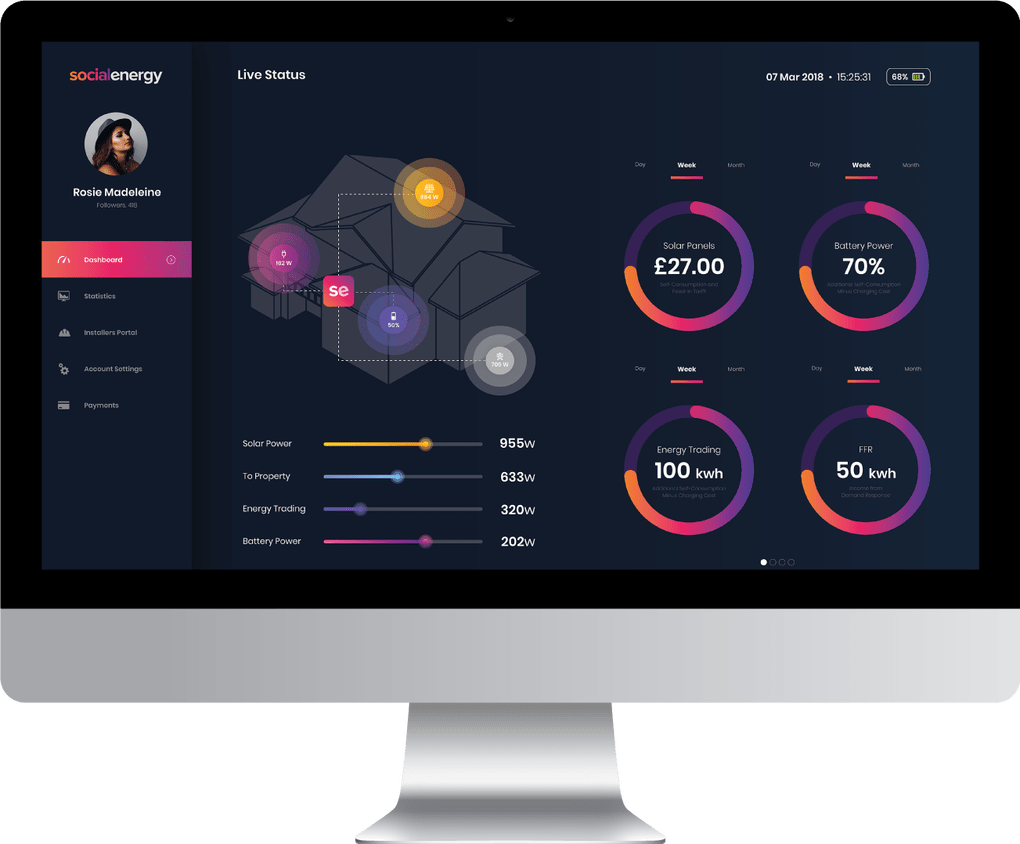 In what is unlikely to become a regular feature of Energy-Storage.news but seems apt nonetheless, this edition rounds up news from some of the latest behind-the-meter orchestras of small-scale resources in the past few weeks.
Three-year payback for Social in Australia
7 November 2019: UK company Social Energy recently launched into Australia's booming residential market, taking what it calls "cutting edge virtual power plant technology, going head to head with the likes of Sonnen and Tesla" with its strategy including a tie-in with the Duracell brand.
The company told Energy-Storage.news this week that "outstanding irradiance and massive grid volatility" in Australia mean that in some cases, customers will be in credit on their bills. Social Energy can also enter the frequency control ancillary services market (FCAS) as well as wholesale market trading opportunities "whilst co-optimising for self-consumption."
"This means that unlike other VPP operators in Australia, our customers won't lose the self consumption benefit of having a battery installed," company marketing director Daniel Mahoney told Energy-Storage.news, adding that payback should be within the warranty life period of the batteries and in some cases as low as three years in South Australia as state subsidies are taken into account.
Meanwhile, at the end of August, major Australian utility AGL said it had connected the 1,000th system to its own virtual power plant, for which it has ambitions to eventually get into the tens of thousands of small-scale systems.
VPP for 'marketing renewable energy' launches next week in Paris
7 November 2019: A new VPP solution is to be launched with an official unveiling next week at European Utility Week in Paris by energy & meteo systems, a company developing software and other solutions for renewable assets.
Allowing for the market and grid integration of power assets, including wind and solar, the VPP, which energy & meteo systems has cooperated on with French renewables developer and power producer CNR, is expected to play a role in the French market.
Energy & meteo systems said it will present a "broad range of functions" for the VPP, in a project coordinated by the German Energy Agency (dena) Renewable Energy Solutions Programme and supported by the Germany Federal Ministry for Economic Affairs and Energy.
"With its remote-control feature and the automatic downregulation at negative prices, the Virtual Power Plant is assisting CNR in marketing renewable power plants," energy & meteo systems said in a release emailed to Energy-Storage.news.
Germany's Next Kraftwerke signs VPP development deal with Toshiba
30 October 2019: Software developer Next Kraftwerke has signed a memorandum of understanding (MoU) with Toshiba's energy systems arm to help it develop a virtual power plant (VPP).
The VPP will help Toshiba Energy Systems & Solutions Corporation (Toshiba ESS) provide supply-demand forecasts and optimised group control of demand, generators and storage batteries.
Jochen Schwill, CEO at Next Kraftwerke: "Toshiba provides energy technology and software worldwide. We are very happy to expand our activities in Japan with such a strong and progressive partner. Combining our expertise is a promising way to prepare for the changes on the Japanese market and beyond."
The two companies have joined forces before, working on a Proof of Concept project in Japan in which Next Kraftwerkes NEMOCs VPP software was used to control biogas units.
This story by Molly Lempriere. To read the full version of this story, visit Current±, Solar Media's site reporting, analysing and navigating the energy transition.
Ireland's TSO takes up Moixa on modest VPP
23 October 2019: Moixa is to launch a new virtual power plant (VPP) comprising solar batteries and electric vehicles, set to provide frequency response services to the Irish transmission system operator (TSO).
The battery storage company has signed a deal with Irish energy supplier Energia for the development of a smart energy system in Ireland. Home and vehicle batteries are to be aggregated into a 120kWh VPP to provide frequency response services to TSO Eirgrid.
Moixa and Energia are hoping the project will demonstrate how home batteries, solar and EVs can deliver flexibility to the grid.
The batteries will be capable of reacting to signals such as pricing and constraints due to the embedding of artificial intelligence through Moixa's GridShare software.
The software will also learn energy consumption patterns and develop tailored EV charging plans for each household to deliver cost and carbon savings.
Energia customers participating in the project will receive a 4.8kWh Moixa smart battery and a rooftop solar system for a discounted €7,400, and will be offered an optional EV charge point.
Participants will also be able to claim back €2,400 via grant funding through the Sustainable Energy Authority of Ireland, making the technology 50% cheaper overall, Moixa said.
This story by Alice Grundy. To read the full version of this story, visit Current±.
Local council tender in Scotland creates network of retrofitted home systems
31 October 2019: Aberdeenshire Council in Scotland has appointed solar installer Emtec Energy to deliver solar and battery storage retrofits to 500 local authority homes.
The programme, which is valued at £4 million, has identified 500 properties in the Inverurie and MacDuff areas of the city which will receive solar and storage systems with the intention of alleviating grid constraints in the area.
Around 3.25kW of solar will be paired with a 5.5kWh battery in each property, and the systems will be used to provide grid services to the local network.
The pilot scheme has been launched after the council attempted to roll-out energy efficient schemes on existing properties, including solar PV, but was hamstrung by local grid constraints which prevented connecting systems to the grid.
Aberdeenshire Council tendered for the installation work and an aggregator – Solo Energy – enlisted to take the systems into grid service provision markets.
Chris Clark, managing director at Emtec Energy, said that it was a project the company wanted to deliver "from the initial tender notice".
"One of the biggest barriers to deployment within our sector is connecting to the network. This project will not only reduce fuel poverty in the region, but also help current constraints and not add to them.
"This is really exciting for our industry as a whole. Whilst there have been some smaller schemes delivered before, nothing at this scale from a domestic aggregation perspective and it paves the way for other local authorities to follow suit," he said.
This story by Liam Stoker. To read the full version of this story, visit Solar Power Portal.