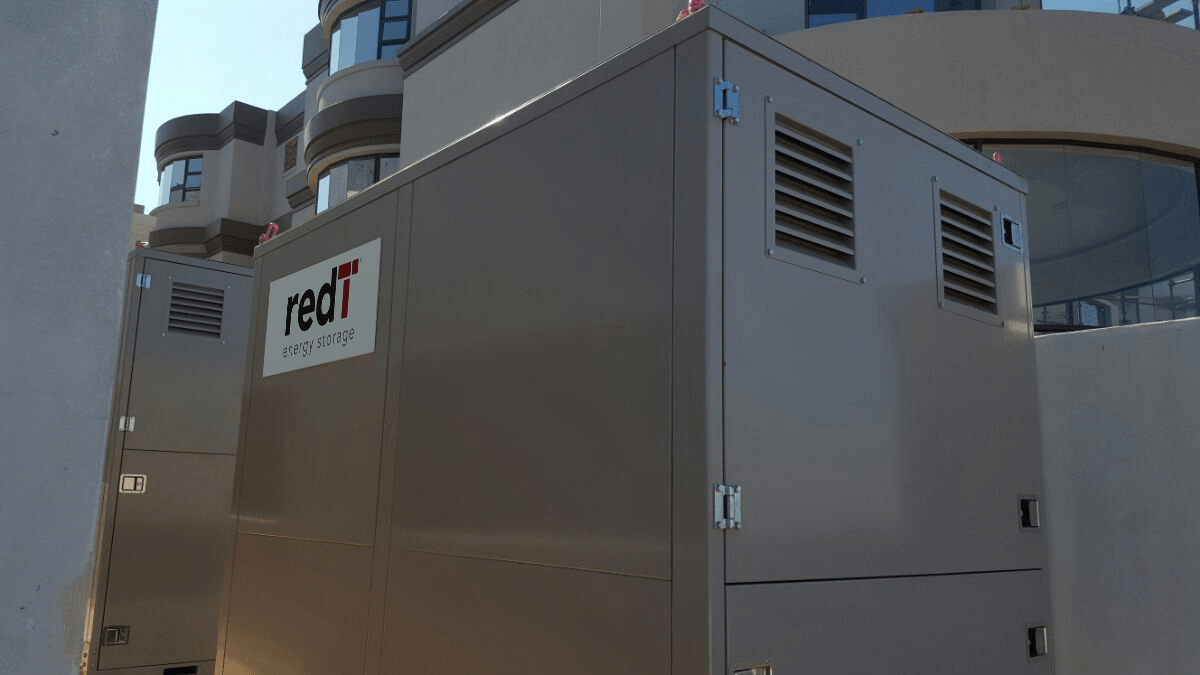 Hybrid systems that combine high power technologies such as lithium-ion and long duration, high energy redox flow energy storage is "where the market will go", the CEO of a vanadium 'flow machine' provider has said.
Scott McGregor, CEO of redT, a UK-based company which has been developing its devices for over 17 years and has now brought them to market on a commercial basis, spoke to Energy-Storage.News at the ees Europe / Intersolar show in Germany yesterday.
This article requires
Premium Subscription
Basic (FREE) Subscription
Enjoy 12 months of exclusive analysis
Regular insight and analysis of the industry's biggest developments

In-depth interviews with the industry's leading figures

Annual digital subscription to the PV Tech Power journal

Discounts on Solar Media's portfolio of events, in-person and virtual
Or continue reading this article for free
Multiple application energy storage systems are becoming more desirable across the world, as they can provide a number of services and corresponding revenue streams. However, McGregor said, the distinction between high power services, that require short bursts of energy to be injected or taken out of systems, such as frequency regulation for grids, and energy services that require longer durations of storage, such as solar load-shifting, meant that there could be advantages to using more than one energy storage technology in such multi-use systems.
"Why you would look at hybrid is if you think of the flow machine as your workhorse, it'll do 60%-80% of the work, it's really boring, just sit there pumping energy and liquid all the way round many times a day, it will never degrade and you want to utilise that as much as you can.
"Whereas you will get small little peaks during the day. If you actually service them through a power technology, it could be lithium, gel lead acid or a supercapacitor maybe, depending on what your power need is. If you only have short spurts during the day, you're better off using a power technology for that and using your flow to do the PV and shifting and peaking and your reserve and everything else," McGregor said.
"If you put those together you get the lowest cost, highest function out of the two technologies."
McGregor went on to say that using a "power technology" such as lithium or lead acid for every function could lead to faster-than necessary degradation and burnout of batteries since they would have to do lots of cycles and full charges and discharges. Conversely, a redox flow energy storage unit used for every application would need a higher power function than is normally found in such systems and would lead to much of the asset remaining idle for long periods, negating some of its cost-effectiveness.
Despite them seeming to be rival technologies for energy storage, lithium and vanadium as a hybrid would be "optimal and where the market will go", McGregor said, adding that redT was targeting developing hybrid systems in future and was conducting a programme with the University of Newcastle in England to explore the possibilities.
Customers 'still learning difference between power and energy'
On a more general note, McGregor said there was still a lack of understanding from customers on the difference between those energy and power applications, which in many ways was holding the industry back from mass adoption.
"I think at the moment, customers are still going through a learning experience. Energy storage is here, there's a number of technologies that work and are proven on a commercial level and the right price exists.
"What is an impediment in my view for adoption on a mass-scale for C&I, and grid-level is the customer understanding, what they need. So we're seeing a number of markets in the world in terms of the developed world where customers still don't understand the difference between power and energy."
McGregor said that while everyone was familiar with batteries as a technology to be used in laptops and cars, in those circumstances the battery is performing one simple function – to charge and be used as needed. However, he said, energy storage is a more complex proposition, where one device can perform many tasks and respond to varying energy and power needs.
"People have to go from that mindset of single purpose technology for single purpose use to having multi-purpose technology which is an asset as part of an energy infrastructure which does many things over time. That asset needs both energy and power attributes."
McGregor gave an example of one customer, a non-profit which had wanted to install long duration storage for solar PV integration and bought its system from redT. Once the project was underway, the group realised that it could also provide grid services for extra revenue and social benefit, as well as simply scaling up the vanadium electrolyte tanks where energy is stored to give its facility backup power when needed.
"It's good example of how a customer's trying to understand how energy storage is an asset as a part of energy infrastructure," McGregor said.
Just don't call them 'flow batteries'
According to McGregor, this multiple-use versatility of energy storage is part of the reason why his company have banned references to their systems as "flow batteries", preferring instead the term "flow machines".
"A battery is a technical solution for certain parts of energy storage needs," McGregor said.
"Typically the market's been about buying a piece of technology for a single function. Where the industry is going is that you have an asset which is energy storage and provides multiple functions. A battery is cheap, disposable and you throw it away. Energy storage could be pumped hydro, liquid energy storage, compressed air.
"We use the word 'machine' to describe redT's solution because it is a machine. You pump liquid and store energy in the liquid, while a battery has energy and power in the same cell and no matter how advanced it gets, it will always degrade. It will always wear out. A machine doesn't wear out, it sits there and it may be boring, but it just keeps plugging away and plugging away.
"With a battery the function is limited, if you go beyond that the warranty's gone and you have to throw the whole thing out. With a machine you might replace some parts, but the actual machine doesn't wear out."