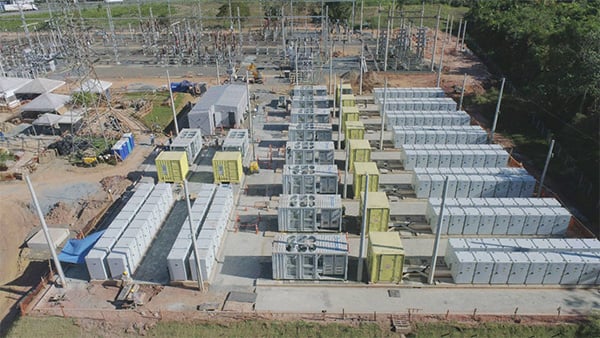 A 30MW battery energy storage system has been inaugurated by transmission system operator (TSO) ISA CTEEP in Brazil.
The TSO announced the energising of the BESS yesterday (29 November), which it said made it the first TSO to have a large-scale storage system on the country's transmission network.
It didn't disclose the location but said the BESS would be discharged during peak demand periods to support the electricity network, increasing the security and reliability of the service. A press release indicated the system has a two-hour discharge generation, making its capacity 60MWh.
A total of US$27 million was invested in the project and the TSO's permitted annual income from the unit is approximately US$5 million.
ISA CTEEP is active in 17 of the 26 states in Brazil and transmits approximately 30% of all electricity produced in the country, and is part of the ISA Group, which is active in other LATAM countries.
Juan Emilio Posada Echeverri, president of ISA Group, said: "This project has provided us with great learning and we believe that, due to its pioneering nature, it will be a great laboratory for the sector and for the other ISA companies.
"Precisely, one of the great challenges of the energy transition for ISA is the adaptation of the existing network and achieving a better use of the available capacity. In this sense, batteries are a sample of how technology and innovation enable increasingly flexible and intelligent systems, maintaining reliability and resilience as a priority."
The project appears to be similar in terms of use case to so-called 'Grid Boosters' being launched in Germany by some of its TSOs, including one which system integrator Fluence recently announced it would deploy.
Although a large market, Brazil has been relatively quiet for battery energy storage announcements despite being a relatively early mover in trialling various different battery chemistries, as Energy-Storage.news reported back in 2018. Two years later, BloombergNEF reported that mining giant Vale would deploy a 5MW/10MWh system, the country's largest.
Read previous Energy-Storage.news coverage of developments in Brazil here.