The Extinction Rebellion movement formed last year in Britain with a three-headed list of demands (1. Tell the truth 2. Act now 3. Beyond politics) in response to growing concern over climate change. The group brought Central London to a standstill last week, blocking traffic and seeing hundreds of its members arrested.
While from the outside, the group might look like a continuation of past protest movements for social justice, there's a recognition that the sheer number of people involved mean that it is increasingly a more inclusive movement than, say, the pro-Brexit marches also taking place on London's streets over the past few weeks.
This article requires
Premium Subscription
Basic (FREE) Subscription
Enjoy 12 months of exclusive analysis
Regular insight and analysis of the industry's biggest developments

In-depth interviews with the industry's leading figures

Annual digital subscription to the PV Tech Power journal

Discounts on Solar Media's portfolio of events, in-person and virtual
Or continue reading this article for free
The protestors have joined schoolchildren from around the world who decided to 'Climate Strike', kicking back against a futureless future and even the UK government finally caved in and admitted the scale of the climate emergency – while at the same time concerns grow over air pollution and the other environmental costs associated with 'business as usual' carrying on despite the rise in global temperatures.
We think they've done a pretty good job of raising awareness. Certainly the 'XR' Extinction Rebellion logos are to be seen on mobile phone cases, handbags and all over the ticket barriers of the underground tube train network. But in focusing on climate doom, are they misrepresenting or failing to see the existence of solutions? It's a tricky question.
For me, I would say that it is our job at Solar Media to present the arguments for clean energy and the specific technologies that can play a role in modernising our energy system(s) along a path to decarbonisation. Every day we see that solutions are in many cases already present for the biggest problems the world faces. We've seen batteries and solar replacing coal and now gas, we've seen the cost of solar drop 90% in the past 10 years and we've seen that even the UK is committed to phasing out petrol-powered vehicles by 2040.
However, there's no time to be smug. Those that do not study history are doomed to repeat it, those that do study history are sometimes condemned to watching others repeating its mistakes. To fail to act now on climate change would be a huge dereliction of duty by us all. While Extinction Rebellion may have helped draw attention to the scale of the problem, it's now up to us all – especially those of us with a head-start in the industry – to bring the solutions to life.
Solar Media's editorial team have looked at some different aspects of the energy transition. Here's why we're both alarmed about climate change and yet excited to be playing a small part in fixing it.
Policy: Find the path of least resistance – John Parnell, Head of Content at Solar Media
Politicians are fairly predictable. They'll take the path of least resistance towards votes. Figuring what path the public have scoured ahead of them is the job of pollsters and electioneers. Public opinion is fickle and tribalism or prejudice can drag people away from the issues they've laid before those contesting the polls.
It's neither controversial nor debatable that climate change, or any other environmental issue for that matter, has been anywhere close to the top election priorities in any major economy. Climate change has never been the main talking point among the masses. The Paris climate change talks piqued some seasonal interest but until Extinction Rebellion, with a little help from a certain TV broadcaster and a Swedish schoolgirl, it never felt like it was emerging as a key issue.
The big three vote winners (in the UK at least) are education, healthcare and the economy.
At the time of writing, British politicians were in the House of Commons debating whether to declare a state of climate emergency, and a fair few MPs bothered turning up. Something is changing.
Voters are increasingly concerned about climate change. A global Ipsos Mori poll found that 37% of people listed it as their top environmental concern, up from 30% last year. Let's think about those big three issues again.
Air pollution was the second concern (think healthcare). Research has found that 4,000 Londoners were hospitalised because of air pollution between 2014 and 2016, the majority as a result of aggravated asthma. Go into any school, when the kids aren't on a climate strike, to discuss climate change and you'll probably find that the pupils know more than most of their parents.
Then there is the economy. Developed nations are growing their economies and reducing emissions. Even if this early apparent progress has involved doing the easy stuff first, we can go lower with destroying our quality of life.
Politicians will finally dribble towards climate action and with no strong plan of action for climate change across their manifesto pledges, they will not have credible plans for health, education or the economy.
India: Aim high, aim for progress – Tom Kenning, Deputy Editor, PV Tech
India has often been described as the key to the global climate crisis. The sheer size of this rapidly developing nation means that its decisions on whether to decarbonise or fall back on traditional use of its dirty, domestic coal has major implications for the entire global effort. Few Indians in urban settings need any graphs or headlines to know that air pollution is an increasing and crippling issue, what with Indian cities dominating the lists of Top 20 most polluted cities in the world for years now. Thus, the average Indian is totally onboard with clean energy concepts, and where nimbyism prevails in other countries, in India, large renewable energy infrastructure projects are – to a large extent – perceived as signs of the country progressing. India has in fact been a remarkably uplifting place to work in the solar PV sector during the four years of Narendra Modi's government for this reason.
That said, the last four years haven't been without policy setbacks and mistakes, but India is also seen as a clean energy market that is guaranteed to boom for many years, regardless of which government comes into power. The sentiments are clearly there, but in the time-constrained context of climate change, there are some baffling numbers and challenges to overcome.
Speaking at Intersolar Europe in 2017, former Indian power minister Piyush Goyal noted that two-thirds of the buildings that will be in existence in India in 2030 are yet to be built. Moreover, its workforce will grow by 300 million net over the next 10 years, such is the youth of this South Asian giant.
In an ever-more crowded, chaotic and hot country, upheaving infrastructure to replace it to meet the necessities of a 'clean' 21st century is a daunting prospect. Again, this is a country that is already facing some of the most severe impacts of climate change. Tamil Nadu had serious flooding in the summer of 2016, major cities were ground to halt in the monsoon floods of 2017, and Kerala was then devastated by unprecedented flooding at the end of 2018, so the will to change is there.
However, the nation's baseload power is still dominated by coal and for renewables to really work they will have to not just soak up new power demand from air conditioning units and the new lifestyles of a developing nation, they will have to start making serious dents into current thermal power generation.
Much of the world laughed when India set a 100GW solar target by 2022 then aimed to electrify every village, but by aiming high it smashed through into the top 3 global solar markets in just a couple of years and succeeded in its electrification goals. Clean transport is key, but when it comes to EVs, anyone who has witnessed traffic in Mumbai, Bangalore or Delhi, for example, will scratch their head imagining all these vehicles having to stop even longer to charge up… superfast charging technology would be essential.
India can be dizzying, but if the prevailing sense of optimism continues then who's to say it won't pull through. With the South Asian country closing in on 1.4 billion people and fast developing, the world needs it to lead the energy transition.
Money: Financing the rebellion – José Rojo, Reporter, PV Tech / Energy-Storage.news
12 years, US$2.4 trillion. The sheer gravity of the first number – the time left for the world to limit catastrophic climate change, according to last year's landmark IPCC report – may have distracted some from what the second represents: the investment UN scientists believe clean energy needs every year, all the way to 2035, to reach the same outcome.
Is it feasible? The goalpost remains some way away, if BNEF's estimates – US$300 billion-plus of funding every year since 2014 – are anything to go by. It doesn't help that developing states, which need the funding most, are those most often shunned by big financiers.
Development institutions may work tirelessly to kickstart renewables in the likes of Nigeria and Vietnam but remain, when approached by PV Tech, fully aware that only private investors can move the needle at the speed and scale required.
Numbers appear to underscore the premise that institutional capital could fuel a green infrastructure boom, if it so wished: US$2.4 trillion starts feeling very feasible indeed when reading that, last year, the world's top 400 asset managers alone were said to be sitting on a €65.7 trillion fortune (US$73.6 trillion, at today's rates).
Their unease is in part justified, of course; some of the dangers of investing in emerging markets – land acquisition, corruption, short-termism – are very real. Could a deeper, less rational fear also be at play, however?
Years covering the capital markets have taught this correspondent to treat institutional investors as a slow-moving, change-averse beast. Vaguely worded sustainability pledges are popular but, as the opposition to the EU green finance plan attests, the enthusiasm falters when the status quo lies under threat.
Resistance aside, the opening to green infrastructure is undeniable. As witnessed by PV Tech, PV in particular is using plummeting costs to lure private money without the need for subsidies; attitude shifts at Norway's trillion-worth fund and other giants herald an allocation boom. Will the surge be enough to stop destructive global warming? That is a question only future generations can answer.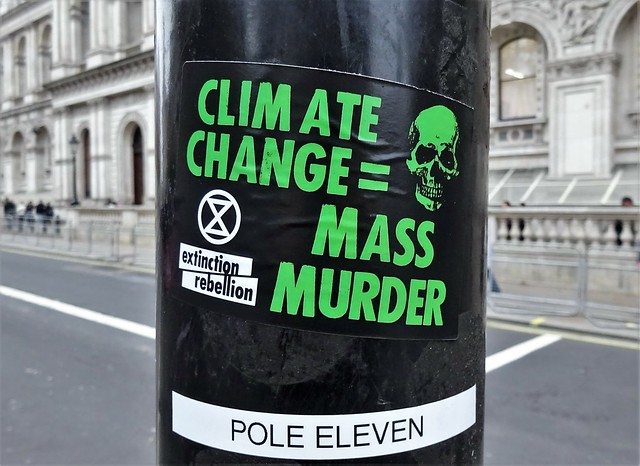 Younger generations can't afford to ignore mistakes of the past – Alice Grundy, Junior Reporter, Solar Media
It is, perhaps, easy to dismiss climate change when you're not personally facing a future that could be destroyed by it. If, for instance, you will not be there when the ice caps of the Arctic melt and our world is irrevocably changed. For the younger generations, it is not so easy to ignore.
Greta Thunberg is only one of the young people around the globe taking a stand, but she's arguably become the face of a generation fed up with the actions of those older and, supposedly, wiser than them.
All is not lost, however. Extinction Rebellion has demonstrated the changing attitudes of those across the different generations. It has brought climate change into every conversation on the bus to work, the radio playing at dinner and coffee break catch up.
We need to plaster the message where all can see it; post it on social media, splash it on a billboard and get whatever B-list celebrity you can think of to talk about it on TV.
Renewable energy, battery storage and EVs are the way forward, and we need the British government to support us in making decarbonisation a reality. We need the O&G industry to recognise that the noose is closing around its neck and make the switch before it's too late. And we need the public to accept renewable technologies into their homes and, like Greta, become advocates to their friends, families and governments.
Extinction Rebellion's activities are a call to arms. We need to answer it.