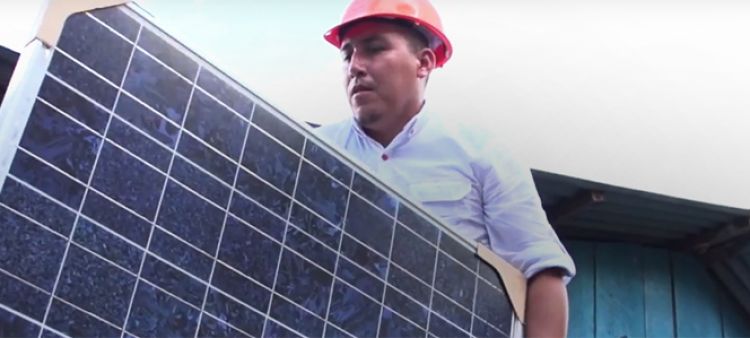 French utility Engie and German energy storage firm sonnen have signed a strategtic partnership to offer a package of solar and energy storage to households in France.
The 'My Power' package is already available and Engie has identified 3 million customers in France living in detached houses that are conducive to using the solar-storage combination. Moreover, customers in southern France could power close to 100% (up to 95%) of their electricity needs through the package in the summer months between May and September, with northern customers able to generate around two thirds of their power demand. Sonnen spokesman Mathias Bloch emailed Energy-Storage.News this week to confirm reports of the deal which had appeared in various news outlets.
Sonnen's chief executive Christoph Ostermann told Reuters: "Engie has tested the systems and is now going into this market. Together, we would like to become a dominant player in French home solar batteries within two to three years."
"We are very happy that one of Europe's largest utilities shares our vision of clean and affordable energy. ENGIE is a company that not only talks about renewable energy but really pushes it forward. The French storage market is at the very beginning and therefore offers enormous potential," Ostermann added in a separate statement emailed to this site.
"This shows that more and more people around the world want to take their energy future into their own hands and thus want to use our technology".
The addition of storage will allow customers to become even more independent, having seen retail power prices rise around 20% over the last five years as the country's nuclear reactors have aged.
Engie and sonnen hope to emulate the success of the package model in the Italian and German markets. Sonnen is one of the clear leaders in residential energy storage systems, having also launched in territories including the UK and the US and sold over 16,000 systems in its German homeland. The company just also announced the appointment of Ani Backa, an expert in energy and law, as its new U.S. director of regulatory strategy and utility initiatives.
Engie meanwhile has been on a wave of activity in energy storage and what could loosely be termed smart energy systems. After acquiring US commercial and industrial (C&I) provider Green Charge, French microgrid specialist Electro Power Systems and other ventures, Engie wrapped many of the acquisitions into the parent brand, including renaming Green Charge as Engie Storage N America. In other notable recent developments, Simply Energy, the Australian retail arm for Engie, said in late March that it will aggregate 6MW of Tesla household batteries together with 2MW of demand response at commercial premises in Adelaide in a virtual power plant project supported by the government-backed Australian Renewable Energy Agency (ARENA).
Additional reporting by Andy Colthorpe