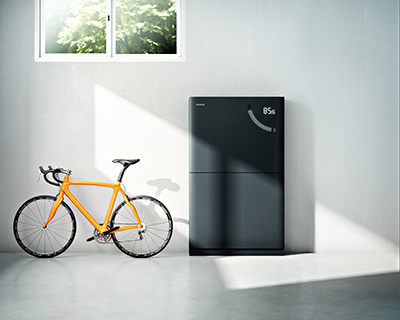 German engineering giant Siemens has furthered its involvement in the stationary energy storage industry, becoming the latest 'big player' to launch a range of home battery energy storage systems.
The company already provides its Siestorage brand of containerised energy storage and since just over a year ago has been a partner in Fluence, providing energy storage technology and services as a joint venture with AES Corporation.
Last week the company unveiled Junelight Smart Battery, lithium-ion battery-based energy storage systems for private households, aimed primarily at maximising the use and integration of onsite-generated solar energy, dubbed 'self-consumption' in many markets.
The battery has been launched initially in Germany, with a launch imminent in Austria in April. Siemens said the battery system's predictive charging and discharging procedures are coordinated in line with forecasted weather patterns and expected energy demand.
Real-time monitoring is available through a mobile app and the system can be configured up to 19.8kWh capacity if six modular units of 3.3kWh are combined. As feed-in tariffs for solar sold to the grid fall and electricity prices for consumers continue to rise, solar households are wanting to use more and more of their self-generated energy where possible, Siemens Low Voltage and Products division's CEO Andreas Matthe.
The company explained in a release that the battery's predictive charge and discharge based on weather and demand patterns and forecasts can minimise power losses in the system, as it only charges fully at times of high solar dissipation. The Junelight Smart Battery has been certified by VDE Association for Electrical, Electronic and Information Technologies for quality and safety, including both manufacturing processes and the system itself.
Siemens did not refer to further capabilities of the battery that may be possible, such as energy trading or aggregation into virtual power plants (VPPs), which some other manufacturers are already offering, but the company did say the battery system and its control and monitoring platforms may add further applications and services, particularly with successive software updates.
It's been a big couple of weeks for home energy storage makers, with Sonnen bought up by Shell and various programmes in different parts of the world to deploy systems at scale for aggregation directly into virtual power plants. In Germany, where Siemens has just launched Junelight, the business case is mostly built around offering PV system owners maximum benefit through self-consumption of solar energy.
This creates an economic opportunity versus selling to the grid at ever-falling rates and buying power to consume at home from the grid. In other markets such as the UK, where utility Social Energy launched a product in collaboration with Duracell and BYD this week, solar self-consumption is being paired with the opportunity for Social Energy to provide grid services and even network capacity through linking together dozens of customer-sited systems. As Social Energy told Energy-Storage.news in October last year as it prepared the launch, the company expects its business model to enable home batteries to make a "leap" in the revenues they could earn.