Questions around the variable generation — some call it intermittent generation — of solar and wind are what holds back the world's transition away from fossil fuels. A few years ago, lithium-ion batteries began helping to solve the minute-by-minute balancing challenges and increasingly the hour-by-hour ones too.
But the upper limit of what can be stored in lithium-ion energy storage systems is dictated not only by technology but by economics. Large-scale, four-hour lithium projects are now capable of making solar PV dispatchable into the evening and helping to play the role played on the grid by natural gas peaker plants without the cost being prohibitive. However, once you get to six or eight hours, it becomes expensive to use a lithium asset versus combined cycle gas turbines or even coal.
This article requires
Premium Subscription
Basic (FREE) Subscription
Enjoy 12 months of exclusive analysis
Regular insight and analysis of the industry's biggest developments

In-depth interviews with the industry's leading figures

Annual digital subscription to the PV Tech Power journal

Discounts on Solar Media's portfolio of events, in-person and virtual
Or continue reading this article for free
What could you do with a battery that can store and discharge energy for 150 hours and do it cost-effectively? You could replace a large majority of the world's so-called baseload fossil fuel plants. You could decarbonise and ensure reliability of the grid at the same time. In fact, a better question might be, what couldn't you do?
Last May, Energy-Storage.news reported on Form Energy's 1MW pilot project for Great River Energy, an electric cooperative utility in Minnesota which is retiring its 1,151MW coal power plant and adding over a gigawatt of wind energy purchases. The pilot, which could have up to 150MWh, or 150 hours, of storage, won't be built for another two years, but the promise of Form Energy's "low-cost, long-duration" proprietary energy storage technology caught the attention of many across the industry.
Towards the end of the year, in November, Form Energy closed a Series C funding round, having raised US$70 million from investors including Bill Gates' Breakthrough Energy Ventures. The company has been keeping the electrochemical storage technology's chemistry and other technical details under wraps, but CEO and co-founder Mateo Jaramillo was happy to speak with Energy-Storage.news' Andy Colthorpe about the applications and market opportunities Form Energy is targeting.
You're among a number of high profile Tesla alumni that have gone on to start their own innovative technology companies within the energy transition, carrying on Tesla's mission statement of accelerating the world's transition to sustainable energy (Jaramillo was Tesla Motors' director of powertrain business development for five years before roles as director of Tesla Energy and VP of products and programmes). In the past few months we've spoken with Arch Rao, making 'smart' electrical panels at Span and Suleman Khan who deploys virtual power plants (VPPs) with Swell Energy.
Let me add to your list there: Peter Carlsen at (European gigawatt-scale lithium battery manufacturing startup) Northvolt, as well as his co-founder Paulo Cerruti. Peter was head of purchasing for Tesla for years. So he definitely knows the world of batteries, and OEMs dealing with those. JB Straubel, who was the CTO, co-founder of Tesla, he's at Redwood Materials, working on battery recycling. Shannon Miller is the CEO at a company called Mainspring and they're developing a linear generator, it's a little bit different from battery technologies but she's another of the Tesla alumni doing great things. Gene Berdeshevsky at (silicon anode startup) Sila Nanotechnologies. It's a long list.
I think the reason for it was that Tesla attracted phenomenal talent and there was and still is a culture of engineering excellence there. Naturally, great people want to work with other great people, that's just a fact. It was a just a wonderful ecosystem to be a part of, and no surprise people who left go on to do other ambitious, interesting, compelling things.
What led you on your particular path into the Form Energy piece and into long-duration energy storage?
It was clear to me that lithium-ion would be successful at what it's really good at, but that it still left unaddressed a massive market. It wasn't going after the biggest opportunity on the grid for energy storage. And that is fundamentally an energy-based one, not a power-based one.
What I mean by that is, if our goal is decarbonisation, then you need a battery which can replace or enable to be replaced all of that energy that comes from natural gas and coal. For example, lithium-ion is going after peaking natural gas plants today and to just take the US, there's about 300GW of each kind of those assets, peaking natural gas plants and combined cycle plants.
But only 10% of the energy going into the market comes from peaking plants, and 90% comes from combined cycle, high capacity factor plants, or from open cycle plants that you run all the time. And so the real opportunity in terms of total amounts of dollars going into the energy market is for something that is different than just replacing a 5% capacity factor peaker plant.
It's going after the 50% capacity factor, 70%, 90%, combined cycle plants and of course, coal, which those things are increasingly replacing. So from just a sheer business opportunity standpoint, it was compelling to me to think about what kind of energy storage — mostly as a thought experiment initially — but to try and answer that question in a rigorous way: what kind of energy storage would replace that?
I thought maybe the best I'd be able to do on paper would be to be off by a factor of five or 10. And then [it'd be] "Okay, we just can't [do it], let's figure out fusion or carbon capture or transmission or hydrogen or something else". But I found that in fact, if you frame up the problem properly, there were a couple options it looked like that could cost-effectively replace the function of those higher capacity factor, thermal generators. So really, the total addressable market [for us is], the decarbonisation market.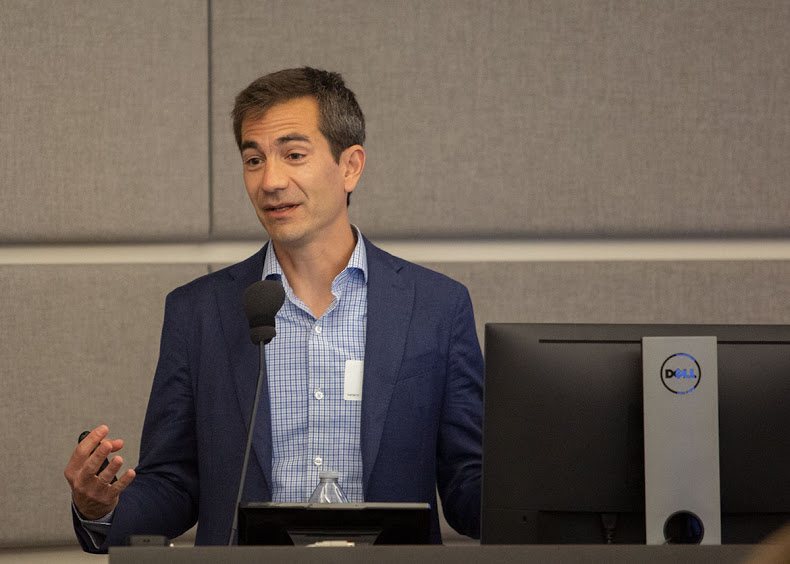 'What we care about is a reliable, cost-effective, decarbonised system'
We often hear that the energy transition will need that multi-day or longer duration energy storage. And the pilot project you have with Great River Energy in Minnesota aims for 150 hours of storage and discharge. But I'm assuming the majority of use cases for the battery won't require that much?
That's right. Like any battery, our battery will have a variety of use cases, sort of within the spectrum that it operates on. You're never going to use it in a single way. Full discharge, til depletion, full charge til 100% state-of-charge — that's just not how anybody uses a battery on the grid.
You use it day-in, day-out, you have periods of one type of activity and other periods of another type of activity. In fact, that mirrors the way that you use a gas plant, especially these sort of shoulder type, you know, mid-capacity, mid-merit type gas plants.
Sometimes they'll run flat out for a week. And most of the other times what they're doing is sort of ramping up and down throughout the course of the day and you have periods of elevated output and other periods of lower output and that mirrors the way that you would use the battery.
In fact, that's the multi-day use case for energy storage. It's designed to replace that gas plant so that you're going to mirror that type of activity. And there will be times when you're discharging in the afternoon, because that's when you need to and you're charging in the evening or vice versa. You're going to follow all the patterns that the grid will tell you that you need to follow.
The point is that there's lots of ways to provide value to the grid, and discharging flat out for a week is only one of them. Now, it's a very high value one when you need it, it's really high value.
For example, during the Texas Winter Storm, or during the polar vortex in Minnesota, which is the specific concern of Great River Energy. They have a large coal plant and when they have a polar vortex come through, which it does now reliably every few years and they have three or four days of basically no contribution from the renewables, their thermal plants are running flat out.
They have winterised the natural gas [assets], but even they have trouble providing all the natural gas there. So the coal runs flat out. And so that's one sort of snapshot of the type of use case that this multi-day battery will have. But that's not the only way that you would intend to use it.
A lot of the economic thinking about batteries is not necessarily how often you cycle them but how often you use them and accrue those different revenue streams for grid services, or from wholesale markets and looking further out, to more capacity-type functions. Does getting the value of long-duration storage recognised by the market mean changing the way we think about batteries in that respect, and it being more about how long the battery itself will last, rather than necessarily how often you can cycle it and how much money you can make out of it every time you do cycle it?
Yes, is the short answer. We'll stop comparing things like cycles, or even efficiency. Because in the end, what we care about is a reliable, cost-effective, decarbonised system. And so all we really care about is in the financial models, [about] which combination of assets make the most sense.
I would even go so far as to argue that the only way to compare energy storage solutions is in a financial model: you cannot look at specifications, you can't really compare lithium-ion versus what we're doing, or any of these other sort of aspirant technologies that are out there, except in the financial model to understand how you should value them.
Because the systems into which these assets would be operating in are so complex that you really have to have a pretty deep understanding for the economics of the entire system and of whatever plant it is that you would have in mind, standalone storage combined with renewables, multi-types of storage, whatever it might be. But you really can only compare them in a financial model.
I think we'll start to move away to a degree from measuring value of storage based on number of cycles or other spec sheet type data. So that's point one. And on point two: when we think about the current markets that are there, and what we need to value for something like multi-day storage to participate in the market, to a large degree, a good bit of that is already there.
So if my goal is to replace the function, let's say, of a coal plant, well, the coal plant has already been compensated, you could say, not quite well enough, because they're at big a disadvantage, but there are mechanisms to compensate, for example, baseload generation, which is out there today.
And if what we're saying is, by adding our technology, multi-day cost-effective multi-storage into the mix, you can turn renewables into a baseload resource, then you should be able to be compensated. If you can do that at a cost that is not above and beyond the cost of the alternatives today, well, then you could compete today.
Now, there are some issues that are being worked through in a lot of different regulatory areas. One of those specifically is the value of reliability. And this is something that doesn't really exist in the market today.
The wholesale market products out there do not provide a specific price point for reliability or availability of a plant. Or if they do, it's sort of by proxy and capacity is one way to do that, resource adequacy in California. But it's also a very incomplete measure of the true value of these assets. Again, as what we saw in Texas, Texas doesn't have capacity market but those kinds of scenarios are where the current market designs do break down, in terms of directly incentivising new entrants into those markets, to provide the services.
So if there's one change that likely does need to come, it will be around pricing reliability correctly, and providing the right market signals to both the existing facilities that are out there, but also new types of generation and new types of combined solutions that can provide the same function into the market. Again, that reliability function.
Do you think there are ways that can be done that aren't kind of radical overhauls of the way that people look at the grid? Let's just take Texas for an example. It seems like something has to change there. Do you think Texas is an isolated example and what should Texas and other parts of the world be receptive to in terms of making changes?
I don't think Texas is an isolated example. But let me explain what I mean by that. No market design and current structure has fully contemplated the impact of climate change. That's really what happened to Texas, but just in a very dramatic way. And they were content with their energy-only market, of course, for a long time, until it didn't work.
But the very active discussions happening in all the other organised markets, certainly in the United States, and probably a lot of other places, too, are frantic around: "How do we make sure Texas doesn't happen to us?"
That's because they know that no matter whatever their market design is currently today, they can have capacity and they can have all sorts of different products in it, and they still know that it is insufficient to deal with the kinds of changes that are happening to their system. Or that will happen to their system, thanks to climate change.
So there's lots of consideration that's being paid right now, to those market designs, to the structures of the markets overall, and to the consideration that they have for planning the future of those grids. So Texas is not isolated, it just hasn't happened in the other areas just yet and everybody is susceptible, maybe to different degrees. But they're all susceptible to just how quickly this industry, this market, is changing and has changed.
Cover Image: Fenton Wind Farm in Minnesota. Mateo Jaramillo and Form Energy believe that together with the company's battery and other technologies, the output of renewables can form the core of a system that replaces fossil fuels reliably and cost-effectively. Image: Wikimedia user / Windtech.
Read a Guest Blog from earlier this year by Form Energy's Scott Burger, Annie Baldwin, Jason Houck and Marco Ferrerra titled 'Texas' energy crisis: Future directions for planning and building resilient grids', here.