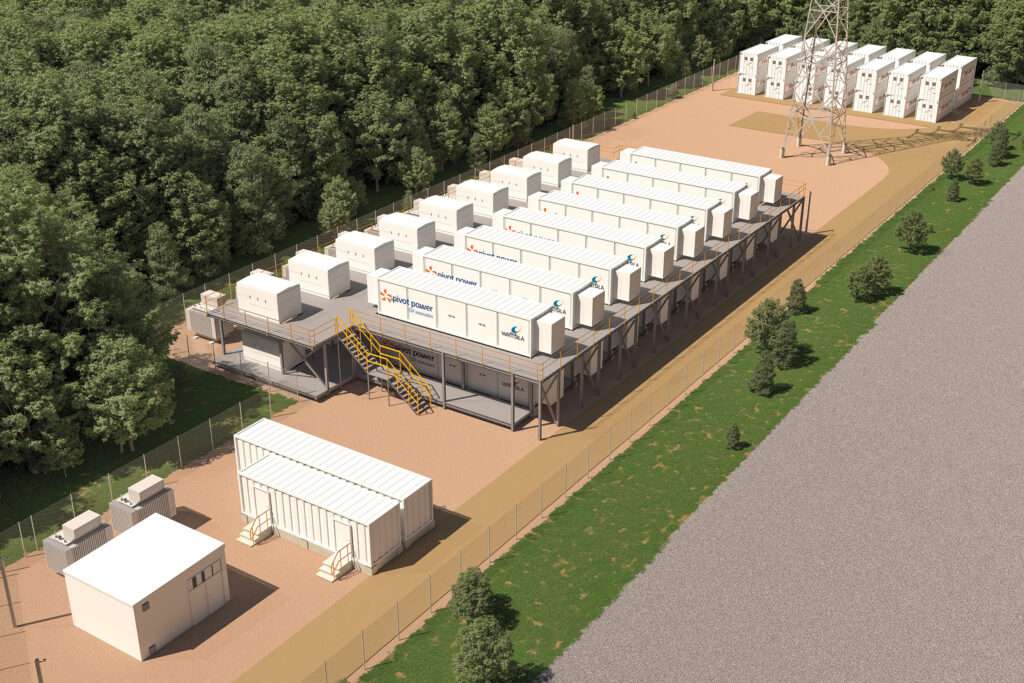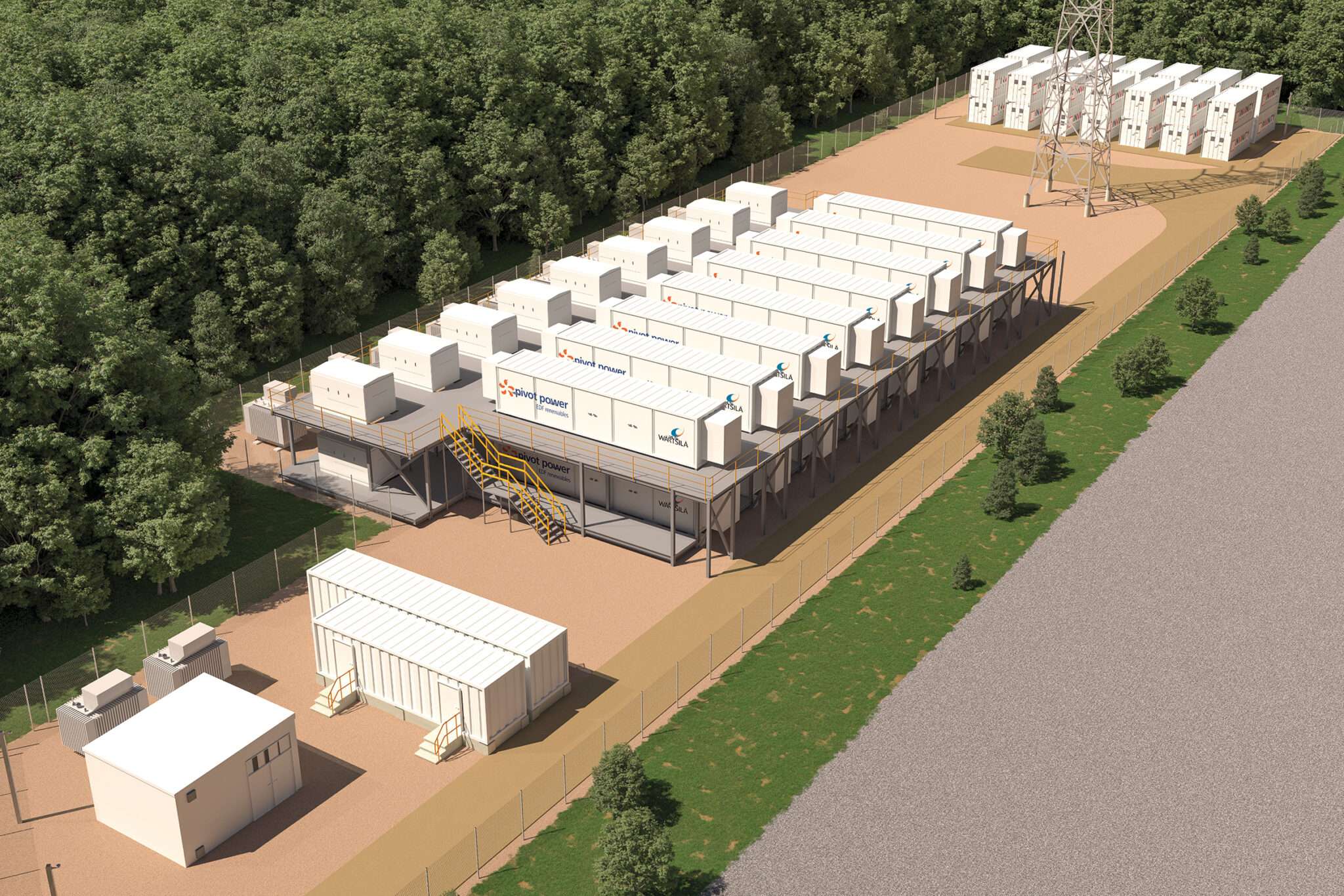 A special energy storage entry in the popular PV Tech Power regular 'Project Briefing' series: Energy-Storage.news writer Cameron Murray takes a close look at Energy Superhub Oxford in the UK, which features the world's biggest lithium-vanadium hybrid battery storage plant.
This is an extract of an article which appeared in Vol.30 of PV Tech Power, Solar Media's quarterly technical journal for the downstream solar industry. Every edition includes 'Storage & Smart Power,' a dedicated section contributed by the team at Energy-Storage.news.
This article requires
Premium Subscription
Basic (FREE) Subscription
Enjoy 12 months of exclusive analysis
Regular insight and analysis of the industry's biggest developments

In-depth interviews with the industry's leading figures

Annual digital subscription to the PV Tech Power journal

Discounts on Solar Media's portfolio of events, in-person and virtual
Or continue reading this article for free
Project name: Energy Superhub Oxford
Location: Oxford, UK
Capacity: 55 MWh (50 MW/50MWh Lithium-ion, 2MW/5MWh Vanadium flow battery)
Energisation date: July 2021 (Lithium-ion), December 2021 (Vanadium flow)
Developer/asset owner: Pivot Power, part of EDF Renewables
Technology providers: Wärtsilä, Invinity Energy Systems
Optimiser and trader: Habitat Energy
Known globally for its university, Oxford is now making a name for itself as a testing ground for the largest hybrid battery energy storage system (BESS) of its kind anywhere in the world.
Energy Superhub Oxford (ESO), set to fully launch in the next few months, is the result of three years' work by a consortium of private sector organisations, the local council (local authority) and the University of Oxford, plus government body Innovate UK which funded a quarter of its £41 million (US$55.8 million) cost.
The engine room of the ESO is the largest lithium-vanadium hybrid BESS in the world, which combines the high-power of lithium-ion battery storage with heavy-cycling, non-degrading vanadium redox flow. Also part of the project are the UK's largest public electric vehicle (EV) charging park and 60 residential ground source heat pump retrofits. Vanadium batteries are at a much earlier stage of commercialisation than lithium, making the ESO fundamentally a demonstrator project with multiple, complementary aims.
Ask the council and it is likely to talk about reducing CO2 emissions by boosting EV take-up, demonstrating the smart heat pumps' potential for energy and cost-saving, and helping the grid's efforts to decarbonise.
Project developer Pivot Power's COO/ CTO Mikey Clark — perhaps unsurprisingly given his engineering background — was keener to talk about the underlying unique hybrid battery technology's potential to capitalise on developments in the UK grid services market.
"We really want to test how a flow battery could be co-optimised into lithium-ion-type systems," he tells PV Tech Power about the reasoning behind the project.
The BESS is already live and set to be fully operational and trading in the electricity markets in the coming weeks – the lithium-ion system is already – while the EV park will open to the public in Q2 2022. But even before any of that, the project has already delivered numerous firsts and superlatives.
As well as being the largest lithium-vanadium hybrid installed anywhere in the world, it has the largest vanadium flow battery system in the UK, and largest BESS optimised by an AI-enabled optimisation & trading engine (OTE) in the country to date, provided by optimisation specialist Habitat Energy.
The unique hybrid battery launch is noteworthy amidst a total reshaping of the market for providing services to National Grid, the UK's electricity grid operator. Increased volatility due to growing renew- able intermittent generation, a saturation of the ancillary services market and new services for power producers and BESSs to bid for, means a myriad of potential ways its effectiveness can be demonstrated.
More locally, Oxford City Council is hoping Energy Superhub Oxford can reduce the city's annual CO2 emissions by 10,000 tonnes in year one and 25,000 tonnes by 2032 — equivalent to 3-4% of the city's total scope 1 emissions in 2019 — primarily through energy trading, providing a model for other cities looking to decarbonise their economies.
Timeline
Q2 2019: Planning and preparation begins on BESS, EV network and heat network
Q1 2020: EV procurement by council bodies begins
Q3 2020: Construction begins on heat pump network
Q4 2020: Construction begins on BESS
Q2 2021: Construction begins on EV network; operation & evaluation starts on heat network
Q2 2021: Lithium-ion energised and begins trading in market; operation and evaluation begins on BESS
Q3 2021: Construction complete on vanadium flow battery
Q4 2021: Vanadium flow battery energised
Q1 2022: Vanadium flow battery starts trading in market
Q2 2022: All heat pumps built; EV charging park to open to general public
Q2 2023: ESO fully operational after ramp-up period with evaluation of all three parts complete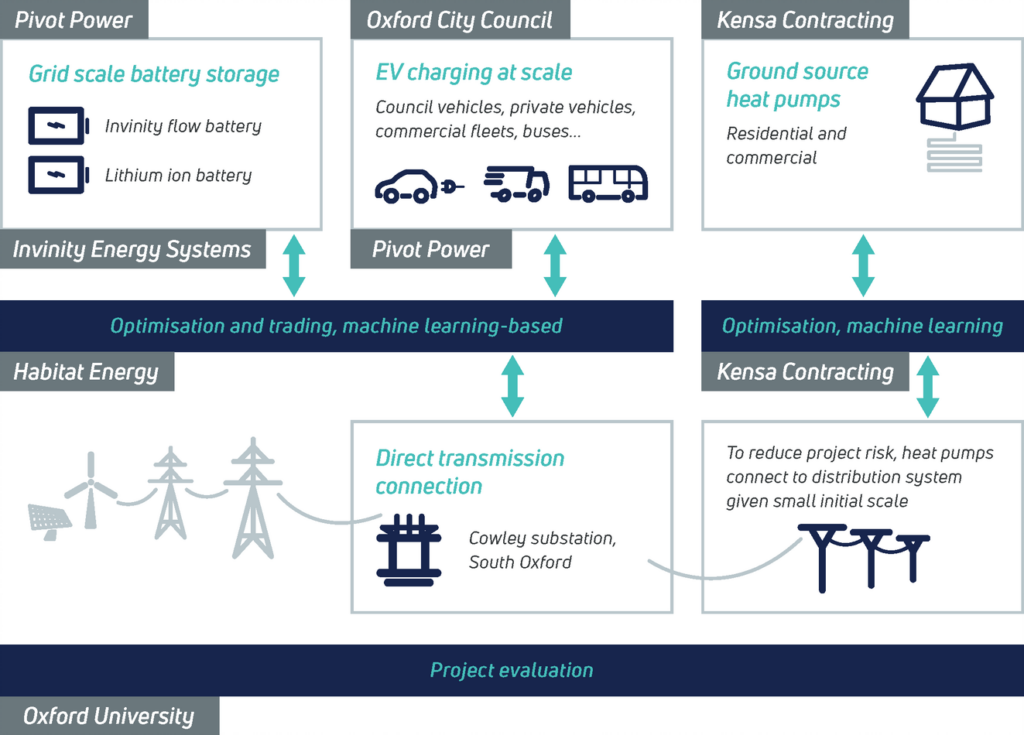 Launching the project and division of hybrid battery responsibilities
ESO's story begins before the COVID-19 pandemic struck. It launched in April 2019 when planning and preparation processes kicked off. Construction on the BESS and heat pumps started a little over a year later while the EV station broke ground in the first quarter of last year.
The lithium and vanadium flow batteries were energised in July and December of 2021, respectively.
"The lithium-ion battery is trading in the market. The flow battery is live but not yet trading in the market, but we expect it to be there in the next few weeks," Clark says.
The lithium battery is a 49.9MW one-hour system while the vanadium flow packs 2MW/5MWh and the system sits beside and connects to the Cowley National Grid substation on the southeast outskirts of the city. Project manager Tim Rose said in a webinar that the two battery systems will provide grid services separately for the first three to six months of them both being in the market.
A total £41m has been invested into delivering ESO of which £11.3m was a grant provided by Innovate UK to part-fund the activities of all consortium partners. Of the battery costs, 15% was for the vanadium flow with the remainder on the lithium system, site construction and grid connection, though Pivot wouldn't be more specific.
Wärtsilä delivered the lithium system and will also control the entire BESS through its GEMS software and energy management system (EMS) platform. It will process operational data at its expertise centre in Trieste, Italy, and is working on three other similar UK projects with Pivot Power.
The vanadium flow system was supplied by Invinity Energy Systems while Habitat Energy is playing the role of trader and optimiser, providing instructions to the GEMS about what services the BESS should do based on market demands, while also maximising the lifetime of the asset, all through its AI machine learning-enabled OTE platform.
Habitat Energy's head of UK business development Ralph Johnson says machine learning (ML) has a lot to offer energy storage assets like ESO's which require the constant analysis of hundreds of different data points to get the most accurate forecasting of prices and market value.
"We have developed all our forecasting ML algorithms from the ground up. They take all that data and use it to forecast prices really effectively across different spaces. So day-ahead markets, intraday markets, the Balancing Mechanism, system price markets etc. And we then utilise those forecasts
with our algorithmic dispatch platform or to inform our trading team," he tells PV Tech Power.
He adds that its platform has mainly focused on 1/1.5-hour systems, so he sees a real learning opportunity for Habitat with this project too. But recent shocks to the system in the UK market have highlighted the need to combine algorithms and the human element, adds Jon Doughty, Habitat's UK managing director.
Habitat and Invinity are both keen to emphasise their roles well before and well after the project's launch, respectively.
Habitat provided revenue forecasts and commercial implications of certain designs and worked with Wärtsilä early on to ensure the BESS could enter markets as soon as possible. Invinity will continue to track systems remotely and assess individual subcomponents combined with site visits, says Ed Porter, business development director.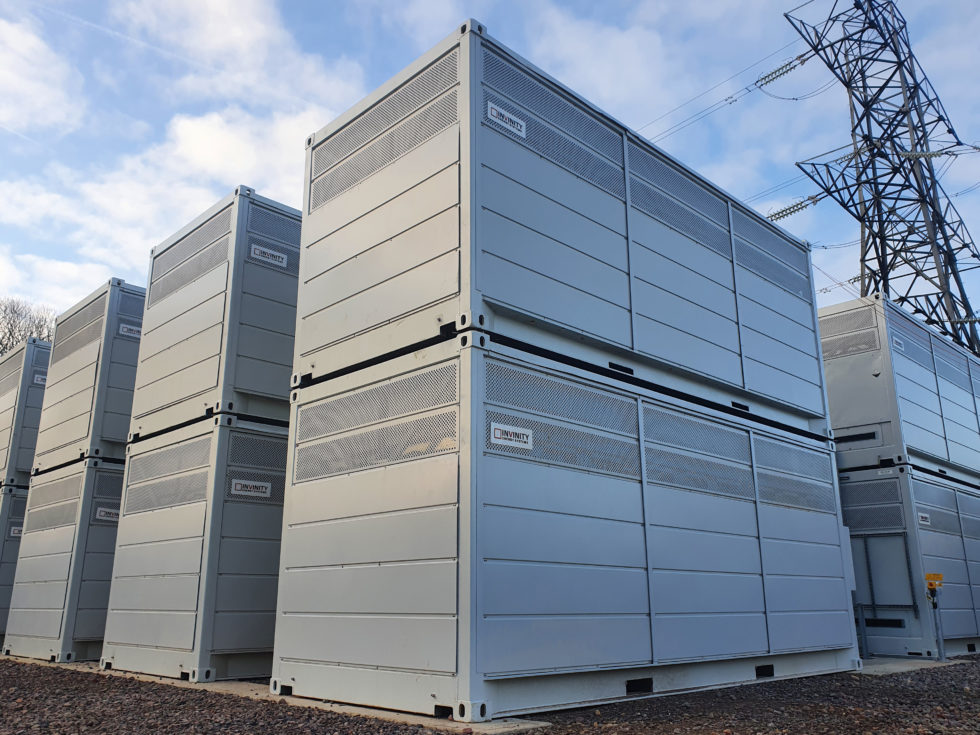 Unique potential in grid services and electricity trading market
All our interviewees agree that the hybrid battery system will give the ESO's BESS versatility when going out into the merchant and ancillary services markets.
'Merchant' means operating in the electricity trading market without long-term contracted revenues from National Grid for things like frequency response.
"We didn't want to rely on contracted revenues but instead want to go out to the market with a nearly 100% merchant model. That plays into getting the right tech into the stack in order to give us a lot of versatility," Clark says. "The majority of the hub's revenue will be from merchant as well as some ancillary services but, over time, a trend towards more and more merchant."
He gave a specific example of how the hybrid BESS could tackle frequency response services in the ancillary market: "As most of the deviations from 50hz happen within a two-megawatt tolerance, a lot of those cycles can go through the Invinity battery, that doesn't degrade like a lithium-ion one which can pick up anything big. This is one hypothesis that is really interesting to us and me as the CTO, given the number of cycles we could potentially take off," he says.
Clark and the other consortium partners are reluctant to provide more specific examples at this point.
"To say exactly what markets and what benefit we can achieve from the asset is probably difficult at this stage," says Johnson.
"Its ability to dispatch for longer durations, and to hold its state of charge with fewer concerns around asset degradation, gives us opportunities to potentially capture value across long periods of the day in the merchant space. So interestingly, periods where the market price shape is flatter (and less volatility exists) and you're actually looking to capture more lower margin spreads over longer durations of time. That's really an interesting opportunity where long-duration energy storage can add value," he says.
"Combining that approach with the strategy we would employ to capture the value you can achieve in volatile conditions, where those spreads can be larger, across multiple power markets (day ahead, intra- day, Balancing Mechanism), but over much short time periods (30 mins to 1 hour) with the 50MW one-hour lithium ion battery is a really interesting challenge. Being able to access both sets of value with the same asset is a real positive for this project and something we're really looking to investigate and explore."
New pre-fault, higher-output ancillary services like dynamic regulation (DR) and dynamic moderation (DM) will be acces- sible for the vanadium flow battery thanks to its longer duration, Johnson and Porter both say.
It should be noted that Pivot's more recent projects of similar power magnitude have two-hour lithium batteries. The business case has shifted towards two-hour systems since ESO was launched, Brent Iversen, Senior Business Development Manager at Wärtsilä Energy Business tells PV Tech Power.
"People in the UK market are still looking at between one and two-hour batteries and the business case debate is quite balanced, though I think the majority of developers are now starting to go for two-hour systems," he adds.
Future
This project has come at an exciting time for the UK energy storage market. Data from Solar Media's UK Battery Storage Project Database Report shows that the UK has a BESS pipeline totalling 25GW, of which 99% is lithium-ion systems and just under half already has planning permission approved. Today, 1.6GW is operational.
ESO is the first of up to 40 similar projects that Pivot Power is targeting across the UK which could total 2GW of energy storage, or 50MW each, all grid-connected. Clark says that all will have a similar power magnitude to ESO's but it is the only one using a vanadium flow battery, for now, as "we are still waiting to see how the technology performs."
The company is looking at a range of technologies and industries that can combine with its BESS projects. This could be renewable generation or even industries that could be directly powered by its batteries. The most obvious one is EV charging but BESS has the potential to help power light railways, for example.
Doing this would also have the effect of demonstrating more tangible positive results of BESS installations, with grid balancing and renewable load shifting far from the average person's thought process.
The company's target of 2GW is certainly ambitious and commendable, and if achieved it would account for 5-10% of the 20-40GW of energy storage the UK needs by 2050, according to National Grid's modelling.
All involved will be hoping ESO delivers on all its promises, many of which it already has, and provides a model for other cities wanting to contribute to the decarbonisation of the UK's energy sector.
This is an extract of an article from Volume 30 of PV Tech Power, our quarterly journal. You can buy individual issues digitally or in print, as well as subscribe to get every volume as soon as it comes out. PV Tech Power subscriptions are also included in some packages for our new PV Tech Premium service.
About the Author
Cameron Murray is a journalist for Energy-Storage.news and a contributing writer for PV Tech Power, here at Solar Media.