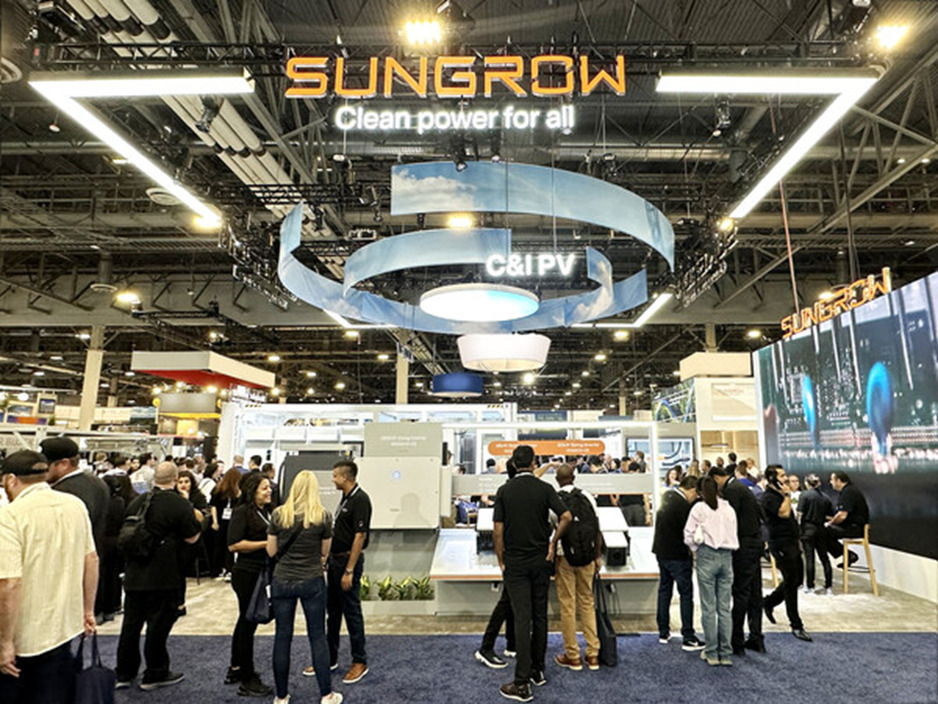 Sungrow has participated at the 2023 edition of RE+ in Las Vegas, presenting its latest solar, storage and EV charging solutions for the North American market.
New products for utility-scale solar and energy storage markets
Tailored for utility-scale PV plants, the company exhibited its latest string inverter, the SG200HX-US. The product is equipped with 12 MPPTs, which accurately track highest power points to ensure the system is able to operate at optimal power, resulting in an increased overall yield. It also features a maximum current of 20A per string and is compatible with larger format PV modules. With a design of one MPPT for every two strings, the product eliminates the possibility of string reverse connection issues.
Also on display was the SG3150/4400UD-MV-US (3.15MW/4.4MW) modular inverter, a flagship solution combining the advantages of both central and string inverters, with one MPPT for each unit making plant design flexible to a hitherto unprecedented degree.
Aimed at the rapidly growing utility-scale energy storage market, the liquid cooled PowerTitan 2.0 ESS also attracted significant interest. The system design is based on Sungrow's power electronics, electrochemistry and power grid support technologies. The product features a large battery cell capacity of 314Ah, integrates a string Power Conversion System (PCS) in the battery container, embeds Stem Cell Grid Technology and offers systematic liquid cooled temperature control. The comprehensive system significantly enhances power density, enabling the 20-ft container to be equipped with 5MWh batteries and 2.5MW PCS.
Innovations optimized for commercial and industrial installations
Optimized for the C&I PV segments, Sungrow offers 36kW and 60kW string inverters with multiple MPPTs, built-in PID recovery function and optimal protection capability making them ideally suited for rooftop use.
The PowerStack, a 500kWh ESS, addresses C&I storage demands, with its DC-DC controller able to charge and discharge battery racks individually, thereby increasing overall system performance. Automatic state of charge (SoC) calibration and automated coolant refilling significantly reduce O&M costs.
With the EV charging sector also witnessing a rise in demand amid increasing sales of electric vehicles, Sungrow also displayed its latest 22kW AC EV charger and 30kW and 180kW DC EV chargers at the event.
Hank Wang, president for the Americas, commented: "We are delighted to offer these new and comprehensive solar, storage and EV charging solutions for different applications. As the world's most bankable inverter brand, we are ready to embrace the opportunities and challenges presented in the vibrant North American market by teaming up with more partners."