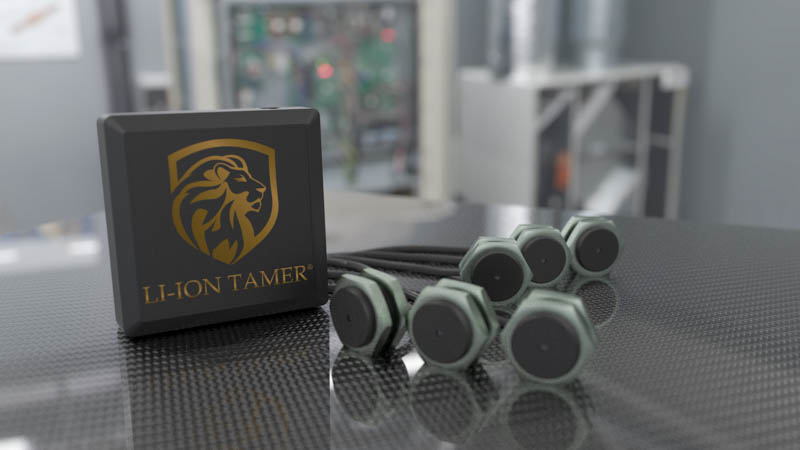 Fortune 100 engineering firm Honeywell is rolling out fire detection and safety technologies for lithium-ion batteries via its Building Technologies business unit, combining it with alternative energy innovation group Nexceris' gas detection systems.
Honeywell emailed Energy-storage.news the announcement last night, claiming that the two companies' "strategic partnership comes at a pivotal time," during the current growth phase of the lithium-ion battery industry and the attendant need for fire safety measures during that time.
A press release said that the partnership is aimed at "all lithium-ion battery users," committed to "enabling the growth of clean energy." Officially, Honeywell Group fire safety brand Xtralis is partnered with Nexceris' Li-Ion Tamer Group wholly-owned subsidiary. Li-ion Tamer products have been on the market since 2010.
Xtralis, which is claimed to be the largest manufacturer of very early warning aspirating smoke detection systems (ASD) will perform worldwide distribution, sales and installation services for the Li-ion Tamer range (excepting South Korea where another partner, Tfactory, will distribute them). Meanwhile, the two companies said they want to service every level of industry that uses lithium-ion batteries. Nexceris retains manufacturing lines for the products.
"Lithium-ion batteries offer great potential to many industries, as well as a more environmentally conscious energy source, but can also pose a significant risk if proper protection elements aren't appropriately in place," Peter Lau, president of the Commercial Fire division at Honeywell Building Technologies said.
"Li-ion Tamer's off-gas detection technology strongly complements our leadership in advanced detection and extends our smart edge device strategy. Our goal is to help our customers improve uptime of their facilities and quickly identify the source of a problem – and control it – before it escalates."
An FAQ sheet also issued to press and available on the Nexceris website said the partnership would benefit Honeywell's existing partners by: "Expanding the portfolio to protect facilities and people from the challenges faced by the emerging use of lithium batteries".
"As a life safety-focused business, the Li-ion Tamer portfolio adds another detection technology to secure life and property around the world."
Separately, Honeywell's Process Solutions division has made a recent play to become a big name in energy storage deployment in its own right, announcing a 300MW pipeline of behind-the-meter (BTM) projects in the US and Canada with project developer NRStor last September. This followed the pair's completion of an 18MWh commercial ESS project in Ontario a few months prior to that.
ESN analysis: Coronavirus effect could provide knock-on market dynamic shift
Somewhat tangentially, analysis firm Wood Mackenzie said in a research note this week that it believes lithium-ion battery production in both stationary storage and automotive sectors could be affected by the ongoing novel Coronavirus outbreak.
"Chinese lithium iron phosphate batteries have received renewed attention in the US market following supply chain tightening in South Korea in 2018," Wood Mackenzie analyst Le Xu said in a report which claims the outbreak could even reduce battery storage production capacity in the country by as much as 10% in 2020.
Not only that but also due to concerns following fires in South Korea and one serious incident in Arizona, some US utilities have put out recent RFPs stipulating that lithium-iron phosphate (LFP) must be chosen over more volatile nickel manganese cobalt (NMC) batteries for large-scale storage solutions.
While some in the industry have described this as something of an over-reaction, given that power electronics systems of any kind can be prone to dangerous incidents if not managed and controlled properly, this stipulation has led to further increased demand for LFP.
While it is less common for lithium iron phosphate (LFP) to be used in residential or commercial storage systems designed to be put in buildings due to its lower energy density than (NMC), some providers including Sonnen have long been using LFP batteries exclusively (albeit thought to be majority-supplied by Japan's Sony), while others have more recently started to do so.
One company, NeoVolta claimed to recently be the first to use only LFP in its systems registered for eligibility under the California Self-Generation Incentive Program (SGIP). While it's not clear that that's the case, NeoVolta was certainly the first to specify that its technology is LFP, as the California Energy Commission later confirmed. Such companies may find a knock-on effect resulting from supply bottlenecks.