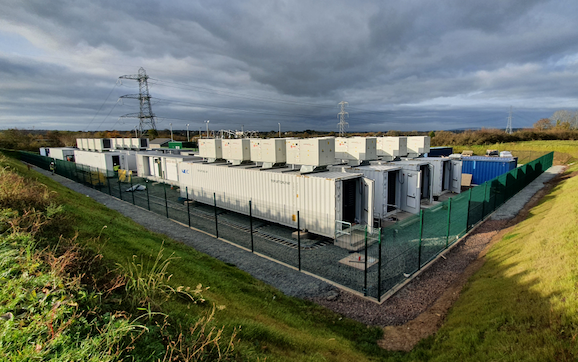 UK-listed Gore Street Energy Storage Fund has acquired its first asset in California, a 200MW/400MWh battery energy storage system project from developer Avantus.
The two-hour duration project, called Big Rock, is in Imperial County which borders Mexico and will provide power on the electricity market operated the California ISO, or CAISO.
The construction-ready project is scheduled to get a grid connection in the second half of 2024 and will start commercial operations shortly after. Battery cell supply agreements and engineering, procurement and construction (EPC) contracts have been secured.
The construction-ready Project has secured material land rights, planning consents and a grid connection scheduled for H2 2024. Commercial operations will commence shortly thereafter as a battery supply contract for all battery cells for the two-hour duration site, and engineering procurement and integration contracts have been secured.
The Project will be eligible to benefit from an investment tax credit for up to 30% of qualifying capital expenditure via the Inflation Reduction Act, which was passed in late 2022.
Gore Street already owns energy storage projects in the UK, Ireland, Germany and Texas, and this is its biggest acquisition in the US and first in California, the largest battery energy storage market in the world at 4.5GW operational (as of end January 2023).
It brings the investment firm's portfolio to 27 projects with 1,173MW of energy storage including operational and in-development projects. Energy-Storage.news interviewed the CEO of Gore Street Capital Alex O'Cinneide, which manages the Fund, about its internationalisation last year. The Fund recently bought some big projects in Texas.
Seller Avantus, formerly 8minute, is a developer with some 90 utility-scale projects in the US including 78GWh of energy storage.
The announcement said that Big Rock will provide power through Resource Adequacy, CAISO's framework for ensuring that there is enough supply of power to meet demand without centralised capacity auctions like those in the UK. It will also be monetised through grid ancillary services and wholesale trading.
Energy-Storage.news understands that battery storage projects need a four-hour duration to qualify for Resource Adequacy and has asked Gore Street for a clarification, and will update this article when a response is received.
Avantus rebranded from its previous name of 8minute in November last year. Its pipeline has grown substantially from 24GWh of solar and storage projects as of 2020, as reported by Energy-Storage.news at the time.
Energy-Storage.news' publisher Solar Media will host the eighth annual Energy Storage Summit EU next week in London, 22-23 February 2023. A few weeks later comes the 5th Energy Storage Summit USA, 28-29 March 2023 in Austin, Texas, followed by the 1st Energy Storage Summit Asia which takes place on 11-12 July 2023 in Singapore.