Based in the United Arab Emirates (UAE), Dr Imran Syed is head of industrial power for Enerwhere, designing and implementing hybrid systems that use energy storage. Dr Syed spoke to Andy Colthorpe about some recent project case studies.
Targeting customers with commercial and industrial (C&I) off-grid systems and using battery storage to greatly increase the share of solar they can use onsite, Dr Syed also talked about what challenges lie ahead both technically and business-wise, while also taking us through some of the big picture issues behind the dynamics of deploying energy storage in the Middle East.
This article requires
Premium Subscription
Basic (FREE) Subscription
Enjoy 12 months of exclusive analysis
Regular insight and analysis of the industry's biggest developments

In-depth interviews with the industry's leading figures

Annual digital subscription to the PV Tech Power journal

Discounts on Solar Media's portfolio of events, in-person and virtual
Or continue reading this article for free
"We play the 'middle game' – we're not in the residential space and we're not in the large grid-connected systems in the hundreds of megawatts," Syed says of how his Enerwhere business unit is positioned.
"Let's say anywhere between 500kW up to about 20MW – 30MW and maybe up to 50MW. The core of what we offer is off-grid systems: we go and find systems that are running on diesel generators that are off the grid and we replace those with hybrid systems.
"Historically it's always been solar-diesel mostly – and there's a limitation always to how much solar you can throw [in] when there's a diesel generator because there's nowhere for that solar to go and because the cost of solar has always been quite competitive when compared to the cost of producing power with diesel.
"That's getting slightly worse considering the diesel prices right now, but it's always been in general in a country that's not subsidised or if you have taxes on diesel then solar against it always makes sense in terms of prices."
While throwing in as much solar as possible is a good start, without storage, the upper limit of that possibility is constrained to around 20%-30% over a year of energy consumption at an off-grid site. Storage can store any excess solar, while also helping to stabilise the system and run it properly, minimising the use of the diesel generator if not yet eliminating the diesel altogether. A couple of years ago, Syed says, after exploring the possibilities around batteries, Enerwhere "stuck our necks out and bought a Tesla Powerpack system".
"It's a 200kWh small Tesla Powerpack and we started playing around with it and realised the benefits of what we can do. Part of that is the controls of the system. We build our own internal microgrid controller and that's how we bring the system together, solar, diesel and the storage.
"From there on we started investing in some lithium iron phosphate systems from China, we've installed a few of those systems and we've gained some expertise."
With Enerwhere building its own controllers, tailored to the conditions and climate of the Middle East market, as well as building up experience with those early projects, Syed considers that his company have become "the go-to storage guys, essentially".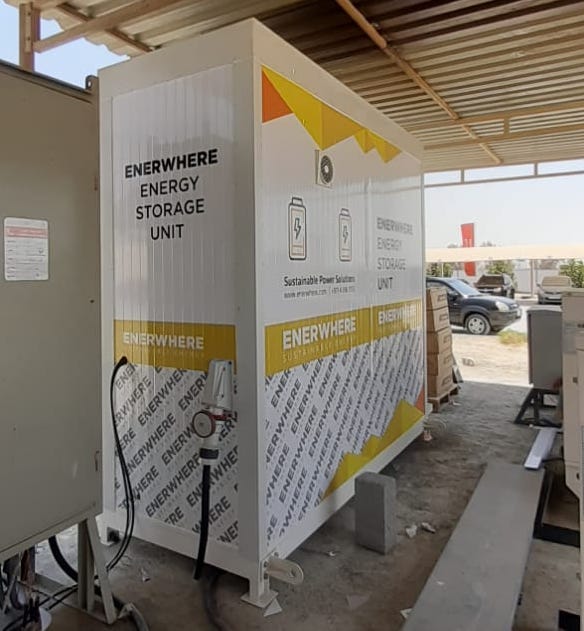 Proof is in the projects
So far, the much larger-scale stuff remains the preserve of pilot projects across the region. For Imran Syed's team, the biggest so far is an 1.21MW / 8.6MWh lithium battery system, again using Tesla equipment, piloting the technology for a utility in Dubai.
Utilities are mostly still "testing out technologies" in the Middle East, with a notable, huge example being the Abu Dhabi 648MWh project portfolio using sodium sulfur (NAS) batteries from NGK Insulators – winner of last year's International Storage Project of the Year at the Solar & Storage Awards, organised as part of the Solar & Storage Live exhibition in the UK. Beyond that however, there have not been any really large-scale projects, with Dubai, where Dr Syed is based, still "trying to understand the systems before they invest".
However, with solar installations proceeding rapidly and at grand scale in the UAE, and with lofty solar goals going forward, storage will be needed at some point. The relative lack of industry experience with deploying systems in the region needs to catch up with that requirement, while the cost of equipment and components needs to continue going down. The good news is, there are positive signs on both those fronts, Dr Syed says, although more problematic in the short term at least is something not under the industry's control: the falling price of diesel as a consequence of the COVID-19 pandemic bringing oil and gas demand, and prices, down.
In other words, Enerwhere has every expectation that the market will grow, but it remains at an early stage. Over the next two to three years, however, the market overall will boom, while Enerwhere's UAE-based teams have done "more projects in the last year than we've ever done in the past," Dr Syed says.
There are some unique challenges to doing these projects, including the extreme heat and humidity that the region experiences. With systems brought in from abroad needing some adjusting in terms of cooling and climate control, Enerwhere could overcome some limitations there by building containerised solutions locally.
Buying components separately and assembling and then integrating systems with in-house designed controls could also help with the business case for local projects, where margins might otherwise be very thin. Dr Syed says that not only would it perhaps benefit the customers to have systems built by a team with knowledge and experience of the conditions they will be subjected to, but engineering these C&I projects is a challenge, he says, but one he and his team relish and enjoy.
"From an engineering perspective, these things are fun to do, and they require brains. They require smart people to put these things together, you can't just rely on a supplier to give you the whole system. This has an advantage for someone like us, in terms of: once this becomes a very standard product, it also becomes very competitive to make any money off of it, in the sense that it becomes very easy to do and any contractor out there can do it.
"We're sort of in that space right now where you need a lot of customisation. It's not reached a stage where PV is. Anybody can install a PV plant without too much of a hassle but a storage system is not the same. The customer doesn't completely understand it yet, so there's a lot of customer education in the process and the customer needs to trust you. If you do not have good people and the customer does not get confidence in you they won't buy the system."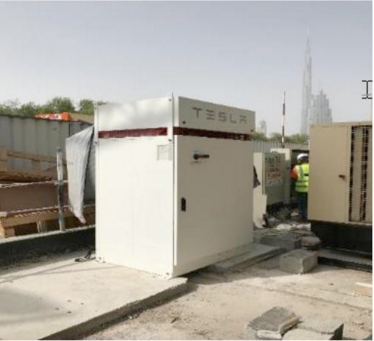 Real-world experiences
Abu Dhabi, landfill site
Enerwhere took a landfill and waste treatment site in Abu Dhabi to run on 90% solar energy, using those LFP systems the company ordered from manufacturers in China.
The system combines 150kWp of solar PV with 200kWh of energy storage and 150kVA of diesel generators.
"This was a project for a contractor in Abu Dhabi that had a waste management site office, that was running on diesel for the last few years. They were sustainability-driven and they wanted to reduce the diesel consumption on the site, they had low CO2 ambitions – that was the driver for that project.
They asked if we could replace it with solar and batteries, so we kept the generator as backup and we put 150kWp solar system with 200kWh ESS. The storage came from China, it was LFP, with a hybrid inverter in the middle. We have successfully run this project for one-and-a-half years with minimal issues, [although] we've had some issues here and there.
In winter we almost run completely on solar and batteries: the solar charges the batteries up in the morning, supplies the load and it forms the grid with the inverters.
In the evening, the solar goes out and the battery just takes over – some of the loads go slightly higher because it gets hotter here and the loads are mostly air conditioning. So in summer, the batteries don't last all night but then we still have efficiency improvements and we charge the batteries up with the generators running at a high load and then use the batteries alone.
So in summer we've got let's say 70% to 80% [solar] penetration which is reasonable I think because if you go for 100% solar-battery you really have to oversize everything for the summer as well and most of it works well in winter, so it doesn't really make too much commercial sense."
Sharja, industrial site
Industrial off-grid facility, running on an "advanced microgrid"
Uses 1MVA of diesel generators, 300kWp of solar and 200kWh of energy storage.
"This was an industrial site in Sharja that has peaks of 100kW to 120kW within one or two seconds. They've been running on generators for about five to 10 years. We replaced that with a solar-diesel- battery hybrid system.
This is not a 100% solar-battery system or even 90%, this is more like 50% to 60% solar penetration. There's a 300kWp solar system on the roof, the Tesla Powerpack battery system does run most of the day but all the excess solar that's on the system gets transferred into the battery and the battery maintains the frequency of the system during the day.
This allows us to reduce trips and in case of the generator dropping out – because generators are not the most reliable things on earth, they're not as stable as the grid, you do have shutdowns, you do have the system going out – when the generators do fail, the batteries respond quite fast to that change. The client doesn't 'feel' the difference.
This is where the batteries really do play a role. Their options are limited without the batteries: if you have peaky loads like that it's generally really hard to follow those loads. We have done a couple of sites where you have really fast controllers that follow those peaks, you open up your PV almost like a pipe and then curtail it really fast to follow that peak which we have done on some sites but with storage it makes the whole process a lot easier and you can throw in a lot more solar."
Cover Image: Project at off-grid industrial facility in Sharjah, 200kWh of battery storage with 300kWp of solar and 1MVA generators. Image: Enerwhere.