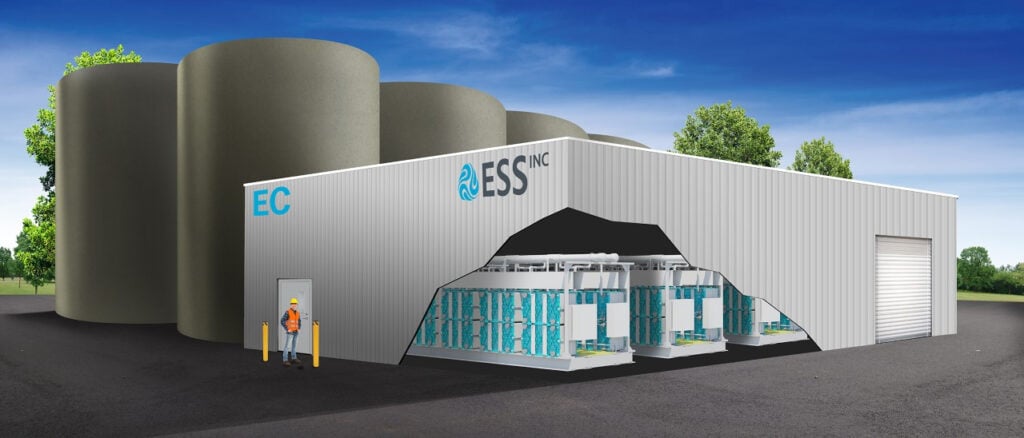 Lithium-ion will struggle to compete at long durations and its price declines cannot continue forever, said Alan Greenshields, Director EMEA for iron electrolyte flow battery supplier ESS Inc, in a rebuttal to an earlier Energy-storage.news article on the topic.
The written statement was submitted in response to last month's article citing the US Electric Power Research Institute's (EPRI's) Haresh Kamath, who said alternative energy storage technologies could struggle to compete with lithium-ion as the latter could reach cost-competitiveness at up to even 24 hours duration by the end of the decade. Kamath is director of distributed energy resources and energy storage at EPRI, the R&D and demonstration project organisation funded by electricity industry stakeholders.
This article requires
Premium Subscription
Basic (FREE) Subscription
Enjoy 12 months of exclusive analysis
Regular insight and analysis of the industry's biggest developments

In-depth interviews with the industry's leading figures

Annual digital subscription to the PV Tech Power journal

Discounts on Solar Media's portfolio of events, in-person and virtual
Or continue reading this article for free
ESS Inc's Alan Greenshields argued that lithium-ion is simply not a solution for long duration storage and that much more comes into play that cost-competitiveness alone.
"While Li-ion has been the greatest battery breakthrough in the past 40 years and redefined our lives in terms of transport and electronic devices, the technology is not the one that, on its own, will take us into the era of widespread energy storage from renewable generation," he said.
He cited Long Duration Energy Storage Council estimates that 140TWh of storage will be needed by 2040 for full grid decarbonisation globally and referred to lithium-ion batteries' issues around cost, safety and sustainability.
"The decline in cost of lithium-ion batteries has been a remarkable story for the last 30 years, but like all good stories, it will eventually come to an end," he said, citing "price spikes in lithium, nickel and cobalt of 490%, 100% and 64% in the past year, respectively (nickel's since the start of 2022 alone)."
"The belief that Li-ion prices would continue their steep descent forever is therefore not credible."
Greenshields also said that lithium-ion becomes progressively less cost effective at durations longer than four hours. Whilst few would argue that the cost differential with flow batteries and other long duration tech starts to fall past that duration, it remains true that energy storage system developers are still widely opting for lithium-ion at durations of up to eight and even 10-12 hours. At those durations, batteries can do much of the daily renewables load shifting needed.
In an interview with Energy-storage.news this week, Mitsubishi Power Americas's Senior VP for Energy Storage Solutions/Oriden Power Tom Cornell said that lithium-ion is still feasible at 10-12 hours.
"Really, the only technology for storage that is at the level for the MW and the MWh needed and close to those durations that's proven has been lithium-based. There really is not anything, except for pumped hydro maybe, be it solid state batteries, sodium, zinc or even flow batteries that has proved itself out at those durations. But, over time those technologies will become more viable."
"The RFPs (requests for proposals) we've seen for customers for those longer durations are actually specifying that they've got to be lithium based."
Energy storage investor Gore Street Capital's CEO Alex O'Cinneide told Energy-storage.news that it's only at six to seven hours' duration that alternative technologies to lithium-ion start to be considered.
ESS Inc's Greenshields also raised well-publicised concerns over the ethics and sustainability of Lithium-ion battery manufacturing. "Cobalt is one of the main elements in the manufacturing of Li-ion batteries and is mined predominantly in the Democratic Republic of Congo, where it is mined through child slave labour," he says.
Figures vary but one report from mining-technology.com said that 30% of cobalt extraction in the DRC in 2018 was from artisanal mining, where exploitative and illegal labour practices are most likely to take place. With around 60% of cobalt coming from the DRC, that means practices like the use of child labour are possible in nearly one-fifth of global cobalt production.
Greenshields then moved on to the question of safety. He pointed out that iron flow batteries' (for which ESS Inc holds patents and is the only manufacturer) constituents of iron, salt and water make them fundamentally non-flammable and that no iron battery fires have been recorded to-date.
That contrasts strongly with well-publicised lithium-ion fires around the world. He cites a fire at a battery energy storage system (BESS) in Beijing in April last year that took the lives of two firefighters and took 235 to fight it, as well as the numerous accidents with lithium-ion BESS projects in Korea in 2018/19 (though, as Energy-storage.news has reported, inadequate installation, control and monitoring were found to be the cause, not the battery cells themselves being defective).
Another area where flow batteries like those of ESS Inc can claim undeniably superiority over lithium-ion is lifespan. The latter lose capacity with every cycle and require over-dimensioning (building larger systems than needed) or in-field upgrades to ensure project performance. Greenshields also said the effectiveness of recycling is up for debate which, combined with the limited cycle life, multiplies the environmental footprint of the technology.
"In comparison, Iron Flow Batteries have a design life of 25 years and no cycle limitations. This is thanks to the proprietary technology which continuously keeps the electrolyte in as-new condition, meaning that the system shows neither capacity nor power loss over its lifetime. And should a battery be taken out of operation, the iron-salt-water electrolyte is not just recyclable but reusable," he said.
Despite these undeniable facts, the price shape of both technologies today still means the vast majority of BESS project developers or Requests for Proposals opt for lithium-ion, even at those longer durations outlined earlier.
Greenshields doesn't come across as anti-lithium-ion by any means. He said the technology is excellent for mobility applications and shorter duration regulation tasks for energy storage, but that moving to high levels of renewable generation needs cost-effective solutions for durations well in excess of four hours.
He pointed out that using lithium-ion for large-scale, long duration applications would exacerbate supply chain issues and drive up costs by competing for materials needed for EVs.
But when it comes alternatives to lithium-ion in the short-term, other technologies may be hard to come by, according to Joseph Johnson, market intelligence manager at Clean Energy Associates (CEA). He says price is a major stumbling block and most manufacturers are focused on trying to limit price increases for their lithium-ion cells.
"For financial, safety and sustainability reasons, the world needs to adopt new technologies to harvest renewable and bring us to grid net zero. The Iron Flow Battery is highly economic for grid energy storage, has unlimited cycle life with no degradation, uses only earth-abundant materials, and is 100% recyclable," Alan Greenshields from ESS Inc concluded.