The 10 most popular blogs on Energy-Storage.news during 2019 offer a fairly strong indication of the overall topics leading industry thinking during the year – so without further ado, here they are:
Of course, throughout 2020 – and beyond – we'll be tackling all of these as well as other crucial, controversial and / or intriguing topics. We're expecting to see more of a focus on the supply chain and manufacturing in 2020, both for lithium and non-lithium technologies. Safety and regulation topics including grid integration with electric vehicle (EV) infrastructure, as well as the related areas of finance and business model innovation are likely to also feature heavily.
This article requires
Premium Subscription
Basic (FREE) Subscription
Enjoy 12 months of exclusive analysis
Regular insight and analysis of the industry's biggest developments

In-depth interviews with the industry's leading figures

Annual digital subscription to the PV Tech Power journal

Discounts on Solar Media's portfolio of events, in-person and virtual
Or continue reading this article for free
Meanwhile here at Solar Media, we're running with #SmartSolarStorage2020, a hashtag that can be used on social media to create and curate conversations throughout the year.
The Top Three
'Leapfrogging' the grid: Hybrid lithium-flow in action at a remote Thai village microgrid
We talk a lot about the existing prominence of lithium-ion. There's also been an increasing amount of discussion of flow batteries as a long duration counterpart to lithium, evidenced by the popularity of our November news story on Lockheed Martin's forthcoming flow energy storage battery launch (see our Top five news stories for the year here).
I was both surprised and enthused to see a guest blog on a project combining both technologies, lithium-ion batteries with zinc bromine flow batteries, at a remote Thai village, take the number one spot for this year.
Ben Shepherd, chief commercial officer at Australian company Redflow, talked about the advantages, challenges and execution of a project that promises to prove "an excellent demonstration of the benefits of energy storage systems in developing nations".
(Cover image to this article shows an aerial view of the village, Ban Pha Dan. Credit: Redflow).
https://www.energy-storage.news/blogs/leapfrogging-the-grid-hybrid-lithium-flow-in-action-at-a-remote-thai-villag
A flow battery 'competitive with the LG Chems and Samsungs of this world'
Ditto the second entry in our list: the proposed merger between flow energy storage providers Avalon Battery and redT was discussed in detail with Avalon and redT leadership, alongside NEXTracker's CTO, Alex Au.
NEXTracker has deployed Avalon's batteries in the field already in its innovative solar-plus-storage power plants. Some deep insights as well as attention-grabbing soundbites from the bullish trio propelled this one into the upper echelons of our Top 10 blogs of the year.
https://www.energy-storage.news/blogs/a-flow-battery-competitive-with-the-lg-chems-and-samsungs-of-this-world
Every charge cycle counts when it comes to battery degradation
Despite the propulsion of flow batteries to the top of our charts, for most of our readers, the energy storage industry in the 21st Century still means lithium-ion.
Smart strategies for monitoring, managing and controlling lithium-ion batteries as they store or dispatch renewable or other energies, deliver ancillary services or otherwise participate in energy market opportunities, are vital to the lifetime, economic value and safe operation of energy storage systems.
This blog we published in September, from Paul Soskin, operations system analyst at Kiwi Power, looks at how the "serious economic problem" presented by battery degradation can be mitigated. Along with 2018's technical paper from the US Electric Power Research Institute's (EPRI) Ben Kaun and Andres Cortes on similar themes, it proved popular with our readers.
https://www.energy-storage.news/blogs/every-charge-cycle-counts-when-it-comes-to-battery-degradation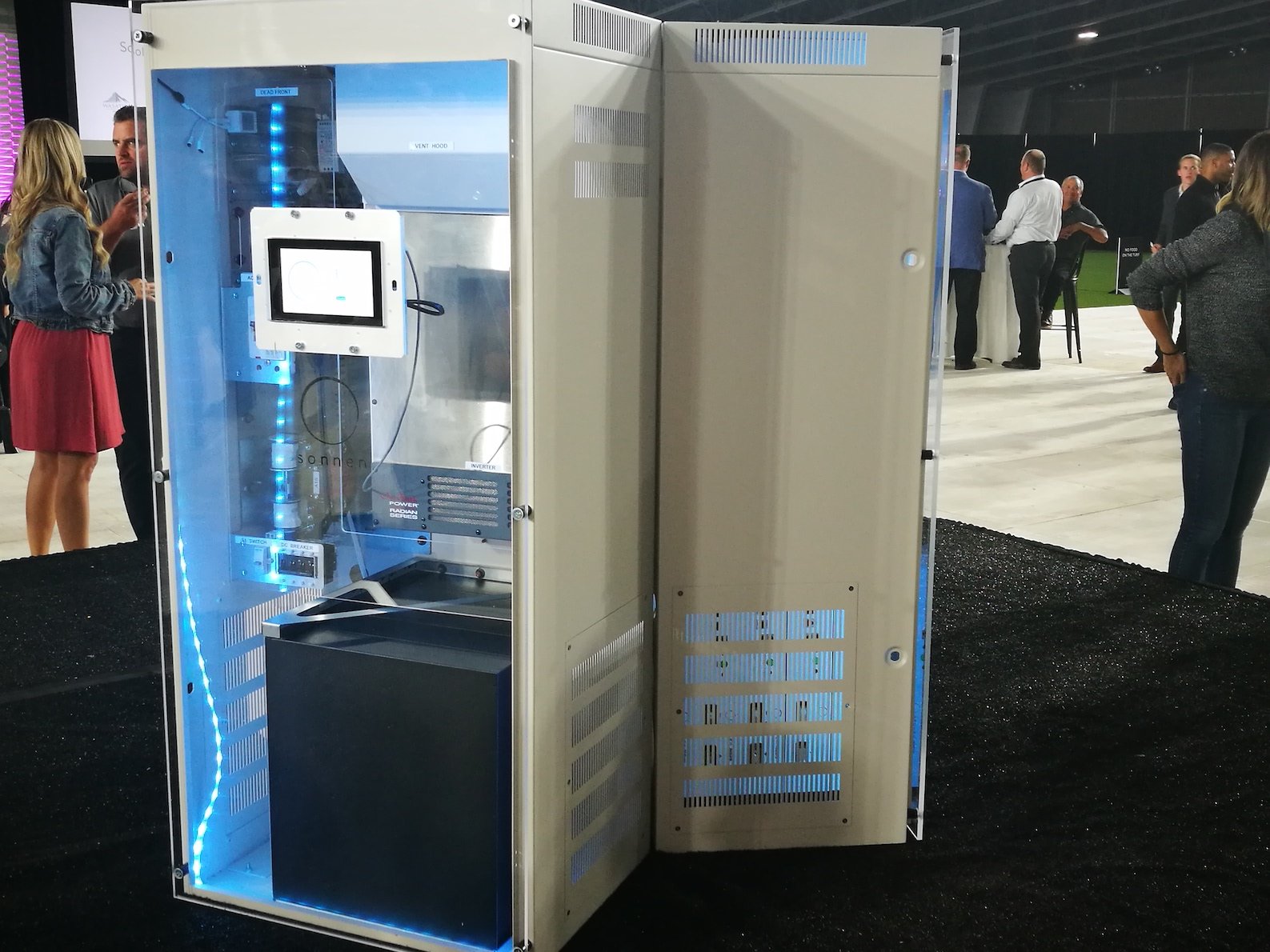 2019: The final countdown
Why Shell bought Sonnen: Value is in behind-the-meter potential
Having followed Sonnen's from start-up to dominant player in Germany with its combination of grey, somewhat Apple design-looking lithium iron phosphate (LFP) battery energy storage systems and business models for 'community' energy trading and grid services, it was fascinating to speak to Sonnen CEO Christoph Ostermann to get the inside scoop on Shell's acquisition of the company.
https://www.energy-storage.news/blogs/why-shell-bought-sonnen-value-is-in-behind-the-meter-potential
Batteries and the blackout: How energy storage saved the UK's grid
More a feature article than a blog, this beast from Solar Media Editor-in-Chief Liam Stoker looked at the August 2019 blackout that affected more than a million people in Britain. Lightning struck twice, quite literally, and battery energy storage was on hand to help deal with the impact of the country's first major blackout in more than a decade.
https://www.energy-storage.news/blogs/batteries-and-the-blackout-how-energy-storage-saved-the-uks-grid
After lithium… more lithium? Inside 24M's semi-solid battery play
It's not just flow batteries that are being considered the next big leap forward for batteries. Our profile article in the latest PV Tech Power looks at flow batteries and other technologies (battery and non-battery) that offer promise in the long duration space. Meanwhile, the likes of 24M, one of a number of MIT start-ups in the advanced energy space, are refining or reinventing the lithium wheel. I spoke with Rick Feldt, 24M president and CEO, Rich Chelbowski, CFO, and senior director of products Joe Adiletta in March this year.
https://www.energy-storage.news/blogs/after-lithium-more-lithium-inside-24ms-semi-solid-battery-play
2019: Where can energy storage go this year?
Read it and weep, Nostradamus. Last year we spoke to a number of industry experts and commentators for a three-part blog series to welcome in the New Year. Perhaps our respondents were clever enough to not put too many numbers in their predictions, somewhat reducing the margin of error for looking silly, but in terms of the trends and topics, they were broadly on the money.
https://www.energy-storage.news/blogs/2019-where-can-energy-storage-go-this-year
(see also: '2019: Beyond electric dreams' and '2019: The next episode' for the rest of that trio of blogs).
Open season: the next steps for energy storage
We looked again at the state of the energy storage market in some detail in the third quarter of 2019, in a feature article that led our Energy Storage Special Report 2019. The theme of the article, and indeed the loose thematic thread of the entire report, is that we can't get too caught up in the excitement of the industry's rapid growth without taking a look at some of the challenges and possible industry dynamics that lie ahead.
https://www.energy-storage.news/blogs/open-season-the-next-steps-for-energy-storage
Three things the energy storage industry should know about end of life
The end of life management, recycling and other circular economy issues are big topics, dynamics, challenges, call them what you like, because they're all of those things, in the lithium battery storage industry. But lithium recycling also presents a massive opportunity. Hans Eric Melin at consultancy Circular Energy Storage travelled far and wide and trawled through waves of data to do some myth-busting and number touting that says so.
https://www.energy-storage.news/blogs/three-things-the-energy-storage-industry-should-know-about-end-of-life
Market and technology development of stationary battery storage systems in Europe
Dr Kai-Philipp Kairies, head of technical consulting at RWTH Aachen University contributed a technical paper on the business models and technologies underpinning the development of stationary energy storage markets, beginning with findings from Germany, Europe's leader thus far in both deployment and enthusiastic embrace of energy storage. Although watch this space, the likes of Spain, Italy and Portugal are likely to start taking bigger and bigger market shares this year, linked to both grid stability issues and the growth in subsidy-free solar-plus-storage.
https://www.energy-storage.news/blogs/market-and-technology-development-of-stationary-battery-storage-systems
Thanks everyone!