The growth potential of energy storage has drawn interest from some of the biggest names in the power business and beyond. With the trend set to continue, Andy Colthorpe explores how three recent acquisition targets are faring under new ownership. Taken from the pages of PV Tech Power Vol.19, read the second part of this article, here.
Objects of intensifying interest
The urgency of the need to act on climate change grows in tandem with the modernisation of the energy industry and is also taking renewa­bles and therefore energy storage – into the mainstream. Over the past couple of years, this has manifested itself primarily as growth in investment into the sector and big players now wanting to own significant pieces of the market as it rapidly develops.
This article requires
Premium Subscription
Basic (FREE) Subscription
Enjoy 12 months of exclusive analysis
Regular insight and analysis of the industry's biggest developments

In-depth interviews with the industry's leading figures

Annual digital subscription to the PV Tech Power journal

Discounts on Solar Media's portfolio of events, in-person and virtual
Or continue reading this article for free
It will be interesting to see if they've got it right in terms of the types of energy storage companies they target, with many expecting widespread consolidation to obliterate all but the best – or biggest – in the industry. It will also be interesting to see if the acquired companies are well-positioned to succeed as part of a bigger corporation or if they'll continue to do what they've always done – only bigger.
We've spoken with three energy storage companies that have in the past couple of years been the object of that intensify­ing interest. Sonnen, which was recently acquired by Shell, Greensmith Energy Management Systems, owned since 2017 by gas engine manufacturer and power producer Wartsila, and Younicos, which is now part of portable energy solutions company Aggreko.
To be prepared is to survive
Florian Mayr of consultancy Apricum says that Shell is "seeing the overall trend that the world has made the choice: to decarbonise, to do something against climate change", through electrification of the power, heat and transport sectors. Mayr points out that it's "not a given" that fossil fuel companies will prepare for the long-term future in this way, with Chevron and Exxon seemingly doubling down on their ambitions to lead the planet to disaster while lining their pockets.
"Shell is saying that they want to prepare for this time and feel it is also a means to ensure their long-term survival. Shell claims to create a 'utility of the future' covering all relevant end user demands looking forward," Mayr says, with the company on a current wave of acquisitions.
Among others, it has already hoovered up UK-based companies Limejump, an aggregator, energy supplier First Utility – and its 750,000 customers – and Dutch EV charge solutions company New Motion as well as Sonnen. While it's still early days, joining the dots between those different segments appears the obvious way forward in creating a behemoth of the energy transition.
Sonnen CEO Christoph Ostermann says that there's scope for partnering what Sonnen does with those other acquisitions. To use an old phrase, the combination could represent a greater value than the sum of its parts.
"Shell is already present in more than 140 countries around the world and some of them are already interesting as markets for Sonnen as of today, some of them will become interesting in the future," Oster­mann says.
"So I think one-plus-one is not two in this case, it is more. Simply because there are synergies and we can also leverage existing businesses within the Shell Group. The equipment we provide is a solution for residential customers. A customer can supply themselves with self-generated solar power on the one hand, on the other hand, in the bundle with First Utility, First Utility (now rebranded as Shell Energy) could provide that customer with the remaining grid power that they still need."
As opposed to that long-term strate­gic decision from Shell, for Aggreko and Wartsila, "energy storage is a natural extension of their core business and current product portfolio which can help their customers to save money today", Apricum's Florian Mayr says. Aggreko's mobile (yet sizeable) solutions power everything from gold mines in Australia to the Olympics around the world, while Wartsila supplies gas engines in 170 countries.
"By adding storage and PV to existing fossil generation, for example, you reduce the run time of the fossil generation assets and thereby save fuel, you also save fuel by being able to run the gensets more efficiently because you can then do fossil firming – to make a firm output profile and keeping the genset at a high utilisation which improves efficiency. You also save Capex because you don't need spinning reserve if you're adding energy storage," Mayr says.
At one such project, Granny Smith's gold mine in Australia, the addition of Younicos' battery system and battery management to existing power solutions expects to make fuel savings of 13%. The economic value of that is obvious but the sector is very conservative on operational risk. The endeavour is something of a gamble to begin with; that they bought a solution from a company started by self-confessed "solar hippies from Berlin" is all the more surprising.
Similarly, the addition of battery storage to Wartsila engines, either existing or new, can have a dramatic impact on ROI, with payback of two years modelled at some of the company's newest projects. Using technology and staff gained since the addition of Greensmith for around US$170 million in 2017, a range of battery-backed hybrid engine solutions was launched as this edition of PV Tech Power: Smart Power & Storage went to press.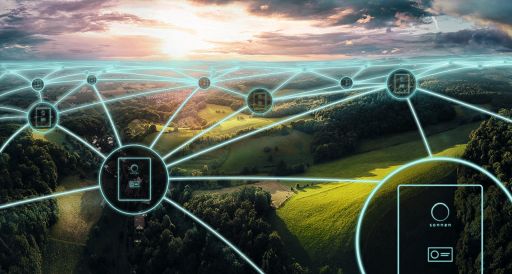 100% renewable? Really?
Although it may sound at odds for a gas engine company like Wartsila to claim a mission towards 100% renewable energy and for Greensmith, Younicos and Sonnen – all from a background almost entirely rooted in renewables – now to be owned by companies that have an undeniable stake in the fossil fuel game, it is to be hoped that the combination of different energy system stakeholders' interests will give the best outcome for everyone.
Warstila's Andy Tang, himself a Green­smith alumnus and renewable energy advocate, is bullish that, whatever our collective best efforts, natural gas is not going to go away just yet. Equally, he says, that does not need to be at odds with a vision of a world powered by renewa­bles, nor does it needlessly endanger the survival of a species already locked in a race against time to decarbonise.
"I'm all for 100% renewables, I see that you can get to that on the capacity side but on the true energy side: you don't have wind everywhere, right? And solar power is an eight to 12-hour resource, depend­ing on where you are. Are you really going to massively overbuild the solar power system by x2 and have batteries of 12-hour duration to be able to store all of that excess solar power and run it at night? I don't think so.
"I don't think that's the cost-effective power system and I don't think that's the carbon neutral solution or the best carbon mitigated solution. When you look at the price tag on that I don't think that our ratepayers, citizens of the world are going to be willing to pay for that," Tang says.
While the renewables community has, out of necessity, always viewed a push to majority renewable energy as an incremen­tal process, the increases are now getting so big that the industry has a responsibility to ensure it can keep adding clean capacity without the system breaking down. Reach­ing a kind of capacity addition stasis on reaching 20% penetration of renewables in a typical grid scenario, Tang says that the only answer is to add "flexible power resources that can turn on and off really quickly". While a Wartsila gas engine can be switched on and running in five minutes, a battery-Wartsila engine hybrid "can be ramped up immediately", providing fuel and carbon savings and ensuring reliability and quality of power.
"We have a path mapped out," Tang says.
"We think that there's this interim period where you're getting from 20% to 60-80% renewables during which you need this flexible fuel source. Maybe I'm a little bit different [to some 100% renewables advocates], but I look at the 100% renewa­bles and I'm not convinced that the most efficient way to do that is renewables plus massive batteries."
Carrying on the theme, Tang's colleague Magnus Miemois says that according to the "number crunching we have done in creat­ing our energy vision and our perspectives: there is a clear correlation that the more renewables you put into a system the more flexibility you are going to need. Decar­bonisation is obviously one objective, but you have the objective of grid reliability to attend to at the same time.
"Some of the traditional forms of generation are simply way too inflexible for existing assets to perform that role. You add energy storage to thermal [generation], you get a better performance and minimise the carbon emissions. So it is a necessary element of future energy systems. You might have various existing assets, CCGT, they might prove to be not able to provide the flexibility in an economical sense." Framed in this context, the acquisition of a battery system integrator sounds a neces­sity for the Finland-headquartered gas (and latterly wind turbine) company.
Read Part 2, 'Commitment or compromise', here.
This article has just appeared in PV Tech Power Vol.19, Solar Media's quarterly tech journal for the downstream global PV industry, as part of 'Storage & Smart Power', a dedicated section commissioned and brought to you by the team here at Energy-Storage.news. Download the whole 119-page magazine for free, here (subscription required).
Cover image: A drop in the ocean? While the likes of Shell have invested big in the clean energy sector, for now, much of their main business remains unchanged. Credit: Flickr/tom jervis