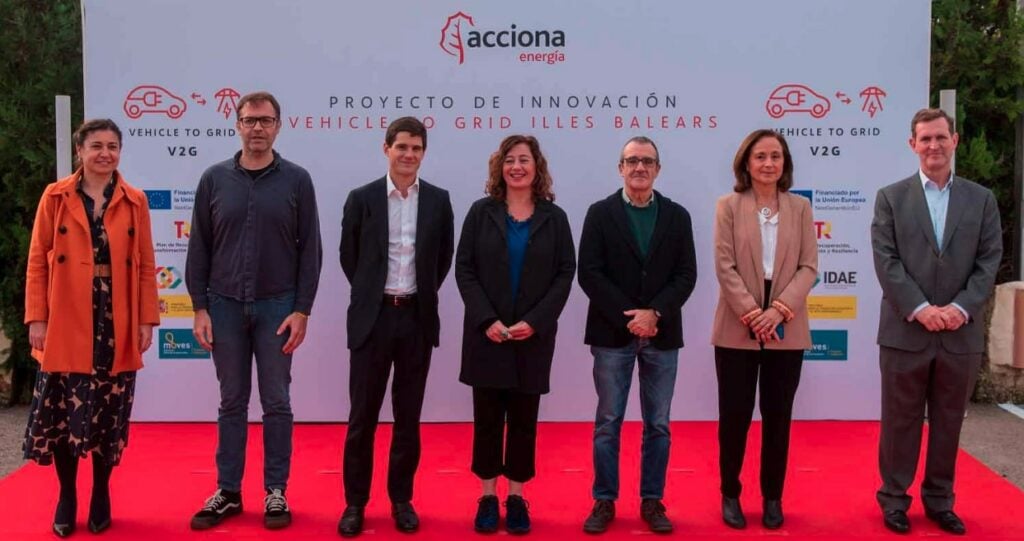 Renewable energy firm Acciona Energia has launched a 16-chargepoint vehicle-to-grid (V2G) network in the Balearic Islands, the first in Spain.
The network of bi-directional chargepoints will allow the electricity stored in EV batteries to be used for either self-consumption (vehicle-to-load or V2L) or injection back into the grid (V2G).
The demonstrator project is being launched on the Balearic Islands, a Spanish overseas region comprised of Mallorca, Menorca, Ibiza, and Formentera.
It is being led by Acciona Energia along with eight other companies who will together install the chargepoints. Acciona will provide the companies with eight V2G-enabled EVs.
The project appears to be initially launching on the island of Mallorca, the largest of the four. The launching ceremony (pictured) was attended by the Mayor of Manacor, a town on the island, while a press release said two unnamed companies would join a 'second imminent phase' which would expand the network to the islands of Menorca and Ibiza.
The first phase companies are Pavimentos Lloseta, Cárnicas Súñer, Droperba, Asociación Estel de Llevant, Hotel La Reserva Rotana and Hermanas Buades.
One of the main challenges when applying V2G technology in the consumer vehicle space is ensuring that users have plugged in their EVs for when discharge is required, so it appears the project is using commercial vehicles or agreements as a way to get around this.
Acciona claimed the project is the first implementation of V2G technology on an industrial scale in Spain. The firm will operate and supervise the flow of electricity and analyse the performance of the V2G processes. It will also test and validate grid service and peak demand management services, it said.
Juan Pedro Yllanes, Vice-President of the Balearic Islands Government, said that mobility is the main energy consumer and main source of CO2 emissions, adding:
"The energy transition is not only about implementing renewables to replace a polluting energy source with a clean one. The energy transition needs to go beyond that and involve major changes in the way we consume energy, and that implies addressing mobility. This project, if implemented on a large scale, would allow us to make a major quantitative and qualitative progress in the decarbonisation of our energy model."
The next edition of PV Tech Power, Energy-Storage.news' sister site PV Tech's quarterly journal, will include a feature looking at other V2G projects which get around the challenge for V2G of ensuring consumers plug in their EVs.
Energy-Storage.news' publisher Solar Media will host the eighth annual Energy Storage Summit EU in London, 22-23 February 2023. This year it is moving to a larger venue, bringing together Europe's leading investors, policymakers, developers, utilities, energy buyers and service providers all in one place. Visit the official site for more info.