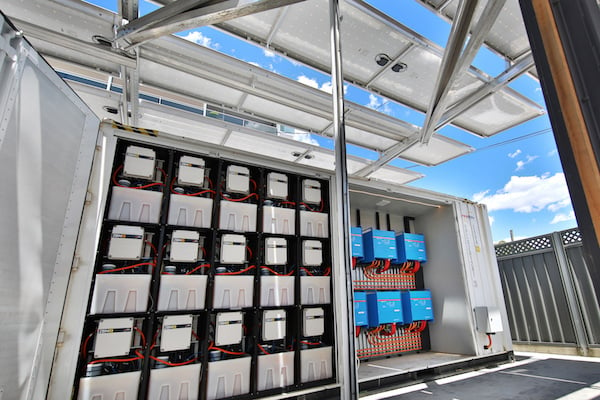 Zinc-bromine flow battery manufacturer Redflow's CEO Tim Harris speaks with Energy-Storage.news about the company's biggest-ever project, and how that can lead to a "springboard" to bigger things.
Interest in long-duration energy storage (LDES) continues to grow around the world. We heard that since 2019, more than US$58 billion in commitments have been made to LDES by governments and companies globally, in our recent contributed article from Julia Souder, CEO of the LDES Council trade group, published in PV Tech Power Vol.35.
This article requires
Premium Subscription
Basic (FREE) Subscription
Enjoy 12 months of exclusive analysis
Regular insight and analysis of the industry's biggest developments

In-depth interviews with the industry's leading figures

Annual digital subscription to the PV Tech Power journal

Discounts on Solar Media's portfolio of events, in-person and virtual
Or continue reading this article for free
In terms of the broad suite of diverse technologies involved, potential customers could have many options to choose from in the coming years, and flow batteries have long been part of that conversation.
But when we talk about flow batteries, we tend to largely mean vanadium redox flow batteries (VRFBs), which tend to be considered the frontrunner, with perhaps the iron electrolyte flow battery made by ESS Tech Inc somewhere in the mix too.
Zinc-bromine electrolyte, as chosen by Australia-headquartered Redflow to pursue when founded as far back as 2005, is less often considered, but the company believes that its time has come. The company launched its third generation device, the ZBM3, in mid-2022.
As reported by Energy-Storage.news, Redflow's battery tech was recently selected for a 20MWh installation at a renewable energy microgrid in California. Aimed at helping the Paskenta Band of Nomlaki Indians indigenous community increase its resiliency against grid power disruptions, the project is being financially supported with a grant from the California Energy Commission (CEC).
You can read more about the project itself here in our report from the beginning of this month.
In our interview with CEO Tim Harris, we hear that the microgrid represents a "culmination of a journey" for Redflow, from primarily serving small businesses as well as large residences, to rolling out distributed flow battery systems for telecoms providers, to now serving up LDES at multiple megawatt-hour scale.
While the company's heritage is in smaller systems, Redflow realised that "to get scale and accelerate, you really need to kind of be playing in that multi-megawatt-hour system [space]," Harris says.
'Springboard of bigger projects and market validation'
The first step into that space came a couple of years ago, with a first California project at the site of bioenergy company Anaergia's Rialto Bioenergy Facility waste-to-energy plant. At 2MWh, and also supported with CEC funding, Harris said as it came online in late 2021 that it would provide a "high visibility reference" for what the technology could do at that megawatt-hour scale.
From there to the latest 20MWh project, it's been a relatively fast ride, but one that's been enabled by years of groundwork by Redflow, both under the stewardship of Harris and his predecessor as CEO, Australian tech entrepreneur Simon Hackett.
Although quite well known in Australia, Redflow has largely flown "under the radar" in North America, Harris says. That's starting to change, not just with its recent projects, but also reflected in deals and agreements with the likes of Black & Veatch, and Ameresco.
"It's a culmination of a journey that Redflow has actually been on for many years. In terms of when I joined the company five years ago, but [accelerating] over the last couple of years, where we've orientated ourselves towards bigger systems and set some of the foundations for long-term growth, and build some foundations so that the pathway forward is good and exciting."
With funding coming from California's efforts to fund scale-up, reference points and learnings in long-duration energy storage, Redflow joins a "reasonably limited number of other technologies" that the CEC is funding.
"Hopefully, that sets us up as a springboard of bigger projects and market validation, and proves to be a really strong reference point for us in the US, but also in other markets as well," Harris says.
Why zinc-bromine?
Long time readers of this site may recall Redflow making a push in its home country towards larger systems some years ago under Simon Hackett, where the system size created by stacking up 10kWh flow battery units reached 450kWh in a containerised system, for a project in Adelaide.
Harris says the 2MWh system for Anaergia built on this foundational effort, with one key difference being that the voltage had to be stepped up to 48V for the larger-scale project. At the same time, Redflow's options in terms of inverter providers comfortable with working alongside that has grown in the past few years, making it far less challenging than may have been first thought.
One question it'd be reasonable to anticipate readers asking, is: when most of the flow battery industry is focused on different electrolyte chemistries, why zinc, why bromine and why zinc-bromine?
"Zinc is the fourth most abundant metal in the world, it comes from some very benign places, and it's reasonably stable in terms of its pricing. And we use bromine that comes from the Dead Sea, but we can also source that from other places in the world, including the US," Harris says.
"What that also provides us with is much higher energy and power density. So when you look at the power energy density of our zinc bromine battery versus other flow batteries, notably vanadium and iron, we're about 1.8 volts per cell, I think those other ones are about sort of 1.3, 1.4. So you automatically get a density advantage. We don't see any other chemistry, at that kind of commercially proven level that we do, that has the same energy density outside of lithium."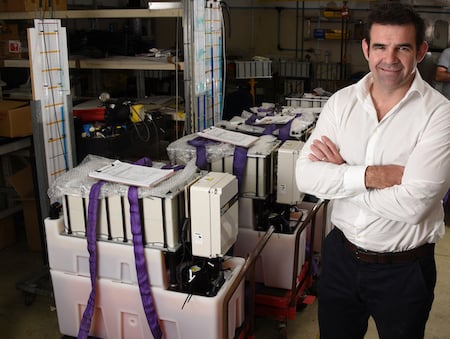 That potential for higher energy and power density gives Redflow a perceived three-way advantage, Harris says.
"For the first project with Anaergia they looked around at other flow batteries, because they had a very set footprint around it, and vanadium and iron couldn't fit onto that concrete pad that they already had."
"But you also get lower balance of system costs when you're dealing with energy density that has that advantage and so that goes to your overall balance of plant systems."
Harris claims it also means Redflow batteries can be sent to project sites with electrolyte already inside, where they can be simply put down and wired to plug and play.
Besides the difference in electrolyte material, the core design of the Redflow battery is that of a hybrid – which plates and deplates zinc in a perhaps similar way to EOS Energy Enterprises' aqueous zinc cathode battery, but paired with liquid electrolyte.
"Our core design means that the way that we've designed the battery, and plating zinc, is that we believe that we can control the chemistry a lot better, and our ability to charge and discharge the battery, vary discharge duration between 2-hours up to 12-hours.
"We also have a 'hibernation mode', where we can prepare the stack, have a battery at 100% and then put that battery into hibernation mode without any self-discharge. It takes about 30 seconds to speed up the pumps after you take it out of hibernation mode. So it gives you lots of flexibility. If you're looking at a natural weather event where you want to have the maximum backup power available, you can sequentially put each of our batteries into hibernation mode and bring them out again," Harris says.
California: 'The place to be for long-duration storage'
Those characteristics were among the factors that led to Redflow's selection for the CEC-funded project with the Paskenta Band of Nomlaki Indians. To be clear, vanadium redox flow batteries, and ESS Inc's iron-saltwater flow batteries have also been chosen for other projects in the programme, so the diverse technologies will likely be complementary to one another as much as competitive.
CEO Harris says that the project will nonetheless provide Redflow with "quite high visibility" from industry watchers and stakeholders, giving the community resilience against public safety power shutoff (PSPS) events and other causes of electricity service disruptions, but also on a day-to-day basis in offsetting power during peak demand periods.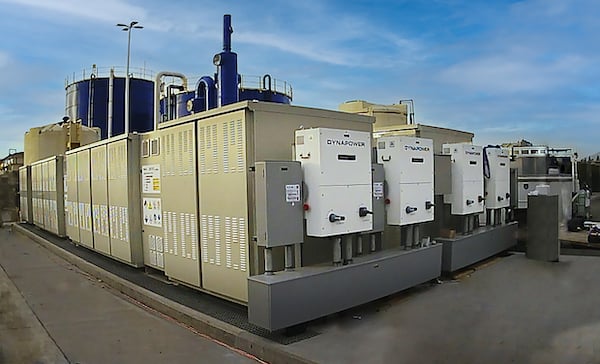 Redflow found working with project developer and integrator Faraday Microgrids – the recipient of the CEC funding – to be a "match made in heaven," Harris says.
"We think quite frankly that California is the place to be for long-duration energy storage and they are absolutely leaning into developing and supporting non-lithium batteries like us.
"One aspect where we really feel like California is being a showcase to the rest of the world and actively kind of leaning into non-lithium solutions and longer duration solutions. As they realise that they're going to need a broad portfolio of energy storage solutions around that and to meet their own needs, they need to make sure that companies like Redflow have the ability to scale up to this kind of level. So that was pretty exciting."