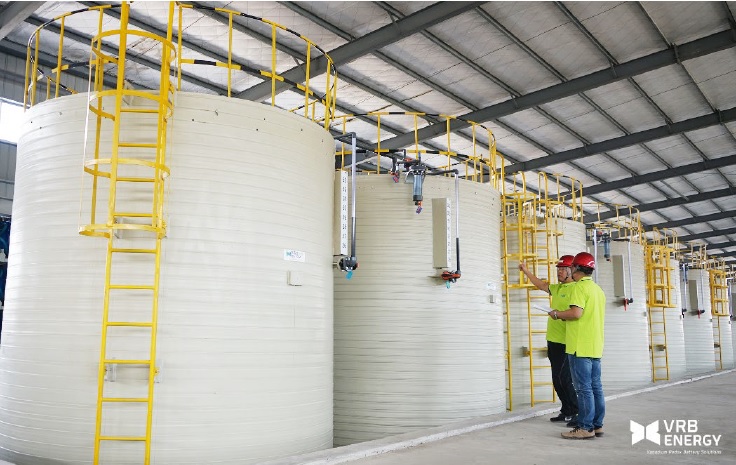 The new CEO at VRB Energy, a maker of vanadium redox flow battery energy storage devices, claims that ongoing improvements to its technologies will allow it to outcompete lithium-ion energy storage in the coming years.
VRB Energy said this week that Dr Mianyan Huang, a leading expert on vanadium flow battery technology and chief technology officer (CTO) and president of its China-based subsidiary has been promoted to chief executive officer (CEO).
Huang – who VRB said has 12 "key" flow battery material and system design patents to his name – actually took over on 1 July from previous CEO John Wang, but the announcement has been left until now. Wang had been in the role since late 2017 and came from a management consulting and technology background.
Additionally, the company announced that Dr Huang has been overseeing testing for the company's forthcoming Gen3 cell stack design. VRB claimed that it enables a 30% increase in energy density, based on proprietary components developed in-house by the company including membrane and bipole materials. It also features improvements in electrode and cell frame design, the company said.
"This testing shows that our Gen3 technology will be able to achieve a 10% improvement in overall efficiency while simultaneously reducing battery size and lowering cost for our customers. This is just one of many improvements that will enable us to deliver a complete energy storage system for less than forecasted lithium-ion battery pricing, and with 15-40% better levelised cost of energy (LCOE) performance," the CEO said.
Redox flow batteries allow for the decoupling of energy and power within the cell stack, meaning that to increase capacity and storage duration the tanks of electrolyte that store energy simply need to be scaled up and that repeated cycling does not cause degradation of cells. Meanwhile the technology's proponents claim it poses less fire risk and features more easily recyclable components than lithium-ion.
VRB Energy was among four different flow battery providers profiled in a 2018 feature article for our technical journal PV Tech Power, also published in two parts on this website. The company began life as a Chinese company called Pu Neng before 82% of the company was bought up by High Power Exploration (HPX), a minerals exploration and development company based in North America. HPX is in turn owned by electrical energy company I-Pulse. I-Pulse and HPX boss Robert Friedland, a noted name in the mining industry, is chairman of the board at VRB.
China government 'recognises important role vanadium flow batteries will play in integrating renewable energy'
While VRB Energy has 30MWh of systems deployed worldwide to date, in China, the company said it is in the running to deliver some of the multiple-hundred megawatt-hour flow battery projects planned by the central government. VRB in early 2019 said it had successfully commissioned the first 3MW / 12MWh demonstration phase of a vanadium redox flow project, Hubei Zaoyang Utility-scale Solar and Storage Integration Demonstration Project which was expected to inform decision-making around those mega-projects.
More recently, in July, VRB Energy received an undisclosed sum in grant funding and recognition from the Beijing Government Committee for High and New Technology Development including support to develop insurance offerings on the company's batteries with Chinese insurance provider PingAn. This was in recognition of the company's efforts in R&D, VRB Energy China's VP of operations Charles Ge said, as well as being "a sign that the government both recognises the important role vanadium flow battery technology will play in integrating massive amounts of new renewable energy onto the grid in China, and it also singles out VRB Energy as a leader in this field".
VRB also claimed that new CEO Dr Huang's existing relationships within the Chinese renewable energy industry is a factor in making the company a "leading contender" to deliver "multiple 100MW-class projects" under the country's infrastructure investment programme, which is apparently being accelerated to help stimulate economic recovery after the COVID-19 pandemic.
VRB Energy's US marketing head Jim Stover appeared on the discussion panel "Predicting the energy storage tech of the future" at the Energy Storage Digital Summit hosted by our publisher Solar Media earlier this year – you can watch the panel here.