US Secretary of Energy Jennifer Granholm spoke of the urgent need to create an advanced battery manufacturing value chain within the country at a roundtable event held on Monday (14 June).
The event was attended by Secretary Granholm, along with Congressman Mike Doyle of Pennsylvania's 18th Congressional District. Industry representatives from six private companies with a stake in the battery energy storage space also spoke briefly before answering questions from the Department of Energy (DOE) chief.
This article requires
Premium Subscription
Basic (FREE) Subscription
Enjoy 12 months of exclusive analysis
Regular insight and analysis of the industry's biggest developments

In-depth interviews with the industry's leading figures

Annual digital subscription to the PV Tech Power journal

Discounts on Solar Media's portfolio of events, in-person and virtual
Or continue reading this article for free
The event was hosted and presented by Kelly Speakes-Backman, who many Energy-Storage.news readers will remember as the former CEO of the national Energy Storage Association, now the acting assistant secretary and principal deputy secretary for energy efficiency and renewable energy at the DOE.
Participating industry representatives:
Dr Glen Merfeld, VP and chief technology officer for lithium at chemicals company Albemarle Corporation
Dr Subra Herle, director and distinguished member of technical staff at semiconductor industry services, software and equipment supplier Applied Materials
Chuck Sutton, VP FBR (fluidised bed reactor) sales at silicon and silicon gases company REC Silicon
Doug Campbell, CEO of solid state battery tech company Solid Power
Lindsay Gorrill, CEO of energy storage battery and system maker KORE Power
Joseph Mendelson, senior counsel for policy and business development at EV and ESS company Tesla
JB Straubel, CEO and co-founder at lithium battery reuse and recycling group Redwood Materials
Here are some of the key points and takeaways from each speech and the Q&A session which followed:
US Secretary of Energy Jennifer Granholm, said that with technology being central to 21st Century life, lithium batteries are essential components for the clean energy transition, job creation, industrial competitiveness and the fight against climate change.
With the US targeting 100% clean electricity by 2035, the demand for clean energy technologies is growing and growing. The major concern is that China is currently the only country in the world which has control over every tier of the supply chain for critical materials — including lithium.
China has 80% of the world's raw material refining capacity, the US has virtually none.
If the US remains reliant on imports, the country will be unable to compete in the global market for clean energy technologies, which Granholm said will be a market worth at least US$23 trillion by the end of the 2020s.
The US' economic competitors are "gunning to corner that market" and if the US stands idly by, it will lose out on the potential to create millions of jobs, an opportunity that "hangs in the balance".
The recently released Federal Consortium for Advanced Batteries (FCAB) 'National blueprint for lithium batteries 2021-2030' sets out a whole of government approach for shoring up domestic battery production. This includes strategies for building out the domestic supply chain and Granholm called for national effort in US policy, alongside "ingenuity and major investments" to start making batteries using US labour.
Each step of the value chain, from mining to processing, manufacturing to recycling, represents a new opportunity to create well-paid jobs across the US. The objectives along the way include discovering and developing alternatives to critical minerals like cobalt and nickel, building out materials processing capacity, investing in R&D and STEM education, workforce training and developing responsible mineral extraction processes and facilities.
Granholm announced that the DOE's 17 National Laboratories and DOE partnerships will receive US$200 million funding over the next five years for EVs and batteries to complement US$62 million pledged in April to support vehicle electrification. Also on the table is a US$4 million prize through the Department's geothermal office to support lithium extraction processes using geothermal industry assets.
The Biden Administration's American Jobs Plan will also put millions behind lithium batteries, mineral extraction and more.
Granholm said that the challenge is "big and urgent" and the US needs all of the help it can get to succeed. She said a big private-partnership announcement on the lithium battery supply chain is imminent.
Congressman Mike Doyle has long championed the clean energy economy. He said that the Biden-Harris Administration's commitment to bringing manufacturing to the US and ensuring the existence of supply chains is "not only commendable but something we absolutely have to do".
The coronvirus pandemic revealed critical vulnerabilities in the US' supply chains, with almost every sector of industry facing supply shortages over the past year. This weakness is not only a problem for the pandemic, but one of future economic competitiveness, Doyle said.
China has about 100 battery mega-factories built or planned, while the US has plans for about nine — the supply chain vulnerability leaves companies less competitive and the US foregoing good manufacturing jobs in the communities that need them.
China, Japan and Europe will outcompete a US that doesn't have the ability to make its own critical infrastructure, while the federal government, together with industry, needs to put in the right level of strategic investment to create that capability.
Doyle noted that fixing these problems is a priority for the administration and that there are politicians on both the Democrat and Republican sides of the aisle dedicated to the task already, in the House of Representatives and in the Senate.
Along with the need for private investment, Doyle is pushing for the passing of the Energy Storage Tax Incentive and Deployment Act to incentivise deployment, while he also said that the mid-tier supply chain: battery materials processing and component manufacturing, should be invested in.
Areas of the US in industrial decline have factories and labour forces that can be retooled and retrained to work in new or repurposed factories and Doyle called for US$10 billion in grant funding for this.
With the help of the private sector, manufacturing can be brought back to the US, which would be great for the economy and great for workers.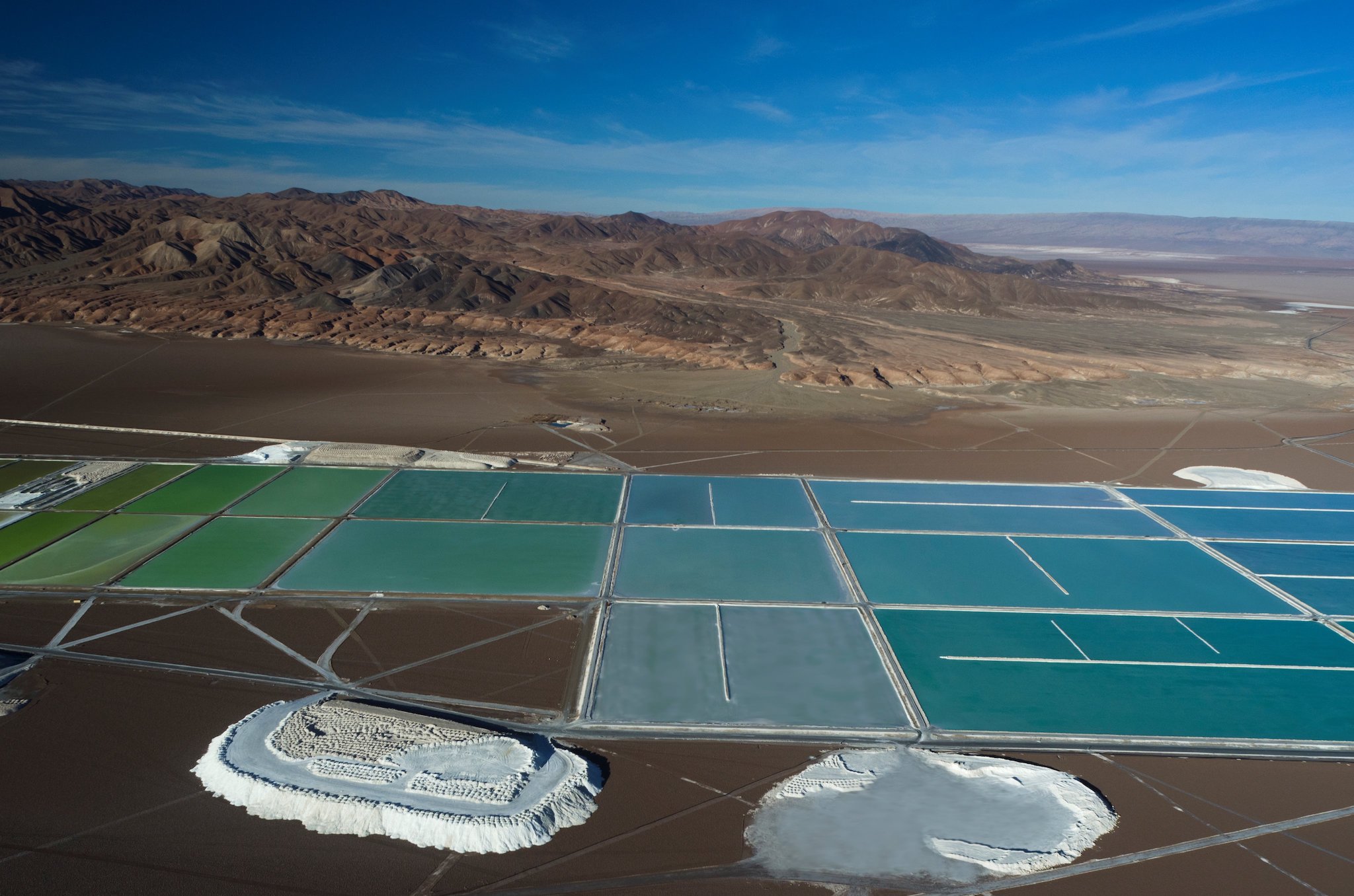 Glen Merfeld at Albemarle Corporation, the world's biggest producer of lithium, operating across a diverse range of lithium resources, said his company is pursuing new opportunities to extract lithium and make better batteries.
Albermarle is also the only company in the US producing lithium salts at battery grade from a domestic resource, the only US producer of lithium metal anodes and other materials that can enable next generation lithium batteries.
Merfeld said there is an opportunity to "reset the paradigm of Asia-centred battery production".
What did the Secretary of Energy ask?
Granholm asked Merfeld what the US government could do to support domestic resources of key battery materials.
While the US does not enjoy the scale of high quality lithium resources found elsewhere, the country needs to maximise resources that it does have, competitively and sustainably. This includes lithium recovery and purification technologies, while there is also the need to support li-ion material advancements to maximise what we get from every bit of lithium.
The US should aim to leapfrog current technologies rather than replicate what happens in other parts of the world, from extraction to end of life recycling, Merfeld said.
Dr Subra Herle from Applied Materials said that the US doesn't have a complete supply chain for lithium-ion manufacturing. It does have the "cutting edge technology pieces" but not the capability to manufacture in high volume.
The government can help bring the pieces together in one place to make this happen. Coordinated efforts could increase the US' technology readiness level, improve supply chain integration and increase innovation.
As has been successfully done in the semiconductor space, the government could help fund a consortium of stakeholders across the value chain, with the aim of developing a common roadmap, pooling innovation to accelerate the qualification of advanced battery technologies, and ultimately demonstrate the most advanced battery technology on the planet.
Although it might be expensive, Herle advocated for building factories that prove batteries can be produced at gigawatt-scale, which could be expanded and rolled out globally.
What did Secretary Granholm ask him?
Granholm asked Subra Herle how the 17 National Labs could facilitate innovation and scale-up of technology and manufacturing processes for advanced batteries.
Herle said the semiconductor industry example of installing next generation factories running on advanced machines enabled with technology like artificial intelligence should be followed.
Herle said that the lithium process isn't really standardised, with each company having its own processes. The US has good know-how of materials, which needs to be brought together in a way that innovative and fast processes can be developed in the shortest time.
REC Silicon's Chuck Sutton said that because the US lacks a strong manufacturing base and supply chain, the majority of his company's products go overseas, where they're used in the production of electronics power devices, then sent back to US and sold into the market.
REC Silicon produces silicon gases and polysilicon to industries including flat panel displays, solar PV and lithium batteries and Sutton said the opportunity exists for battery materials technologies to be built and developed in the US.
After witnessing first-hand what happened to the US solar manufacturing industry, "we strongly want that to not happen to batteries", Sutton said, but a value chain can't happen organically, it needs to be supported by government.
REC strongly supports the DOE's new call for direct investment in the upstream sector: specifically cost-sharing grants to produce silane gas, lithium hydroxide, anodes, cathodes — everything that makes up a battery.
"This is the quickest way to scale the industry," he said.
What did the energy secretary ask?
Granholm asked the US can respond to competitive challenges from abroad in silane gas production.
The US government needs to consider full supply chain, Sutton said.China is developing battery materials through its government and will look for ways to dominate the industry.
The US needs to do more than trade and loan guarantees to stimulate manufacturing: like offering grants and refundable tax credits to support the complete supply chain.
Solid Power CEO Doug Campbell's company produces batteries with solid, not liquid, electrolyte. Representing the potential next generation of lithium batteries, Solid Power already has partnerships with automakers like BMW and Ford.
Developing a much-needed supply chain is a big opportunity for the US, Campbell said.
What did Secretary Granholm ask?
Jennifer Granholm asked Campbell what the hurdles are to commercialisation and adoption of solid state batteries and how the DOE could help.
"Supply chain, supply chain, supply chain," Doug Campbell said.
The US is among the leaders in global innovation, but not in production. The Solid Power CEO echoed Glen Merfeld's sentiment that the US should focus on leapfrogging to advanced technologies and processes, rather than investing in today's supply chain.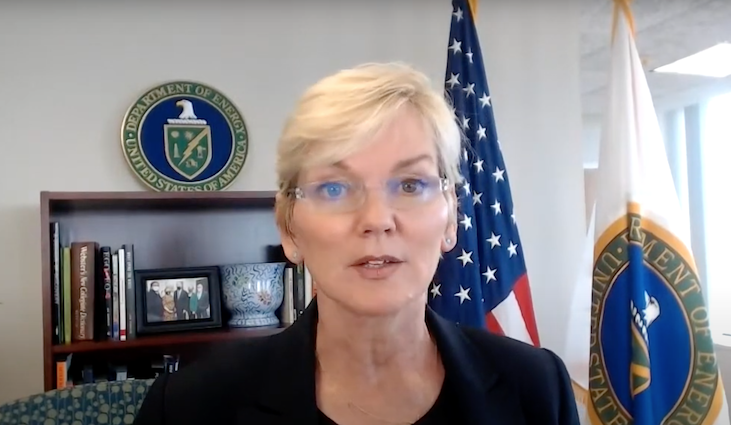 KORE Power CEO Lindsay Gorrill spoke of the importance of battery cells — the "fundamental basic unit which all these technologies rely on," with his company making both lithium iron phosphate (LFP) and nickel manganese cobalt (NMC) battery cells as well as energy storage systems.
Research in alternative and advanced technologies is important, for anodes, cathodes and electrolyte chemistry. The design is "evolving exponentially," and the minerals that feed those components will also evolve he said. The government should work with industry to focus on the materials that will be critical to future cell designs.
What did Secretary Granholm ask?
Gorrill was asked by the energy secretary what the unique opportunities and challenges are with the battery supply chain.
The opportunity is the massive growth expected in energy storage system (ESS) demand, he said, with the US and the rest of the world now finally recognising that energy storage is the "missing link of a real green world".
The US has done a "pretty good job" on getting downstream OEM money into finished electric products, but there should be more focus on the mid and upstream. Gorrill urged the DOE to look at cells, at cell technology and drive the chemicals and critical minerals supply chains from that.
"Whatever you make, cells are the critical piece."
KORE Power has partnerships in place to look at recycling of batteries, and reuse and recycling should be a national priority too, including designing devices so that they can be recycled if not reused.
Tesla's Joseph Mendelson noted that his company has grown from employing 3,000 people in 2013 to 90,000 staff today, most of them in the US.
Tesla makes every effort that it can to onshore materials that go into its vehicles, while it is also looking at sustainable lithium extraction from sources within the US, as well as developing innovative batteries with better energy densities and performance.
Secretary Granholm and Congressman Doyle's advocacy of a whole of government approach is "right on," Mendelson said. Now Congress needs to step up and support the battery ecosystem within the country or the US will not remain competitive.
Mendelson also said that trade policies today create near-term barriers to investing in advanced battery manufacturing capacity. The US' 301 trade tariffs add 25% tax on upstream battery materials imports but at the same time allowed finished products to enter from China at 7.5% tax rates.
Reorienting those trade policies would create a more stable investment atmosphere for battery manufacturing and capture the entire value stream, he said.
What was Mendelson asked by Secretary Granholm?
Tesla is already developing domestic lithium battery supply chains. Granholm asked how that process could be accelerated.
Mendelson said that the 'whole of government' approach set forward by the FCAB, which brings together four separate federal government departments, is key.
China is ahead of the game due to "better incentives and better standards," driving up consumer demand for EVs and ESS technologies.
The Biden Administration has hit on the right message and the right policies, Mendelson said.
"Now's the time, because of the climate crisis, but also [its] the moment in time where we have the ability to keep innovation and manufacturing here, because we don't want to miss the boat."
JB Straubel of recycling and reuse specialist Redwood Materials is Tesla's former chief technology officer and was one of its co-founders. The 15 years he spent at Tesla showed him that there is a "pretty challenging supply chain problem" up ahead for the US.
It's a national competitiveness and security issue as well as an economic and environmental issue. Not just in North America, but in many other parts of the world, electrification goals are slightly at risk because of the supply chain.
One way to alleviate the problem is to intensely focus on resource recovery — to not lose products already in the value chain and not to export them in a way that reduces competitiveness.
Recycling can result in very high utilisation of materials, which can be reused dozens, if not hundreds of times, offering an opportunity to invest in a "closed loop," circular economy.
Straubel revealed that Redwood is now investing "several hundred million dollars into this area," into recycling at scale.
What did Granholm ask?
Granholm wanted to know more about that massive commitment to invest — what did it say about the recycling space?
It reveals that recycling is already very economically competitive today, Straubel said. Recycled materials can compete with the prices of mined materials, which is helping Redwood towards expanding its business significantly.
Redwood is having no difficulty finding feedstock from the EV and consumer electronics sectors, for which the chemistry and materials used for batteries are "basically the same". The company is expanding its footprint in Nevada by about half a million square foot.
But currently there isn't a market for recycled materials in North America, they tend to be sent to China for reuse in new products. The US has a lot of strength in innovation and manufacturing, but a lot of gaps in refining and synthesis, Straubel said.
And finally…
In closing, Secretary Granholm said that it's also important to find ways to encourage investment that further the goals of equity, inclusion and diversity.
The American Jobs Plan can help achieve this, and much more, but now the country has to execute on it.
Mike Doyle said in closing that many workers in his state and across many other US states have a sense of economic anxiety that jobs are being lost in the fossil fuel industry, as well as in the car industry.
Having seen the steel industry in the US close down in the 1970s, it's critical to take the opportunity to create a large and sustainable battery-driven economic growth engine. There needs to be inclusive workforce training programmes, labour union involvement, and countering of the scepticism on the availability and quality of jobs in the green economy.
Cover image: Rendering of KORE Power's planned 12GWh US battery and energy storage system factory, which Gorrill said the company is nearing decisions and announcements on its location and timelines for construction. Image: KORE Power.