Tesla hosted its Battery Day yesterday in California before a socially-distanced audience all sat in various electric cars from the company's range and revealed its ambitious plans for more than halving the cost of battery production.
The company has plans to scale up to Terawatt-hour scale of annual production capacity for lithium batteries, which CEO and founder Elon Musk said he was confident could be done by 2030 – and possibly even earlier.
This article requires
Premium Subscription
Basic (FREE) Subscription
Enjoy 12 months of exclusive analysis
Regular insight and analysis of the industry's biggest developments

In-depth interviews with the industry's leading figures

Annual digital subscription to the PV Tech Power journal

Discounts on Solar Media's portfolio of events, in-person and virtual
Or continue reading this article for free
Along the way, it was also announced that Tesla intends to eliminate cobalt use in battery cathodes and reach a level of vertical integration, particularly within North America, that will see raw materials go directly from mine to production line and emerge as the finished article. No doubt many other media outlets and bloggers will focus on the transportation side of things so we have tried to hone in on the aspects of the day's presentation most relevant to stationary energy storage.
Here's how Tesla Battery Day went and what was announced:
Stockholders push back on proposed reforms
The livestream of the three-hour event began with more than half an hour of slick footage of Tesla EVs set to smooth electro, techno and house music, with some shots of Tesla solar and battery storage projects, products and of course happy workers and team members thrown in for good measure.
Then, the first part of the day's event, the company's annual shareholder meeting, began. Al Prescott, Tesla VP of its legal department hosted that from an outdoor stage in the California parking lot from where the livestream was broadcast.
Before the separate Battery Day event, venture capitalist Steve Jurvetson's departure from the company's board was officially confirmed, with Jurvetson to be replaced by Hiro Mizuno, a former head of a $1 trillion Japanese pension fund. Then, the company's shareholders were invited to vote on seven proposals, including four from other stockholders.
Shareholders rejected all four proposals: the first for Tesla to consider running paid advertising, which it has never done, the second for introducing simple majority voting, the third on the use of mandatory arbitrations for employee disputes – including allegations of racial and gender discrimination at the company's Gigafactory 2 in upstate New York and the Fremont assembly plant in California – and finally that the company should introduce annual human rights reporting covering its entire value chain.
Allegations on the prevalence of harassment and discrimination and a lack of recourse included "serious allegations of racism and sexism" meant Tesla should introduce a report on the impact of mandatory arbitration, Dr Kristen Hull of shareholder Nia Impact Capital, said.
Terry Collingsworth at International Rights Advocates spoke on behalf of the Sisters of Good Shepherd, New York, who asked that Tesla issue a report to describe board oversight on human rights and human rights due diligence process, including systems to provide meaningful remedies when human rights impacts occur.
Collingsworth alleged that dependence on cobalt mined from the Democratic Republic of Congo (DRC) made Tesla guilty of "not only tolerating child labour," but also "tolerating the maiming and death of young boys" who work in some of DRC's artisanal mines. Consumers would have "zero tolerance" of a company exposed as being indifferent to this suffering, the stockholders said. More on that later.
Factories on three continents and a 'step change improvement in the acceleration of sustainable energy'
CEO and founder Elon Musk and senior VP for powertrain and energy engineering Drew Baglino gave a lengthy presentation decked out in black, in t-shirts reminiscent of 1970s rock band Joy Division's iconic 'Unknown Pleasures' design – but were in fact somewhat abstractly based on lithium electrolyte design structures.
Musk pointed out the success Tesla had enjoyed in 2020 despite its obvious challenges as a year, that the company is the first foreign manufacturer to put a large factory in its own ownership in China and the importance of placing huge production facilities on three continents: America, Europe and Asia.
Alongside that growth, the company's stated mission to accelerate the world's transition to sustainable energy sits alongside a 'greening of the grid' that is already happening faster than many people realise, the pair said. The issues we are facing with climate change are really serious and humanity is facing them on a "day-to-day" basis, Musk said, adding that the "climate experiment" of adding more and more CO2 to the atmosphere is "insane". Baglino added that "we're going to run out of fossil fuel anyway".
While this acceleration means that 70% of new electricity generation capacity added each year is wind and solar it would still take 25 years to convert the grid, since power plant lifetimes average out into a couple of decades each. Yet the power generated from coal in the US, for example, has thinned out from 46% of electricity in 2010 to less than half of that percentage today already.
"Solar is sometimes underweighted at Tesla but it's a massive part of our future," Musk said.
Tesla has deployed 5GWh of stationary storage batteries already since their launch in late 2015 and generated 17TWh of solar – but "to achieve transition we must produce more affordable EVs and energy storage, while building factories faster and with far less investment," Musk said.
As much as 10TWh a year of battery production could be needed to transition vehicle use to fully electric, while on the grid side, there is a "similar mountain to climb" – around 1,600 times more growth is needed from today's grid battery capacity, to go 100% renewable for everything including heating, according to Baglino.
Terafactories and fatter batteries
The solution? Well, for Tesla at least, the answer to accelerating that transition comes down to rethinking the battery cell and the factories that build them, based on the 'first principles' way of thinking that Musk is known to be so keen on.
Much of the process of making battery cells is a legacy of their early invention and development. Through going back and rethinking the process from the ground up, the company believes it can achieve a 56% reduction in costs and a huge scale-up in manufacturing capacity.
According to Baglino, today's batteries are "just too small" to scale up fast enough while to achieve the potential 20TWh to 25TWh of necessary capacity worldwide as emerging economies industrialise rapidly would need in excess of 135 battery gigafactories of the type Tesla has already built in Nevada.
While that could cost US$2 trillion dollars, "it's not just about money, it's about effort in terms of people and machines," Baglino said. The cost reduction curve is "plateauing," he added.
What is needed, is to come up with battery cells that have the biggest form factor and the simplest manufacturing process. The pair were ready to admit that all of what follows is not yet fully achievable, at leat not on the grand scale required, but laid out a step-by-step plan for doing so.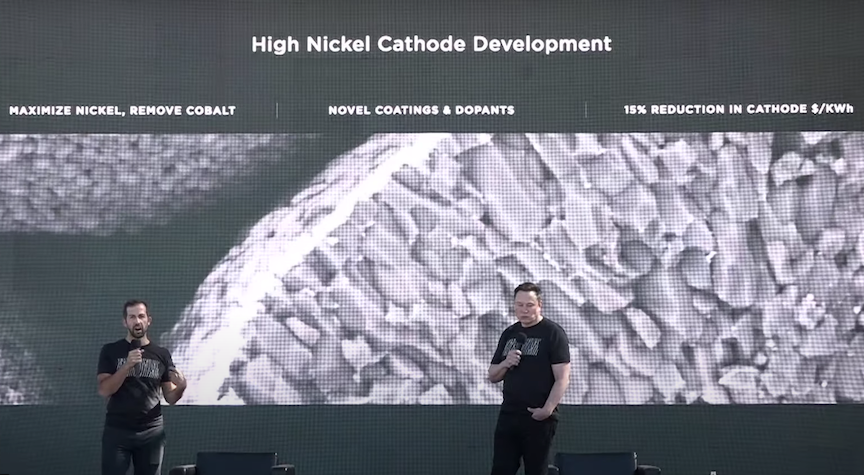 'Almost every element' needs to be rethought
"We've thought through almost every element of battery production," Musk said to the goal of making both vehicles and grid batteries more affordable.
Here's how the company seeks to achieve that 56% reduction:
From 2008, when Tesla's cylindrical battery cells used the 18650 form factor to the 2017 introduction of a 2170 form factor meant an energy density increase of 50%. "Bigger cylindrical cells cost less," Baglino said, but simply making cells bigger comes with its own attendant problems. Fast charging becomes an issue, as does thermal management i.e. safety.
A battery architecture that removes the tab which connects the negative and positive terminals in the jellyroll of the battery cell, "removes the thermal problem," according to Baglino. The cell also becomes larger, in an 80mm x 46mm form factor. Tesla claims this can add 5x more energy, +16% more range and 6x more power. Going tabless means continuous production is enabled too.
This is already past the prototype stage and Tesla's California pilot plant is ramping up to 10GWh of annual production capacity. Musk said that it will take about a year to reach that 10GWh but actual volume production plants will be more like 200GWh or more.
Reduction so far: 14% reduction in US$/kWh
Tesla has taken its inspiration in scaling up industrialisation of lithium batteries from the bottling and printing industries – batteries have a long way to go in matching the simplicity and speed of production that both have achieved over the years. A cell factory is engaged in a four-step process: the electrodes are created, then the winding takes place, then cells are formed. During the latter process the cells are charged.
"How do we make those processes fundamentally better and more scalable?" Baglino asked.
As many had theorised, the dry cell coating process developed by Maxwell Technologies, a company Tesla acquired over a year ago, will be key. While the process developed by Maxwell has already been refined through four equipment generations since Tesla began working on it, and will likely require two or three more generations to get right, the process removes the wet coating process involving solvents, water and slurry for putting electrodes onto the foil of the battery.
Baglino and Musk called achieving this at scale respectively: "insanely difficult" and "super demanding". Musk said it already "does work, but not at high yield" while his colleague said that Tesla is "confident we will get there". New machine iterations are being introduced every three to four months. The reward for achieving it could be a 10x footprint reduction and 10x reduction in the energy needed to coat electrodes.
Tesla also needs to achieve high speed continuous motion assembly – "no start and stop," Musk said. This means accomplishing the fastest parts-per-minute rate on the production line and Baglino said that through this, one production line should be able to output 20GWh, a 7x increase in output per line from previous iterations.
Then, cell formation. This constitutes around 25% of investment in a typical cell factory and involves charging and discharging each cell individually. From what Tesla has learned from the repeated charge and discharge cycles of batteries in its EVs and battery storage – including the power electronics required – the company believes it can create an 86% reduction in required cell formation equipment and a 75% reduction in footprint.
This means that for the same amount of space taken up by the Nevada gigafactory for 150GWh of production, a terafactory with 1TWh of production capacity could be built in less space.
Cost reduction equals scaling up and the plan is to achieve 100GWh by 2022 and then 3TWh by the year 2030.
Musk was quick to add that, as pointed out in his tweets the previous day, the company will continue to use outside cell suppliers including Panasonic, LG Chem and CATL, meaning the 100GWh by 2022 of production would be "supplemental to what we buy". He said there is a "good chance" the company could scale up earlier, but that Tesla is "confident" of achieving the 2030 target.
Formation reduces the cost per kWh at battery pack level by 18%.
Reduction so far: 32% in US$/kWh
Reducing the cost of active materials came next. Silicon anodes, which are based on abundant material and can store more lithium than graphite come with the challenge that energy retention is more difficult and a passivation layer forms. Tesla claims it has solved this with processes that do not require highly engineered expensive materials, Baglino said.
Using raw silicon in electrode design and different processes for coating, then stabilising the surface using elastic ion-conducting polymer coating and then using a highly elastic binder can contribute not only 20% more range to EVs but also reduce anode cost by 5%.
Reduction so far: 37% in US$/kWh
Well done for reading on so far – what came next might make the most headlines.
Tesla has come up with a three-tiered design architecture for cathodes that does not involve the use of cobalt. Cathodes are like bookshelves, Baglino said, and lithium is the book, with a stable structure required to contain ions. This stable structure needs to hold its shape in both anode and cathode.
Using novel coatings and dopants to stabilise nickel, rather than nickel with cobalt (which is more stable), Tesla has been developing a high nickel cathode. Baglino said a 15% reduction in cathode cost per kWH is possible.
However, Musk said, nickel can be constrained in availability, and so a "diversified cathode approach" is being pursued.
Cathodes of iron, for medium range electric vehicles and stationary energy storage – applications which require less energy density. While nickel is "about 50% to 60% better at pack level," iron is still "actually pretty good," according to the CEO.
Nickel-manganese cathodes for an intermediate: it is "relatively straightforward" to engineer and make cathodes with 2/3 nickel and 1/3 manganese, Musk said.
High nickel cathodes for long range and high energy density.
It is "insanely complicated" to disrupt the traditional cathode process, which Musk said is based on a legacy to traditional techniques and here the first principles standpoint of "how to get from the ore in the ground to the finished battery" came into play. The company claims it can enable a 66% reduction in Capex investment on cathodes and create a process that produces no wastewater.
Those cobalt-free cathodes could be made with raw materials found in the US alone, at factories where Tesla will also do onsite lithium processing using a new process that Baglino said the company "will pioneer". The sulfate-free process leads to a 33% reduction in lithium cost, at a 100% electric-powered facility.
"Lithium is not like oil, there's plenty of it everywhere" Elon Musk said.
There are sufficient lithium deposits in the US alone to electrify every vehicle in the country – and that's just from the known deposits. In fact, there could be enough lithium in Nevada to electrify every vehicle in the US, Baglino said.
"There's so much lithium on earth it's crazy," Musk added.
Not only that, but the company claims to have come up with an environmentally-friendly way to extract it, using sodium chloride to extract lithium from ore. The acid-free saline extraction process "won't be terrible… it'll be …. nice," Musk said.
That said, the pair highlighted that extracting lithium from used batteries offers much lower cost and higher value materials than taking it from the ground. So Tesla will be investing in recycling with a 10-year view and a recycling pilot plant will be opening in Nevada next month.
Cost reduction so far: 49% per US$/kWh.
The final 7% of cost reduction will come from how the batteries are integrated into vehicles. It still bothers CEO Musk, he said, that EVs really aren't quite affordable to the masses. Adding all of the elements together could mean electric cars at US$25,000 per unit. The CEO is "confident we can do it in three years".
Cost reduction total: 56% per US$/kWh.
Cover image: Introducing the new form factor tabless battery cell design. Image: Screenshot from YouTube livestream by Andy Colthorpe.