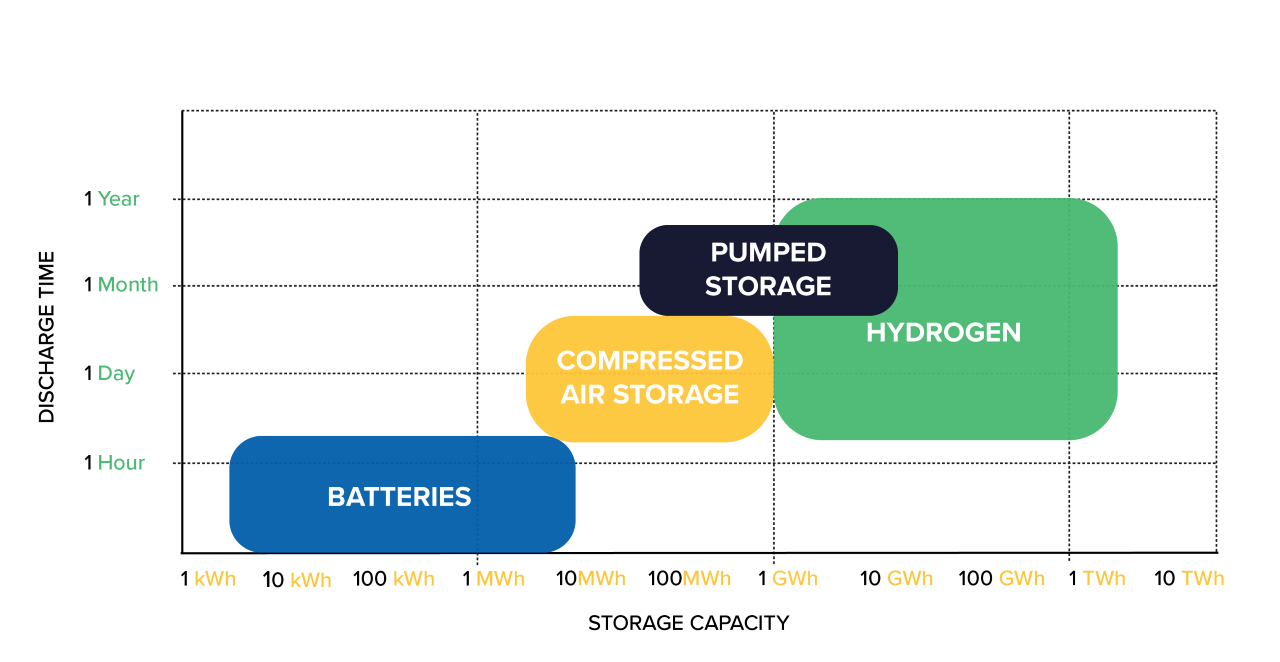 Mitsubishi Power has launched a simplified approach to commercially integrating hydrogen into energy systems either as long or short duration energy storage, or as a means of balancing the grid as higher shares of renewable energy are added.
The offering has been touted as a means to enabling low or zero carbon energy networks, although the company emphasises that the role of green hydrogen in the energy transition will initially often involve a combination of hydrogen electrolysis and storage with natural gas turbines, as well as with renewable energy and other energy storage technologies.
Mitsubishi Power has also said it will use its "standard package" approach to participate in US$3 billion worth of projects in three different US states to pair hydrogen with over 3GW of natural gas power plants. After initially running on a combination of hydrogen and natural gas, it will be possible in all three instances to convert the units over time to run 100% on hydrogen created by renewable energy.
The company has been selected as system integrator for green hydrogen for the 600MW Danskammer Energy Center power plant supplying customers in the Lower Hudson Valley of New York; for the 1,600MW Chickahominy Power Project in Virginia and for Harrison Power Project, a 1,084MW power plant in Ohio.
The packages Mitsubishi Power has launched integrate electrolysis of renewables into hydrogen, then allow that hydrogen to be stored in anything from salt caverns to purpose-built vessels, before finally outputting that hydrogen into engines or gas turbines that then create dispatchable electricity. From a business perspective, the company said it will offer technology, servicing and financing – which Mitsubishi claimed will "ensure technical and commercial predictability".
Mitsubishi Power has developed two green hydrogen solutions: one is called Hydaptive, which feeds surplus renewable energy into electrolysers that can be stored and then used to boost the efficiency of gas turbines as they ramp up or down, allowing near-instantaneous balancing of power on the grid, which is vital as renewable penetration increases.
The second is called Hystore, which combines the Hydaptive solution with large-scale off-site hydrogen and production, enabling energy storage for time-shifting renewables to when they are most needed, or even stored for much longer periods of time, even over months.
The company is already doing two green hydrogen projects in Utah, which will create gas turbine installations initially capable of running 30% on hydrogen-plus-gas, but anticipated to be able to run 100% on green hydrogen in the future. It said the three newly announced projects, plus others in the pipeline, will be built off technical knowhow developed at the Utah plants.
"These standard packages offer a total solution to our customers who are seeking to integrate power generation with power storage," Mitsubishi Power Americas president and CEO Paul Browning said.
"With these projects and others to come, we will create a true path to the zero-carbon power grid of the future."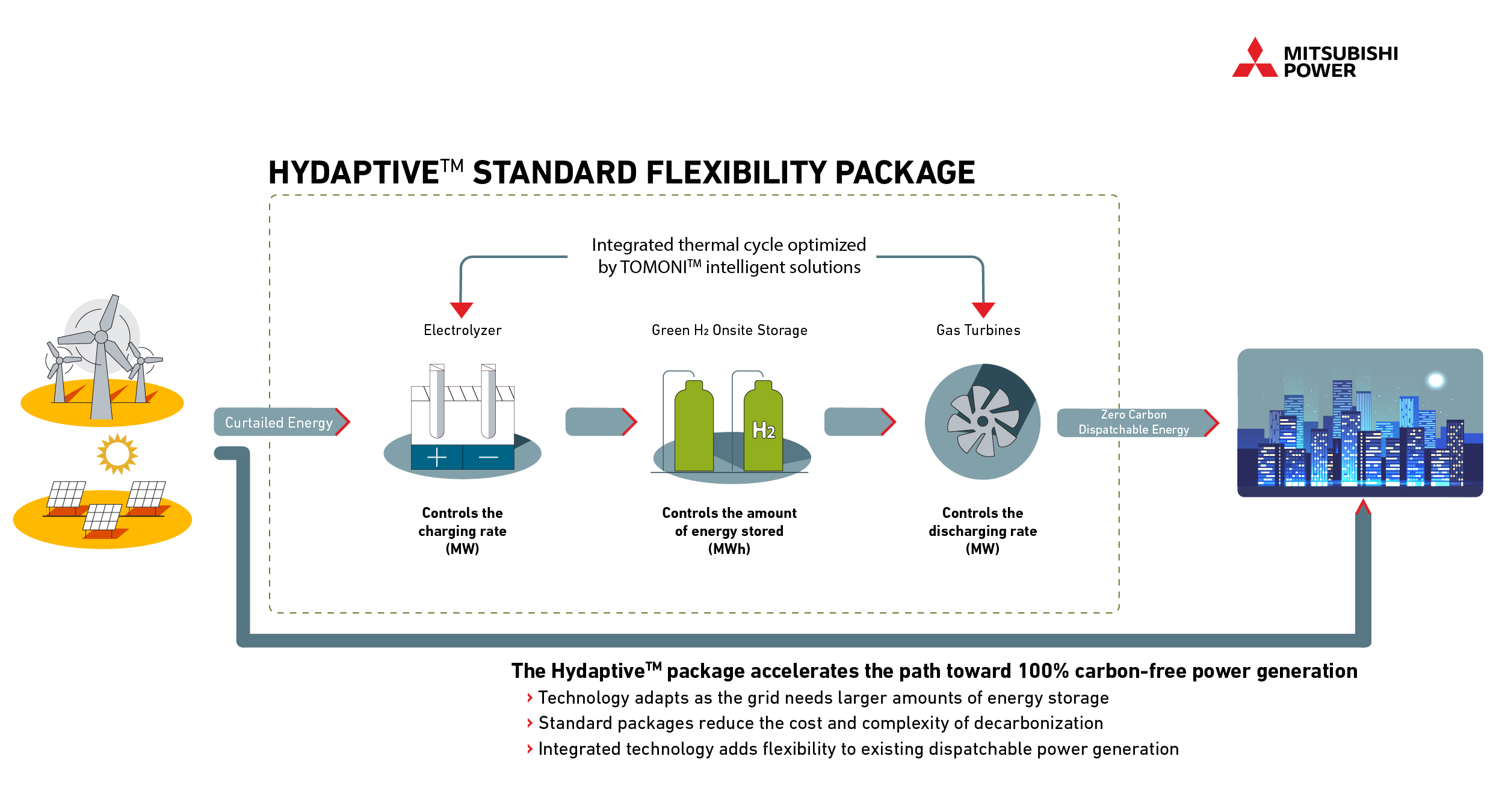 Industry and policymakers alike driven to turn promise into real-world solution
In an article to be published in the forthcoming 24th Volume of our quarterly technical journal PV Tech Power, Janice Lin, founder and president of the Green Hydrogen Coalition industry group writes that modelling of a 100% clean energy grid for California proved the need for multi-day and seasonal energy storage.
"Driven by curiosity and resolve, I started a search for a technologically and economically feasible seasonal energy storage solution for California and beyond," Janice Lin, who is also the founder and CEO of consultancy Strategen, writes.
"I spoke to experts far and wide and evaluated solutions from major energy companies to startups. From my explorations, it became clear: of the commercially available solutions, green hydrogen was the only low-carbon, potentially economically viable option to support seasonal, dispatchable, scalable energy storage for the grid."
Many – including national governments in Europe, Asia and Australia – are agreed that hydrogen electrolysis and storage offers great potential for low-carbon grids. Projects so far are still fairly small, with the world's largest 'single stack' green hydrogen electrolyser put into operation in Japan earlier this year, a 10MW system. In Spain, Iberdrola is planning a hybrid power project using 100MW of solar PV with a 20MWh battery system and 20MW hydrogen electrolyser.
The policy space and industry focus largely remains on lowering the cost of the technologies, with Australia for example putting nearly US$200 million into commercialising green hydrogen through building investor confidence. Consensus opinion mostly appears to be that increasing the size of electrolyser systems offers the best possibility of cost reduction through economies of scale, but some, like modular electrolyser maker Enapter, believe that small replicable units are the way forward – Enapter has been selected for a 'virtual gas well' project in Australia that pairs solar panels with hydrogen electrolysers to create renewable methane.