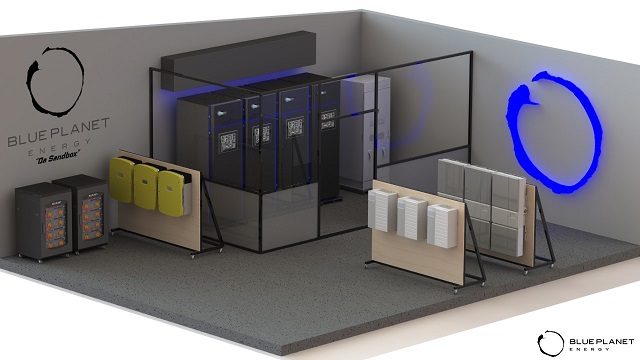 Saft in €5 billion, 48GWh EV battery plan
31 January 2020: Battery manufacturer and energy storage systems technology company Saft has announced its involvement in a joint venture (JV) for manufacturing automotive batteries which wants to reach 48GWh across two plants in Europe.
French President Emmanuel Macron visited Saft's operations in the Nouvelle-Aquitaine region of France this week. During that visit, the company, which is owned by energy major Total, said it will be joining PSA (formerly or more commonly known as Peugeot Citroen) and its car brand Opel in developing EV battery manufacturing.
Scheduled to go into action in 2021 and including R&D from Saft, the JV hopes to begin mass production by 2023, targeting an initial 8GWh of capacity that Saft said will be "rising to 24GWh later on," in Northern France. The pair then want to add another factory in Germany that will take the total capacity to 48GWh. The entire plan, which could meet as much as 15% of EV battery demand in Europe, Saft claims, will require around €5 billion in investment.
Start-up Gravitricity gets 'heavyweight' Huisman to build demo project
29 January 2020: Gravitricity, a UK-headquartered company developing systems for stabilising the grid based on gravity in a manner analogous to pumped hydro, has contracted for the building of a 250kW demonstration project.
Huisman, which specialises in building cranes and power lifting equipment as well as other engineering solutions for a wide range of industries including offshore vessels, will build the demonstrator.
The demonstrator will be built in Europe and then installed in the UK, basically lifting and then lowering weights to release energy. Once validated, Gravitricity wants to use an abandoned mineshaft site somewhere in Europe for a prototype by 2022, before then rolling out 20MW scalable systems to various global markets if successful.
The use of gravity in advanced systems is among various non-electrochemical battery energy storage technologies currently being seen across the globe. Read about many of those in our feature article, 'The Contenders: Long duration energy storage technologies and who's behind them' on Energy-Storage.news, here.
Cover image for this story: Gravitricity.
Blue Planet Energy's Hawaii HQ hosts microgrid R&D and training centre
28 January 2020: Blue Planet Energy, a Hawaii-based energy storage manufacturer, has opened a microgrid R&D and training facility at its Honolulu HQ, which will also support the company's own operations to go 100% off-grid.
A 128kWh capacity system of one of the company's own energy storage units – branded Blue Ion LX – will be utilised at The Sandbox, as the facility is known. The high voltage Blue Ion LX is modular and can be expanded to over 4MWh.
Various other technologies, including charge controllers, power conversion units and communications and monitoring platforms will be integrated at The Sandbox, along with different PV inverters, third-party batteries, flexible fuel generators and SCADA technologies.
"The testing facility supports our product enhancement and development while also providing a shared evaluation testbed for our industry partners. Another side benefit of the site will be updated product support resources, enhanced data capture, and technical and product content creation for multimedia demonstration and training purposes," Blue Planet Energy product engineer Sterling Gascon said.
The facility will also host training sessions for Blue Planet's dealer network, for installers and for partner companies, which include Schneider Electric and Delta.