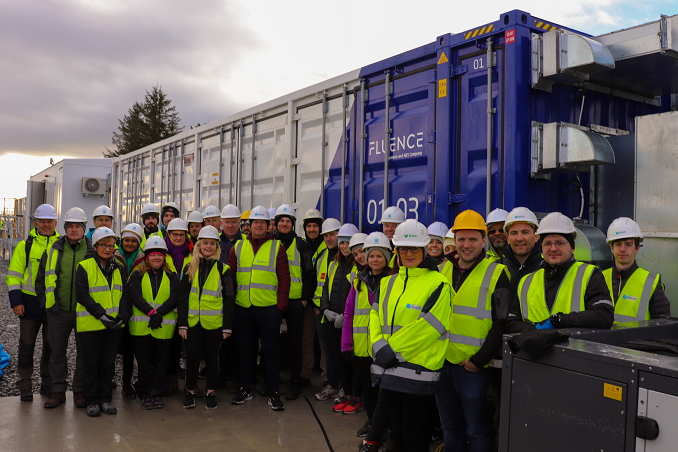 Marek Kubik, market director at Fluence, talks to Energy-Storage.news about the company's work on the 11MW Kilathmoy battery storage project, delivered in tandem with wind giant Statkraft and Ireland's grid operator EirGrid.
The project, co-located with the Kilathmoy onshore wind farm and first covered by Energy-Storage.news in January of this year, is among Ireland's first grid-scale battery storage projects providing critical frequency response to the country's transmission system under the DS3 programme.
This article requires
Premium Subscription
Basic (FREE) Subscription
Enjoy 12 months of exclusive analysis
Regular insight and analysis of the industry's biggest developments

In-depth interviews with the industry's leading figures

Annual digital subscription to the PV Tech Power journal

Discounts on Solar Media's portfolio of events, in-person and virtual
Or continue reading this article for free
Fluence has published a white paper on the Kilathmoy project which can be read here, however below Kubik explores some of the technical hurdles that Fluence had to overcome, how markets such as DS3 are driving innovation in ultra-fast battery response and what the company's key learnings have been.
Energy-Storage.news: What were the main considerations for Fluence in deploying this project with Statkraft, considering the technical requirements of super-fast battery response?
Marek Kubik: Given the hard deadlines for EirGrid's testing windows for DS3 requirements, our first consideration was on every aspect of project delivery running smoothly. Even missing the testing deadline by a single day would risk the project being put into a six-month hibernation before it could start earning revenues.
We worked closely with Statkraft and our subcontractors every step of the way and had to manage through a few speed bumps that emerged and ultimately still get the asset in the market on time.
What were the technical hurdles that needed to be considered when deploying this project, especially considering the co-location of an onshore wind farm?
Some of the biggest technical issues for this first-of-its-kind project are that Statkraft, EirGrid and Fluence were all to an extent building the tracks in front of the train as it went. We have gained a lot of experience working like this for dozens of pioneering projects around the world and our technology team's agility continues to amaze me. For instance, we didn't receive a finalized signals list that would define how the battery would need to interface with EirGrid until well into execution, nor an agreed-on testing protocol.
Delivering and validating the response time itself was one of the biggest technical hurdles we faced, which involved a number of steps:
Procuring and implementing a highly accurate and fast-measuring frequency metering device;
Tuning inverter response parameters to optimal dispatch;
Implementing proprietary Fast-Response Frequency algorithms in our system controls;
Employing a relay test set and commissioning tool to simulate system frequencies; and
Collecting system data at a rate fast enough to validate performance.
In the same vein, hybridisation of certain capabilities with the wind farm required a coordinated effort between the turbine manufacturer's controls and Fluence's. Whilst we have built several hybrid wind projects in the Americas, EMEA and APAC regions of the world already, each project has slightly different technical controls integration, and that takes time.
Can you provide some more detail around the control suite that's been developed for the DS3 market? What tools are required here and where could they be re-used?
We had an advantage in approaching the design of services for DS3 – the Fluence team, myself included, had already delivered an asset that is currently active in the Irish Single Electricity Market – the 10MW energy storage project located at Kilroot Power Station in County Antrim, Northern Ireland. Fluence's engineers had previously demonstrated a 150ms response capability based on a direct inverter firmware response with this asset.
While this is fast – and at first glance you could say the job was already done – that approach comes with some drawbacks, such as trade-offs on performance. The inverter-based approach limits the operator's ability to most optimally dispatch portions of the system based on state of health and limits the ability to stack additional valuable grid services. In the case of Kilathmoy, the project's response time is fully controls-based and uses alternative techniques to boost the response speed. That's significant, as it allows Fluence to deliver on EirGrid's – and by extension, other networks' – speed requirements without sacrificing the ability to stack other services that maximize the asset's revenue potential.
The DS3 solution developed here joins a suite of some 40+ patented applications developed in our 5th-generation controls suite and provides the basis for confidently delivering in similar markets where this type of capability is valued. For instance, National Grid's plans to manage transmission network constraints with a new product where a 150ms time is needed – the Kilathmoy application would be readily adaptable to that. Australia is also looking closely at how Ireland is implementing FFR for its own National Electricity Market, and the state of South Australia is already requiring some renewable energy projects to secure FFR capability with a similar response time.
To what extent are flexibility procurement mechanisms like DS3 driving innovation in battery storage?
The stratification of performance capabilities gives technology providers like Fluence an opportunity to showcase the value of our huge set of operating data from projects deployed over more than a decade, and our experience pioneering a wide range of applications in 21 countries and territories.
Historically, it has been harder to make the case for a customer to value a "premium" capability, like a super-fast response, if there isn't a specific value ascribed to it. The DS3 suite really changed the game: if projects can get paid three times as much for responding at the top end of the performance range for the DS3 Fast Frequency Response product, investors will sit up and take notice.
To their credit, EirGrid have taken a systems need-based approach and have been careful in articulating which characteristics have value and quantifying how important they are. That clarity drives the whole industry forward and ensures the best technologies get brought into the market to solve particular grid challenges. We've seen that approach be an extremely effective tool globally – giving energy storage and other technologies a level playing field to compete for very different services – from replacing peaking power plants to building virtual transmission lines with battery-based resources instead of traditional poles and wires.
How important are mechanisms like DS3 in providing certainty – by way of longer-term contracts – to investors, helping drive forward battery storage deployment?
There are a couple of different DS3 mechanisms to consider here. There is a "Volume Capped" route, which EirGrid procures on a tender basis for a fixed volume of megawatts and a pay-as-bid approach, with six-year contracts as the reward. This is well-suited to more traditional debt- or project-financed assets due to the longer tenure.
The "Volume Uncapped" regulated DS3 tariffs are not volume-limited, meaning anyone can apply and, if they meet the test criteria, receive a contract and regulated tariff payment. These afford a greater degree of flexibility and customization for the asset owner and are more readily "stackable" with other services, but run the long-term risk of being revised downward if the market becomes oversaturated.
In general, we are seeing the Volume Uncapped DS3 regime as a popular mechanism to catalyze the deployment of battery-based energy storage – but equally important is that investors have learned the lessons of the UK Firm Frequency Response market saturation and are placing a greater emphasis on "revenue agility" and the ability to re-purpose energy storage assets to other services over time.
There are many markets like Ireland that need to decarbonise their power supply whilst considering the impacts of variable output renewable generation, such as the effect on inertia, what are the lessons they can take from Ireland?
A key lesson from Ireland is that pay-for-performance metrics work. This is indisputable. EirGrids's DS3 product suite are technology-neutral in design but set out clear price signals –for instance, that speed of response is worth a premium – and as a result the market has shown that batteries can deliver on it.
I remember being told a few years ago that anything remotely close to these sort of response speeds was impossible for anything but flywheels to provide!
As more markets approach much higher penetrations of renewables, these types of services – designed to ultimately allow >95% levels of wind and solar to be safely and stably integrated to the grid in real time – are going to be critical for the cost-effective integration of renewables, and avoiding significant curtailment and redispatch costs.