It's likely you've already heard about the wave of investment into lithium-ion battery manufacturing going on in Europe. A huge amount of this activity is coordinated and led by the European Battery Alliance, which is in turn spearheaded by the innovation and technology accelerator agency, EIT InnoEnergy.
Within that organisation Bo Normark is a pivotal figure. Having served in the electrical engineering industry working for ABB for nearly 40 years, Normark became thematic leader for smart grids and storage at EIT InnoEnergy before settling into his current role as an industrial strategy executive.
This article requires
Premium Subscription
Basic (FREE) Subscription
Enjoy 12 months of exclusive analysis
Regular insight and analysis of the industry's biggest developments

In-depth interviews with the industry's leading figures

Annual digital subscription to the PV Tech Power journal

Discounts on Solar Media's portfolio of events, in-person and virtual
Or continue reading this article for free
Also sitting on numerous leadership boards and advisory roles both in his native Sweden and internationally, from the Royal Swedish Academy of Engineering Sciences and Sweden's transmission system operator Svenska Kraftnät to the Renewable Energy Institute of Japan, Normark wrote a popular blog a couple of years ago for this site on the importance of education for industry stakeholders as they adapt to "the energy storage age".
We caught up with Bo Normark in his capacity as EIT InnoEnergy executive to discuss the past, present and future of energy storage. Parts of the interview have also been used in our feature article, "For lithium to still lead the way…" which you can read in the latest edition of our quarterly technical journal, PV Tech Power, available from the PV Tech Store.
Four main areas of focus in energy storage tech
There are "many, many options" across various energy storage technologies, Normark says, but EIT InnoEnergy has concentrated on a few that the organisation sees as holding the most promise and making the biggest impact.
In 2016 and 2017, the European Commission asked EIT InnoEnergy (the EIT stands for the European Institute of Innovation and Technology, a independent EU-supported body) to write some reports on energy storage, including market business models, along with other experts. Through writing these reports, EIT InnoEnergy elected to concentrate on four main areas:
"One [area] is, of course, lithium-ion batteries. The other one is flow batteries. We have a quite interesting company in Germany, a startup making small flow batteries, Voltstorage. Super- and ultracapacitors, and now we are also emerging into hydrogen," Normark says.
"I believe that these four technologies will in fact, be the dominant in technologies where we move forward."
Normark says other options such as flywheels or gravity storage could perhaps also offer promise, but that in concentrating on those four key areas the organisation is able to cover everything from very short duration high power storage in ultracapacitors to medium range applications with lithium-ion, long duration in flow batteries and seasonal storage with hydrogen.
"What is interesting here is that we are looking so far in small flow batteries, whereas many people are maybe looking at bigger ones," Normark says, while he says that hydrogen is still in a more "infant state," but EIT InnoEnergy "believes in hydrogen quite a lot for for large scale, very large scale and longer time [applicatons]".
There has recently been, perhaps if only in the media, a sense of competition between flow battery and lithium-ion. Normark says that the pros and cons of each are distinct. Lithium batteries' much faster response time gives them a clear advantage in the power system, for example. Another is the sheer scale of production of lithium batteries which gives them the edge on cost reduction projections.
EIT InnoEnergy's interest in Voltstorage however, shows that flow batteries could be quite competitive with lithium at household level, Normark says. As alluded to earlier, this is perhaps a different perception than that held by many in the industry and is testament to how quickly things change.
"If you would have asked me one year ago, I would say, of course flow batteries will have a role to play in the big, big batteries because there is an economic scale in [those] batteries. I'm not so sure about that today actually, because lithium iron phosphate (LFP) batteries are coming down, way down in price. It's very difficult to compete with."
Another competitive dynamic between lithium and flow batteries – which typically but not always use vanadium electrolyte – is that vanadium is recyclable as are other components of flow batteries, while lithium is, considering the ubiquitous nature of its use, recycled in relatively small volumes today. However, a recycling value chain does not exist for flow batteries in the same way that it is starting to for lithium-ion and may not do until flow batteries find a market. I ask if there might not be a reason for that recycling value chain to exist in the same way that it will for lithium.
"I think that's an extremely valid point. I mean, first of all, the guys that now claim that they will reach extremely high recycling rates of material in lithium batteries, I believe that they are probably right," Normark says.
"Also, there is an enormous market for lithium batteries in all kinds of applications. In my home, I found 26 rechargeable lithium-ion batteries. All these batteries; so we need to solve the recycling chain anyway, for other reasons."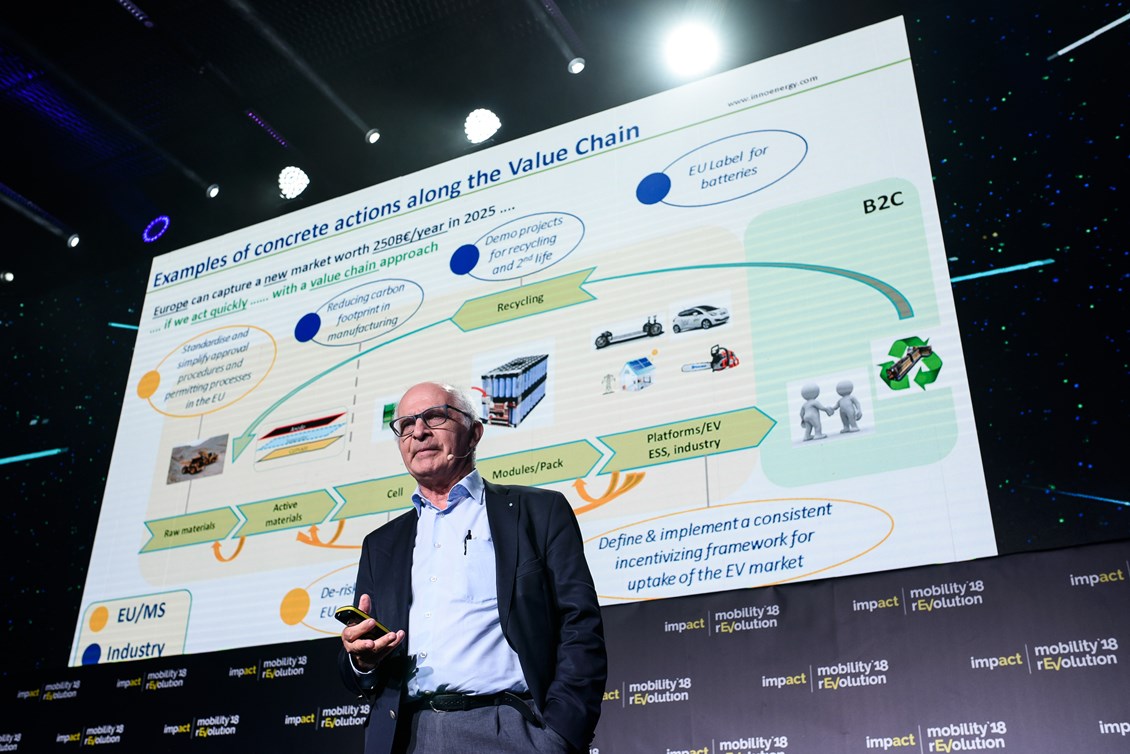 Europe needs to invest in entire value chain
For EIT InnoEnergy, establishing a European battery manufacturing 'ecosystem' is not only an important part of decarbonisation strategy, it's also an essential point in establishing and maintaining industrial competitiveness with other parts of the world, not only Asia, where the vast majority of batteries today come from, but also with the US and elsewhere as those regions also make inroads to establishing their own industries.
"It is key because if you want to have a full buy-in from European citizens, to make a transformation, or even accelerate the transformation, you have to be able to show that it pays back in in some way. We cannot just drop jobs and say, well, we're going to stop doing this, stop doing that. We have to show: what are you going to do instead?"
Normark says that European companies make some of the best combustion engines in the world. An "enormously important aspect" of the energy transition to have an alternative narrative to: "we will ban your bloody engines from 2030," Normark says.
"What is important is that we are really serious about the value chain. We are talking with a large number of companies that are planning to open mines, companies that are going to invest in in processing equipment, recycling plants. So I'm not saying that Europe will necessarily need to be self sufficient, but I'm saying that is absolutely unacceptable that we are non-existent."
Over the past couple of years, so many announcements have emerged regarding manufacturing in Europe that it would be forgivable for wondering if there might be some sort of oversupply situation in the making. Not so, says Bo Normark, who says we are "not even close to having an oversupply."
One reason for this is that people often underestimate the time it takes to get plants to full production. Many of the 25 or so gigafactories planned or already under construction in Europe will take a "few years to crank up".
Yet while there is an element of international competitiveness in setting up local manufacturing, international cooperation and trade remains hugely important, Normark argues. Asia has surpassed Europe in building quality production equipment, he says, while Europe probably still leads in terms of automation techniques and technologies.
While he would like to see Europe's machine builders to "get up to speed," Normark believes that's possible, and in the meantime, equipment gets imported while the likes of European gigafactory startup Northvolt are importing talent from Asia and elsewhere to fill in key personnel and knowledge gaps.
One of China's biggest battery makers, CATL is building a factory in Germany that will be the company's biggest facility anywhere in the world, Normark points out. CATL is already linking up with research institutions in Europe, and Normark is optimistic that the blend of entrepreneurial spirit from China and knowledge in Europe can be successful.
After all, Normark says, the the outcome of the European Battery Alliance project is already "beyond expectations".
"If you look at the landscape now, the biggest change you have seen in Europe in the last year is that today there is more or less a common understanding that we can be competitive, people believe it. That was not the case three years or four years ago."
Cover Image: 2017 artist's sketch of Northvolt's first factory in Sweden which is already taking shape, supported by EIT InnoEnergy and the European Battery Alliance. Image: Northvolt.