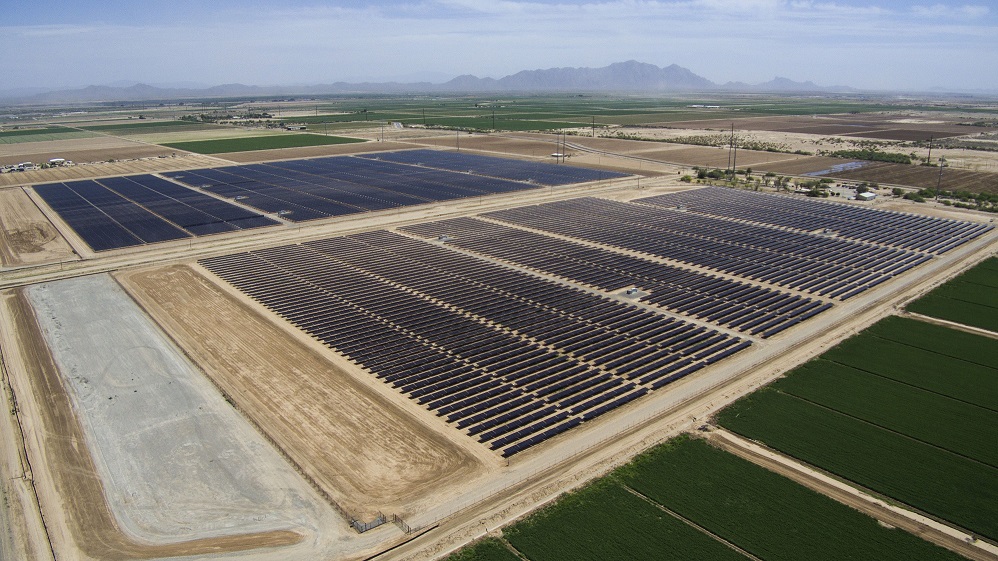 NextEra Energy Resources and utility Salt River Project (SRP) have completed the Pinal Central Solar Energy Center in Arizona, an integrated PV plant equipped with a battery.
The 20MW project is Arizona's largest utility-scale solar farm paired with a battery storage system, and will generate enough energy to power 5,000 households. Equipped with a 10MW lithium-ion battery storage system, the storage portion stores energy which can be dispatched during the early evening peak, when households tend to demand more energy and solar generation is ramping down.
The renewable installation is comprised of 258,000 PV panels and was developed on 104 hectares of land east of Casa Grande.
SRP general manager and CEO Mike Hummel noted: "The project's design allows SRP to utilize solar and battery storage together to optimize clean energy output to benefit our customers. In addition, the plant will assist SRP in meeting our goals for renewable energy while reducing carbon emissions."
SRP will purchase all of the energy produced at the plant, which is owned and operated by a subsidiary of NextEra Energy Resources. Energy-Storage.News reported on the signing of a 20-year Power Purchase Agreement (PPA) in April 2017 as the project was announced by NextEra. The utility is gunning for sourcing 20% of its energy from "sustainable sources" by 2020 – which it claims to be on-track to meet – and reduce carbon emissions intensity 33% by 2035.
Matt Handel, vice president of renewable development for NextEra Energy Resources, added: "We are delighted to work with SRP to bring this innovative solar and energy storage facility online and deliver unprecedented value to its customers. The project also brings significant economic benefit to the region, creating jobs and providing additional tax revenue to the communities that host it."
During construction, over 150 jobs were created for the project, with four full-time positions. Now operational, the installation will produce over US$7 million in additional revenue for Pinal County over its operational lifetime.
Arizona's utilities, network operators, lawmakers and public have shown an appetite for energy storage, particularly solar-plus-storage, in recent months. The state's legislators are considering a package of changes that include a 3GW energy storage target and a new so-called 'Clean Peak Standard'. First Solar and utility Arizona Public Service (APS) are developing a 50MW battery paired with 65MW of PV in the state and another 16MWh deployment by APS is expected to save the utility from building 20 miles of expensive transmission and distribution infrastructure. Another Arizona utility, Tucson Electric Power (TEP), claimed "historically low prices" were achieved in a solicitation for a 100MW solar PV array coupled with a 30MW/120MWh energy storage system of as low as US$0.03 per kWh in May 2017.
NextEra group company Florida Light & Power (FPL) recently announced what it claims is the US' largest solar-plus-storage project to date, a 74.5MW PV plant coupled with 10MW / 40MWh of energy storage.
Additional reporting by Andy Colthorpe.