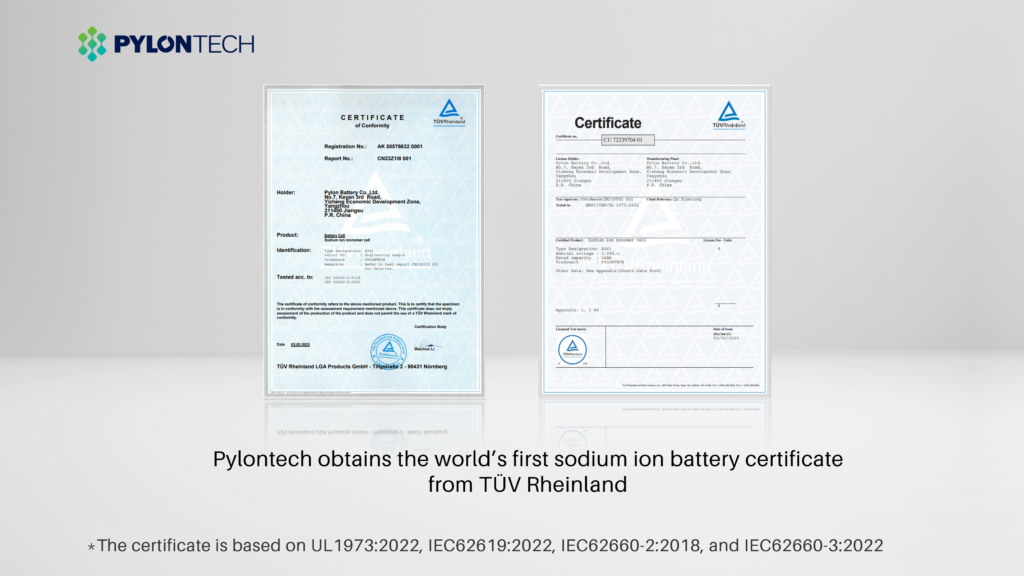 Pylontech has announced that it has received the world's first sodium ion battery certificate from TÜV Rheinland, based on UL1973:2022, IEC62619:2022, IEC62660-2:2018 and IEC62660-3:2022 standards. The certification underlines the company's expertise and maturity in sodium ion battery technology, paving the way for its application in energy storage.
The global installed capacity for energy storage is forecast to reach 233GWh by the end of 2030, with the technological breakthrough in sodium ion batteries set to supplement lithium ion to effectively ease the pressure on supply.
As of the end of 2022, Pylontech had delivered more than 1,000,000 energy storage systems and is now well placed to drive the application of sodium ion batteries to deliver more value to users.
"Being the first company to achieve international safety standards for sodium ion batteries clearly reinforces Pylontech's overall positioning in the industry and we will leverage our research capabilities to help accelerate the carbon neutrality process, regardless of technology, economic or environmental challenges", commented Geoffrey Song, the company's VP for international business.