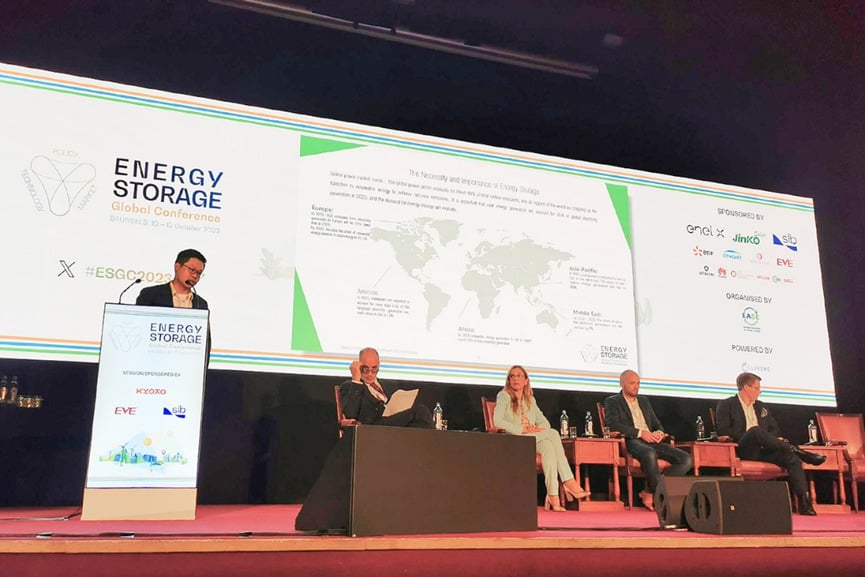 Dr Rui Zhang, managing director of EVE Germany, has attended a global  conference in Brussels organized by the European Association for Energy Storage, joining storage experts, academics and industry leaders from all over the world to discuss latest policies, technologies and market trends.
IEA forecasts suggest that renewable energy will account for 35% of the world's electricity by 2025, creating an enormous demand for storage. Focusing on power system transformation, energy storage development and challenges, Dr. Zhang delivered a speech to attendees on energy storage and industry decarbonization, commenting: "As the demand for energy storage grows exponentially, the proportion of large-scale projects at GWh level will increase rapidly, with storage projects with a lifespan of more than 3 hours accounting for over 60% of the total, representing both an opportunity and a challenge for the industry. In order to cope with this growth, the storage industry urgently needs to solve the three major problems of system management complexity, thermal runaway and economy."
To address these three issues, EVE Energy has released its new generation 'Mr Giant'5MWh liquid cooled system, equipped with the 'Mr Big'628Ah large stacked smart battery. The system provides an advanced solution for power system transformation, solving each of the issues ahead of time in the era of large-scale power plants, effectively meeting the needs of the future TWh era.
Zhang went on to state that EVE Energy has created a green supply chain with the circular economy of 'waste lithium batteries – chemical materials – battery materials – lithium batteries.'At the same time, carbon reduction measures have been introduced across the whole life cycle of lithium batteries, with the use of green power during the battery, negative electrode and positive electrode manufacturing stages, followed by the subsequent recycling of nickel, cobalt and lithium materials.
Zhang concluded by confirming that EVE Energy's own PV power plant is forecast to reach a capacity of 110MW this year, reducing future annual carbon dioxide emissions by more than 60,000 tons.