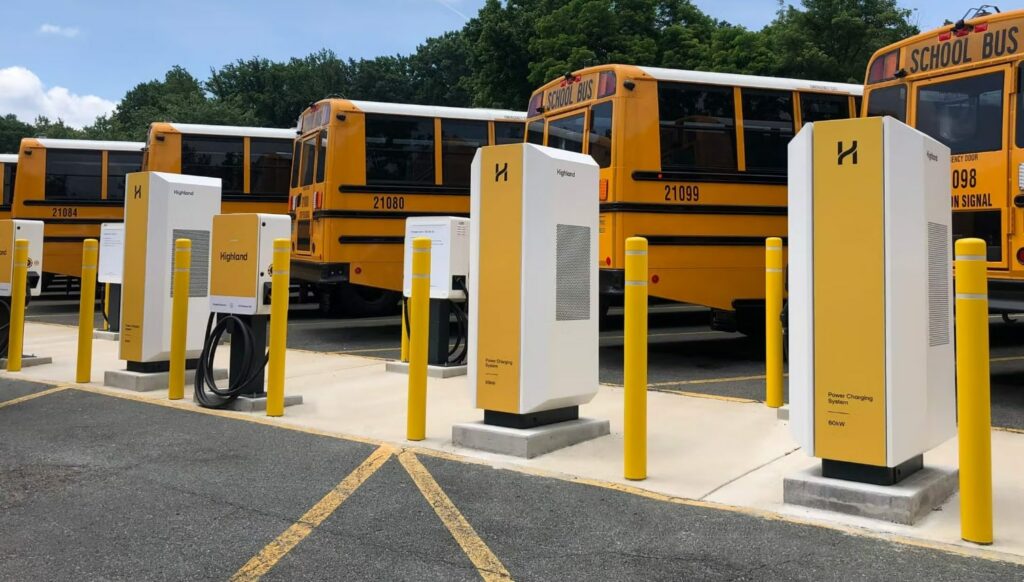 We catch up with Sean Leach, director of technology and platform management for Highland Electric Fleets about how vehicle-to-grid (V2G) fits into the company's strategy.
Energy-Storage.news: Can you introduce Highland to our readers?
This article requires
Premium Subscription
Basic (FREE) Subscription
Enjoy 12 months of exclusive analysis
Regular insight and analysis of the industry's biggest developments

In-depth interviews with the industry's leading figures

Annual digital subscription to the PV Tech Power journal

Discounts on Solar Media's portfolio of events, in-person and virtual
Or continue reading this article for free
Sean leach: Highland Electric provides turnkey school bus fleet electrification, so we approach school districts, cities, towns, school bus contractors, whoever owns and operates the fleets, and we can electrify their school bus fleet, and ideally turn it into one annual mileage based payment, that would be the same or less than what they would pay for a diesel bus.
And in that payment, they get an electric school bus, all the infrastructure that's required, all the energy that is required to fuel the buses, all the training required for their drivers and their mechanics, and we reimburse for maintenance. And we wrap it all in our software that controls everything and gives them a view of their entire operation.
Why school buses?
The reason we're so focused on school buses is because their lives are very predictable day to day, they tend to run the same schedule five days a week, twice a day, and as a result of that, they're frankly a bit under-utilised. Especially when you look at the difference between a diesel bus and an electric bus. The diesel bus moves people twice a day, results in emissions, and then it rots for its entire life just sitting most of the time.
The electric school bus does the diesel bus' job better and cleaner and then in all the other hours that the bus is sitting there it can be utilised as an energy asset. And because its life is so predictable and because of the grid's need for power, especially in the summertime, when the buses are literally doing nothing, it represents this perfect storm of taking an asset and using it for its normal thing and then all the other time it's available to use for other things.
So how does V2G fit into what you do?
The money that can be made from vehicle-to-grid (V2G) services can go back into the contract with the customer to keep that price down.
Though, not every utility is necessarily ready for V2G at this moment in time. We're working with a lot of them to try and get them on board with it in the most lucrative V2G markets like here in the Northeast where they have some programmes available that we're already actively participating in and have been for two years.
Here, V2G can contribute a significant amount of money to the school bus electrification projects, but it certainly does not net it out. It does help to keep that contract price down over the 5-10-15 years that contract runs for.
How do you factor it into your commercial contracts?
In terms of how we structure and how we sell it to the customer, we really start by asking: how do we make all of the project economics and the total cost of ownership work for the customer, without V2G?
But if we find out the local utility does have a programme to utilise V2G, we will model that in early on. And we will go to the customer pretty early in the process and say 'Hey, priority one for your vehicles and charging infrastructure is to move kids twice a day safely. That's job one. But Highland will also make sure that we can take part in these V2G programmes without impacting your daily operations. And all the money that's generated from that will go back into your contract to keep it down and get to that price they need the contract to be at.'
But for the customers themselves, they don't need to manage it, they don't have to think about it. As long as the buses are back and plugged in by the required time, we will take care of the rest of it through our software. So we really try and make it as painless as possible for the customer. And that they can just focus on doing their job, because they have a hard enough job moving kids twice a day.
How does it affect the contract price?
In terms of how the contracts typically work, from the first day they're budget neutral. If V2G is something in their market that we can use, we'll make sure that's part of it from the first day so that its revenues will offset that higher cost of the V2G infrastructure, like the hardware, the charging equipment etc.
So from the customer standpoint, they're budget neutral from the beginning, they don't have to worry about that.
There are some contracts that we might start with a customer where V2G programmes may not be ready at the moment of launch, and we can then build that into the model afterwards. When we do get that up online, we can work that into the contract and make sure that it's included in the price.
Do school bus operators turn down the offer of V2G?
I don't think we've had anyone who has said no to V2G services if it's an option in the contract. They all seem pretty open to it. Their basic standpoint is that as long as the buses can do their routes, you guys can do what you want with the buses in the hours after that.
Tell us about a typical electric school bus' day and how V2G fits into that?
So a typical school bus' day starts around 6am and then they're back at the school at 8am or 9am. Once they're back, they probably don't even need to charge as there's plenty of energy left for the afternoon run.
If there are no V2G events in the middle of the day then they may not need to plug in at all. Then they go back out and are back around 4 pm.
When the vehicles are back they plug back in and our platform will look at the site requirements, if there are any time of use rates, demand charges etc, and it will appropriately start charging the vehicles at the right time. We tend to recharge overnight as it's better for the grid even if there are no charges then.
In the summer the buses are doing morning routes if anything at all. The bus will come back early-to-late morning and plug back in ready for the 4-5pm grid discharge event.
See previous Energy-Storage.news' coverage of developments in the V2G sector here.
Energy-Storage.news' publisher Solar Media will host the 5th Energy Storage Summit USA, 28-29 March 2023 in Austin, Texas. Featuring a packed programme of panels, presentations and fireside chats from industry leaders focusing on accelerating the market for energy storage across the country. For more information, go to the website.