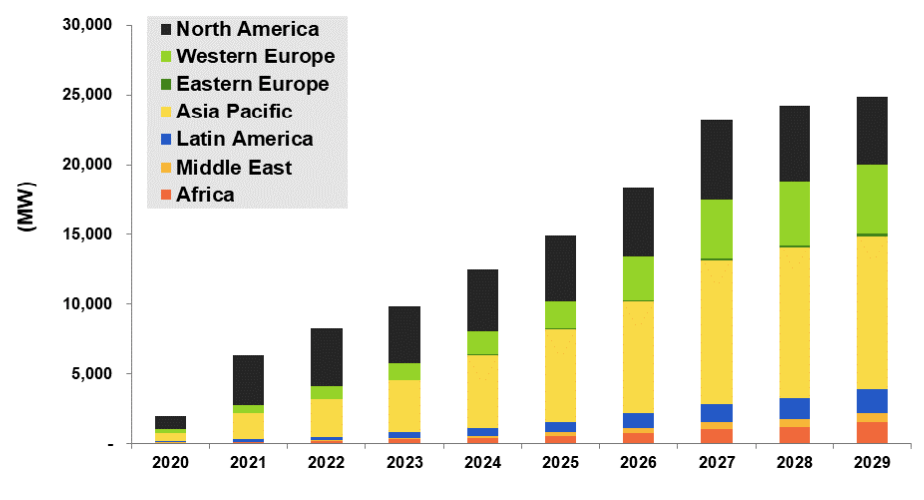 North America is currently leading the world for utility-scale energy storage deployments, but could be overtaken by the second-largest market, the Asia-Pacific region, as early as 2023, according to forecasting and analysis by Guidehouse Insights.
The Colorado-headquartered research company recently published its Q3 2020 'Utility-scale energy storage market update', which examines market drivers, trends and forecasts for the large-scale energy storage industry worldwide through to 2029.
This article requires
Premium Subscription
Basic (FREE) Subscription
Enjoy 12 months of exclusive analysis
Regular insight and analysis of the industry's biggest developments

In-depth interviews with the industry's leading figures

Annual digital subscription to the PV Tech Power journal

Discounts on Solar Media's portfolio of events, in-person and virtual
Or continue reading this article for free
Only a couple of years ago, utility-scale energy storage was considered "too expensive or complex for integration into energy markets" in many parts of the world, but since then there has been a "major shift", Guidehouse analysts said. Guidehouse expects annual installed utility-scale storage power capacity to be in the region of 25,000MW globally by 2029, and more than 5,000MW next year, more than doubling this year's figures.
While renewable energy integration remains, and is expected to continue to be, the strongest driver of that growth, energy storage can help and reduce costs associated with many different aspects of the power system, according to Guidehouse.
"Developed markets with growing storage industries have shown that once energy storage becomes a component of utility planning, cost-effective opportunities to use the technology will present themselves," report authors Pritil Gunjan, Ricardo Rodriguez and Maria Chavez told Energy-Storage.news.
"In the US, the mandated inclusion of energy storage alongside other assets in utility integrated resource planning (IRP) processes quickly led to the identification of new project opportunities. This trend will replicate itself in emerging markets throughout the world once a sufficient level of understanding has been achieved."
Asia-Pacific market to reach compound annual growth rate of 39.4% by 2029
The Asia-Pacific region by 2029 is expected to achieve a compound annual growth rate in energy storage installations of 39.4%, with a cumulative 60,747.4MW of new utility-scale capacity expected to be added between this year and then. In 2020, the region will add around 554MW of new large-scale storage.
"The growth of the Chinese energy storage market is a major factor" in Asia-Pacific's expected overtaking manoeuvre, Guidehouse's Pritil Gunjan, Ricardo Rodriguez and Maria Chavez told Energy-Storage.news.
"China's slow-but-steady development of electricity markets is set to improve the market position of renewables over time. The refinement of policy related to ancillary services –as well as policy developments in regions including Qinghai, Guangdong, Jiangsu, Inner Mongolia and Xinjiang, have created a wave of energy storage construction and development."
China has diversified in its strategies to adopt renewables and will promote both front-of-meter and behind-the-meter battery storage in order to reduce or prevent the curtailment of renewable energy generation from being able to be used on the grid. Adoption of energy storage will also help the country to meet "ambitious" targets to reduce carbon dioxide emissions, the analysts said.
Elsewhere in the region, Australia, South Korea and Japan will also deploy energy storage to reduce the curtailments of renewable energy, according to Guidehouse. Of course, the Asia-Pacific region is a huge area that encompasses many different territories, levels of economic development and industrialisation and even climates, as well as containing lots of island nations without large transmission networks or interconnection.
Energy-Storage.news asked the Guidehouse analysts to break down drivers for energy storage in the different types of economies and nations in the region:
The experts said that in industrialised economies, "projects are moving beyond short-term applications, such as frequency control, to include a wider spectrum of services, such as energy arbitrage, firm capacity or renewables integration."
"Storage co-located with solar and wind will also become more common place as fossil fuel peaking plants continue to be phased out."
For island nations in the Asia-Pacfic region, "the desire to improve the resilience of power supply for individual customers and the entire grid; the need to expand reliable electricity service to new areas; rising electricity prices; and innovations in business models and financing will play a key role in increased deployments of storage," the analysts said.
"In Indonesia, population growth is expected to occur on islands – other than Java – where grid infrastructure is less developed. Energy storage will likely support grid modernisation efforts as a non-wire alternative."
Finally, for the region's emerging economies where power markets are becoming more liberalised, "ancillary services will likely be the largest driver of storage. Indonesia, Philippines, and China will see increasing deployments over the next decade," Pritil Gunjan, Ricardo Rodriguez and Maria Chavez said in an email interview.
Massive surge in EV battery manufacturing will benefit grid storage, but LFP battery chemistry likely to take bigger slice of stationary market over time
The rapidly growing capacity of battery manufacturers is driving continued price declines for lithium-ion batteries, the analysts said, with EV batteries the largest segment of that by far: Guidehouse Insights expects some 93% of demand for large format Li-ion batteries to be from the electric vehicle (EV) battery sector over the next 10 years.
"Li-ion manufacturers sign large, long-term supply agreements with EV automakers, which provide the certainty needed to invest in new factories," the report authors said.
"Supplying grid storage projects is typically secondary to EV contracts, but the grid market benefits from shared technology and lower costs."
Pre-2015, only three operational factories worldwide had an annual production capacity of greater than 3GWh – in the five years since then, 187.5GWh of new annual production capacity has come online, spread across 10 factories. In just the next four years, 93.5GWh of further capacity is expected to be operational at "at least five additional factories," the analysts said.
Guidehouse anticipates that ongoing supply chain efficiency improvements as well as improvements in manufacturing techniques and design will yield "an additional 46% reduction" in the average price of lithium-ion batteries cells though to 2029, while lithium batteries are also likely to see incremental improvements in energy density.
The analyst team also said they expect lithium iron phosphate (LFP) to take a greater share of the energy storage battery market in the coming years. This is because discharge duration hours for stationary storage are continuing to increase, with more projects moving beyond short-term applications. Stationary storage projects are increasingly including "a wider spectrum of longer duration services such as energy arbitrage, firm capacity or renewables integration".
Additionally, they said that "the pressing need for high cycling capabilities and high frequency for stationary storage, areas where LFP batteries shine, is expected to drive increased LFP adoption in the long run. Moreover, the fact that cobalt is not needed for LFP batteries is another significant advantage given the minerals link to human rights abuses."