Although lithium-ion is currently the market leading battery technology in energy storage, this status cannot be guaranteed in perpetuity. Three leading figures from the lithium-ion battery industry give Energy-Storage.news editor Andy Colthorpe their views on how the technology can continue to prosper.
Whether or not lithium-ion batteries will represent the dominant force in energy storage in the distant future, the reality is that it dominates the present day of grid-connected energy storage just as it does electric vehicles and consumer electronics. The cost of commercial lithium battery packs has fallen, on average, about 10 times since 2010. Energy and power density improve all the time.
This article requires
Premium Subscription
Basic (FREE) Subscription
Enjoy 12 months of exclusive analysis
Regular insight and analysis of the industry's biggest developments

In-depth interviews with the industry's leading figures

Annual digital subscription to the PV Tech Power journal

Discounts on Solar Media's portfolio of events, in-person and virtual
Or continue reading this article for free
Other technologies certainly need to become more involved in the global market for the energy transition to be a success of decarbonisation and system stability – particularly long-duration storage, thermal and power-to-gas – but for now, lithium is the main event. Three industry thought leaders discuss what lithium does best – and what the industry needs to do better.
The cast
Bo Normark, an energy industry veteran with almost 40 years' experience analysing energy systems, is an industrial strategy executive for EIT InnoEnergy. EIT InnoEnergy is not only an energy innovation accelerator supported by the European Institute of Innovation and Technology of the European Union, it is also a key player in creating and leading the European Battery Alliance – driving billions of euros in strategic investment in supporting and creating the battery manufacturing value chain in Europe.
Christina Lampe-Onnerud is a corporate strategist with a PhD in inorganic chemistry, twice a winner of the World Economic Forum Technology Pioneer award, who wants to change the world of lithium-ion batteries, with highly simplified designs that can be mass produced. Her company, Cadenza Innovation has developed large prismatic 'supercell' designs for use in energy storage systems which are claimed to be cost-effective, safer and more energy dense than many competitors' solutions.
Amrit Chandan's company Aceleron is "all about the circular economy" when it comes to lithium-ion batteries, the CEO and founder of the UK-based startup says.Chandan holds a PhD in fuel cell technology and along with co-founder Carlton Cummings is creating lithium-ion battery technologies that can be fully recycled, while also assembling packs and systems from repurposed end-of-life cells and modules that are already being marketed into developing countries as low-cost solar-storage solutions.
Will lithium continue to dominate?
First of all, it's important to establish that lithium is not going to be the only technology relevant to energy storage or the renewable energy revolution. Bo Normark says that EITInnoEnergy has identified four main areas of energy storage technologies to focus on: lithium-ion batteries, flow batteries, ultracapacitors and hydrogen.
There's perhaps a false sense of competition out there, but flow and lithium can in fact be complementary, while these technologies can also be differentiated in their relative 'skillsets'. Firstly, Normark says, the advantage of Li-ion over flow technologies is the much quicker response time, meaning that "in the power system, you can do more with a lithium battery than the flow battery".
Scale is also an important factor; that is, the scale of manufacturing of lithium today as well as planned over the next few years.
"I always tend to say that there is an advantage in the lithium battery because basically the technology started on a 'desktop' scale, which means that a small battery per kilowatt hour costs roughly the same as a big one. So, you can choose whether you're centralised or decentralised," Normark says, although he adds the caveat that EIT InnoEnergy has invested in Voltstorage, a German company making residential flow battery systems, which he says could become "quite competitive".
But lithium-ion batteries are evolving and improving all the time. One example is that the way EV battery charging today has become greatly optimised from a few years ago helps "save the batteries" and extend their lifetime. The change comes quicker than even an industry veteran like Normark could have predicted.
"If you would have asked me one year ago, I would say: 'Yeah, of course flow batteries, they will have a role to play in the big, big batteries because there is an economy of scale.' I'm not so sure about that today actually, because lithium iron phosphate (LFP) batteries are coming down, way down in price. It's very difficult to compete with."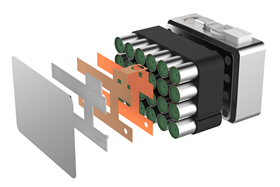 But are lithium-ion batteries safe enough?
"Lithium-ion is the hero of the storage industry. And it can be amazingly reliable and really, really good if you package it right," Cadenza Innovation CEO and founder Christina Lampe-Onnerud says. There is, however, a debate still to be had about what that packaging should entail, and nowhere does this problem come into starker relief than when it comes to the question of safety.
Lithium batteries are relatively safe, but incidents such as the fire and explosion at the McMicken Energy Storage Facility, which caused serious injuries to four firefighters, can have enormous ripple effects throughout the industry. Even in just the past few months there have been several fossil fuel-related incidents causing environmental disaster or deaths. But this does not make the issue of safety of lithium-ion batteries less pertinent.
Lampe-Onnerud – who herself was an investigator of safety incidents with Li-ion batteries before becoming a battery company CEO – says that there remains "misinformation in the general media" and that assertions such as lithium iron phosphate being a completely safe alternative to nickel manganese cobalt (NMC) are "convenient spin by some members of the industry" to promote sales.
"To me, that is what makes the policymakers hesitate. That is what makes the utility companies say: 'we're not sure we're ready'. If we just had a transparent discussion, we would say lithium-ion as a chemistry can use the entire first row of transition metals. They will all have a slightly different [profile] on how quickly or on what trigger causes them to go into thermal runaway, but let's just not fool ourselves. They are all energy materials."
Lampe-Onnerud believes that Cadenza's answer to the problem of thermal runaway – which means of course that impact damage or short-circuits can cause lithium-ion battery cells to catch fire – will be "one of many solutions" to the problem.
The Cadenza supercell is packaged into a larger format than most lithium cells, with a design that means that fire mitigation measures are "on the inside", with recent third-party tests showing that thermal runaway in one Cadenza cell does not then propagate to other cells in the system. For most lithium-ion batteries to be deemed safe from propagation at the moment, they are cloaked in layers of fire mitigation equipment.
"I think the media actually has to explain what is the matter – because there's so much spin in this industry. And so many players, colleagues in my industry that say, 'Oh, you know, we are not at fault.'Well, you're clearly at fault. It's clearly an issue."
"The reason you basically can have systems that are reasonably safe is only because you have to put a lot of safety around them. Big aeroplanes, they have traditional lithium-ion systems. The aeroplanes are safe because the batteries are put in steel chests in the stomach of the aeroplane. That's fine, but it is not affordable."
This is the opening extract of an article which appears in full in the latest edition of our quarterly technical journal, PV Tech Power (Vol.24), in 'Storage & Smart Power', the dedicated section contributed by the team at Energy-Storage.news. The full article discusses in further depth the need and ability to recycle lithium batteries and the macro-level energy transition questions that battery storage can help answer.
To download the entire article as an individual paper, or to subscribe to or download the entire 108-page book, visit the PV Tech Store.
Cover image: Aceleron lithium-ion battery pack made with repurposed cells. Image: Aceleron.