We gave you what was hopefully a fairly comprehensive wrap-up of CEO Elon Musk and VP of Powertrain and energy engingeering Drew Baglino's presentation at Tesla's Battery Day last week.
Bigger batteries from bigger factories with optimisations and improvements aimed for at every step along the way. Stopping at nothing until the company reached some previously unheard of scale of manufacturing and technological nirvana, the event made some investors nervous and some commentators lamented the lack of the mythical million-mile battery.
This article requires
Premium Subscription
Basic (FREE) Subscription
Enjoy 12 months of exclusive analysis
Regular insight and analysis of the industry's biggest developments

In-depth interviews with the industry's leading figures

Annual digital subscription to the PV Tech Power journal

Discounts on Solar Media's portfolio of events, in-person and virtual
Or continue reading this article for free
While Tesla stockholders in attendance at Battery Day honked the horns of the electric cars they'd been given to sit in, in lieu of applause at many of the things Musk said – like some kind of frat party for incognito Transformer robots – we thought we'd collate some slightly more considered responses from a group of industry experts and commentators.
What follows is an examination, analysis and perspectives on the takeaways and highlights beyond the hype of Tesla's latest and most ambitious plans yet, from market analysts, technologists and more.
Today's blog focuses more on the strategy and vision Musk and Baglino unveiled – later this week will be a closer look at the forthcoming technology improvements they touted.
Strategy
"One very significant information was the claim that Tesla alone will produce 3,000GWh (or 3TWh) of batteries by 2030," Johan Soderbom, thematic leader for energy storage at EIT InnoEnergy said.
"This is more or less the same number that today is predicted for the entire global battery industry."
EIT Innoenergy is part of the European Union's European Institute of Innovation & Technology (EIT) and leads efforts to accelerate innovation in the sustainable energy transition. Meanwhile Tesla's stated mission is to "accelerate the world's transition to sustainable energy". EIT InnoEnergy is taking the lead on the European Battery Alliance, through which billions have been invested into a top-to-bottom battery manufacturing value chain on the continent.
What's really interesting about that, Johan Soderbom said, is that Tesla is "launching the same value chain approach driven by EBA with a plan to secure raw material supply for the North American operations from North America and even from Nevada."
However, while Tesla committed to aggressive cost reduction aims (56% reduction in cost per kWh and 69% reduction in required investment per gigawatt-hour of manufacturing capacity), EIT Innoenergy felt that "one significant issue was not addressed".
"Given the very high dependance on raw material prices particularly in relation to the dramatic uptake in demand raises serious question marks. The very low 54 $/kWh that was projected is definitely very interesting in order to put a US$25,000 car on the market," Johan Soderbom said.
"But even with much less cost reduction there will be an enormous market opening, specifically if the total cost of ownership is taken into account."
While Tesla's CEO framed the day's announcements "in the context of their potential cost reductions," and referred to mostly with metrics that could be easily understood by shareholders, such as production costs and profitability of each step, "there were two strategic elements" that underlaid Tesla's entire battery strategy, Chloe Holzinger, senior analyst for batteries & energy storage at research firm IHS Markit said.
"The first is that accelerating climate change demands rapid innovation. Tesla's battery strategy focused on near-term solutions that are closer to commercialisation, such as silicon anodes and process efficiency improvements.
"Longer-term technologies, like solid-state batteries and lithium metal anodes, were conspicuously absent. While promising, these technologies are still too early in their development to be included in any automaker's or cell manufacturer's three-year plan," Holzinger said, adding that despite this, IHS Markit does expect many of these longer-term improvements will be seen in commercially available vehicles by 2030.
The second strategic element that Holzinger pulled out, is that Tesla is focusing on building its own domestic and localised supply chain for lithium-ion batteries.
"When explaining Tesla's plan to become vertically integrated throughout the entire Li-ion battery value chain, Musk referenced the complex logistics required by today's globalised supply chain. In addition to this, Tesla's goals also align with the US federal government's initiatives to support a domestic mining industry."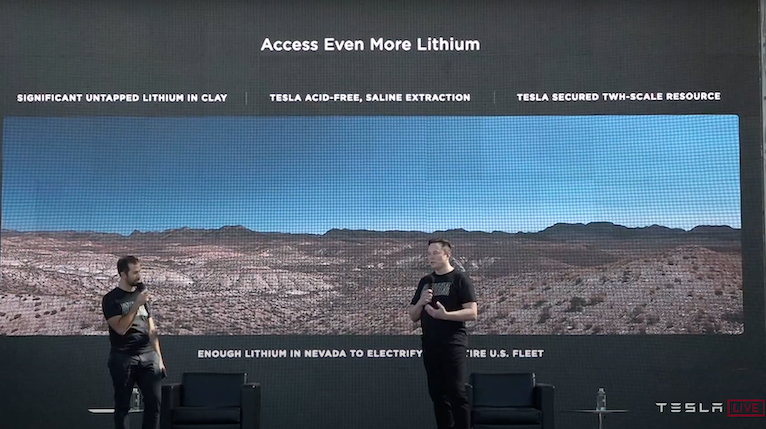 Cobalt and other raw materials
A vertically integrated supply chain strategy requires immediate access to raw materials. Tesla is aiming to eliminate the use of cobalt in its batteries, which would not only insulate the company from supply chain shocks and constraints but also end its involvement with one of the most problematic parts of the supply chain as it is today for many types of batteries. The company also wants to maximise the use, at least for its US operations, of locally-available lithium reserves, particularly from a site it has rights to in Nevada.
"Committing to cobalt-free cathodes removes the need to import cobalt from the Democratic Republic of the Congo, while building cathode production and lithium extraction facilities in the United States reduces the need to import these materials from Asia, Australia, and South America," Chloe Holzinger says, while adding that it will be "a long time until these facilities would be able to support all local demand".
That vertical integration play could take at least five years to fully realise, James Frith, head of energy storage at BloombergNEF, said in a statement sent to the site. While if Tesla can stay on track to develop mass manufacturing of high nickel content cathodes as Musk and Baglino claimed it can, the company would truly be making every part of its vehicles in the US, Chloe Holzinger says. The IHS Markit analyst conceded that "nickel remains the outlier" and that final piece might be a major constraint according to Bloomberg's James Frith.
"The company needs nickel suppliers to accelerate their efforts to bring more nickel online. As things stands, nickel supply could go into a deficit in 2023," Frith said.
"Nickel availability will also depend on the flexibility of stainless steel producers to use Class 2 nickel, rather than the Class 1 nickel needed for EV batteries. In addition to encouraging miners to produce more, Tesla will balance its chemistry mix based on the availability of nickel."
EITInnoEnergy's energy storage expert Johan Soderbom agreed that nickel is one of the far materials that is already constrained in its supply, while lead times for mines and refiners are "typically seven years or more – and there are not many new developments in the pipeline".
Sustainable and circular ambitions still light on detail
Tesla's vertical integration plans – touted since before the Nevada Gigafactory was built – "seem more concrete now," Bloomberg's James Frith said, as the company has "developed its own processing technique and claimed to have acquired the rights to a lithium deposit in Nevada," but, as with other materials, establishing that lithium supply chain will take time.
"Building and scaling up mines is a slow process, so it is unlikely the company will be fully vertically integrated in the next five years," Frith said.
EIT InnoEnergy's Johan Soderbom said that there is "no question" that there is sufficient lithium in the ground, but it is uncertain if that lithium will be available in the right quantities "with the right quality".
It's also interesting therefore, Soderbom said, that Tesla is "following suit" with the plans of Sweden-headquartered battery giga-manufacturing start-up Northvolt – a company led by a former Tesla executive and with the backing of EIT Innoenergy and the European Battery Alliance – and integrating some downstream recycling capabilities with upstream investments in mineral sourcing.
A team of experts from European "innovation consultancy" Bax & Company said the elimination of cobalt from Tesla batteries, addresses the many concerns held about the negative impacts cobalt mining has had on "local ecosystems, as well as societies," with the Democratic Republic of Congo's industry still using "artisanal miners, often underage". Between 60% to 70% of the world's industrially used cobalt comes from the DRC and while not all of it comes from artisanal mines, Tesla shareholders heard of those concerns during Battery Day.
Moving to a nickel-lithium cathode, along with other steps to improve manufacturing, would "help reduce waste and enable simple recycling, fostered by more sustainable and local extraction," the Bax & Company team said.
BloombergNEF's James Frith said that sustainability "was only discussed in passing," during the presentations, a takeaway shared by EIT InnoEnergy's Johan Soderbom. Both experts pointed out that the dry coating manufacturing setup for battery cells, removing the need for solvents and water to put electrodes into the jelly roll of the battery cell, was perhaps the only innovation that was highlighted that could reduce directly reduce emissions in the manufacturing process.
'Herculean task'
Tesla's goal of reaching 3TWh of battery manufacturing capacity by 2030 is a "herculean task," James Frith said. BloombergNEF is tracking 1.9TWh across all manufacturers globally by 2025 as things stand. Whether the carmaker-turned-energy company can make it while achieving the hoped-for 69% reduction in investment cost per GWh is a tough call, Frith said, since Tesla has "both scaled rapidly and fallen short of many of its targets in the past".
If facilities being built today are coming in a US$100 million/GWh of investment in the US, Tesla will need to achieve US$29 million/GWh production lines.
"To do this, it will dramatically increase the size of each production line. Current lines produce 2- 4GWh/year; Tesla's new lines will be able to produce 20GWh annually. This means it will have to install only 150 lines to meet this target," the Bloomberg analyst said, requiring the company to scale new pilot lines to full production from 10GWh in 2021 to 200GWh by 2022. Frith said that beyond that latter date, the details of how Musk and co intend to do this "become fuzzier".
"By contrast, there are more than 250 production lines now in operation to manufacture just 500GWh of capacity commissioned."
Bax & Company's analysis team said that Tesla's announced plans to increase cell production capacity while continuing to work with external suppliers that include Panasonic, LG Chem and CATL shows "their intention of ramping up vehicle capacity and gaining a higher EV market share," in line with Musk's announced intent to bring to market a "truly affordable" US$25,000 electric car.
"In fact, the cheaper EV will justify the additional production capacity, which will in turn allow for the economies of scale to reduce its cost," a note sent to Energy-Storage.news co-authored by Bax & Company materials scientist Marcos Ierides with innovation consultant Maarten Buysse and analyst Beatriz Pérez said.
As mentioned earlier, there'll be further reactions on the specific technology improvements Tesla discussed introducing, on Energy-Storage.news later this week.
Cover Image: The 'Herculean scale' of Tesla's ambitions laid bare. Image: Tesla 2020 Annual Shareholder Meeting and Battery Day livestream screenshotted by Andy Colthorpe.