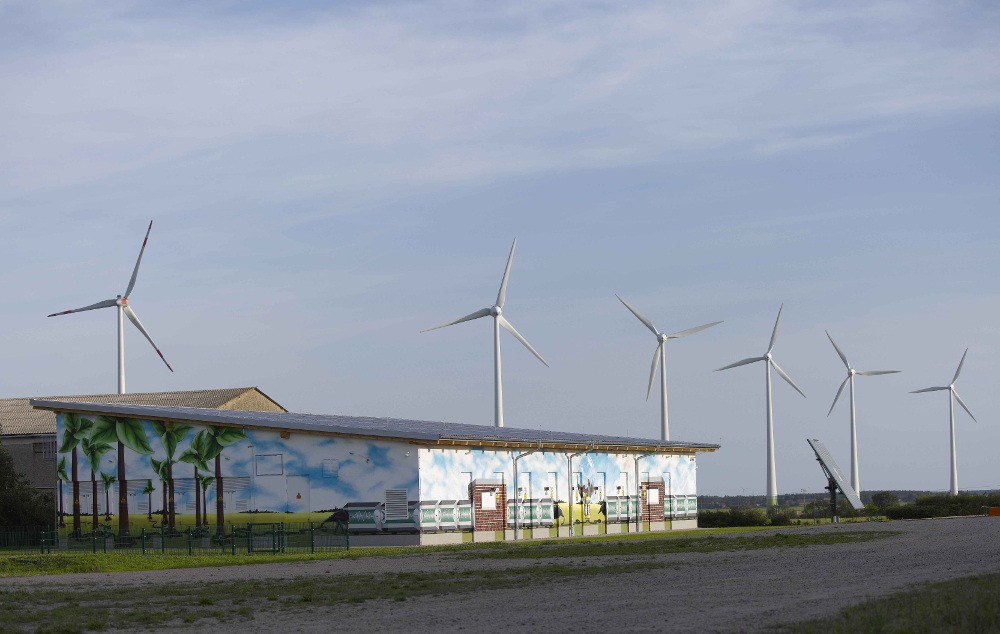 Batteries, hydrogen and other energy storage should be a "key topic of energy policy," in the EU, Members of European Parliament (MEP) that worked together on formulating a report into the role of storage in a decarbonised, fair and secure energy system have said.
A webinar hosted yesterday by the European Association for Storage of Energy (EASE) welcomed MEPs Claudia Gamon of Austria, Maria Spyraki from Greece, Ville Niinistö from Finland and Denmark's Niels Fuglsang onto a panel alongside Dr Tudor Constantinescu, Principal Adviser to the Director-General for Energy in the European Commission.
This article requires
Premium Subscription
Basic (FREE) Subscription
Enjoy 12 months of exclusive analysis
Regular insight and analysis of the industry's biggest developments

In-depth interviews with the industry's leading figures

Annual digital subscription to the PV Tech Power journal

Discounts on Solar Media's portfolio of events, in-person and virtual
Or continue reading this article for free
The MEPs gave a series of recommendations based on their report which covered ways to create a "comprehensive European approach to energy storage". Claudia Gamon, who led its creation, explained that the report is what is called an "Own Initiative" report: enabling MEPs to "think aloud" on a topic and "what can be possible" and then put it before the European Commission, which then makes decisions on implementation.
Gamon said it had been a "constructive" as well as "positive experience" to collaborate with colleagues from other EU Member States. As Energy-Storage.news reported back earlier this year, the report was adopted by the European Parliament with an overwhelming majority, putting it firmly on EU policymakers' agenda.
It brings together both the need to decarbonise Europe and the significant rise in electricity demand expected on the continent in the coming years. There is a need for energy storage to be "one of the main topics in energy policy," Gamon said, otherwise problems of security of energy supply will arise.
As EASE president Eva Chamizo Llatas – who is also Director of European Affairs and Head of the Iberdrola Brussels Office – pointed out in her opening remarks, key points that need to be addressed include adopting a technology neutral approach and creation of a level playing field. There is also a necessity for "market forces to foster innovation" and finally the removal of regulatory barriers.
While the EU's Clean Energy Package made a good start in addressing many of these issues, the EASE president said, the co-authored report also had been right to point out that there is a need to go further and to identify specific other barriers such as the need for smoother permitting processes for projects.
Network fees, green hydrogen, transparent supply chain, energy poverty and the prosumers: MEPs make their points heard
The assembled MEPs gave specific recommendations and areas that should be focused on, both in their brief individual speeches, and also in response to prompting via questions posed by EASE secretary general Patrick Clerens, the session's host and moderator. These included:
So-called double taxation and network charges have come up in many talks with stakeholders. While regimes vary across many different Member States, in general the grid was not designed with energy storage in mind. Therefore, even in leading renewable energy regions such as Germany, energy storage systems are charged twice in network fees or levies for putting energy into the grid as well as for drawing energy from it. There are "many options on the table" that can be discussed, Claudia Gamon said.
The strategic importance of manufacturing batteries in Europe, as well as the importance of transparency from a sustainability perspective. Gamon said that while lithium-ion batteries are state-of-the-art devices, non-lithium alternatives may emerge in future, while cobalt-free batteries should be "first on the agenda". Manufacturing of batteries should also be as green as possible: "the more they are produced in Europe the greener they are," Gamon said, adding that this is "also a political topic, a strategic political topic" for Europe to reduce dependency on imports. Recycling of batteries is also an important aspect of the supply chain, Gamon said.
Maria Spyraki MEP said that increasing the capacity for research and innovation is vital. A "battle" to retain funding for programmes such as the Horizon Europe innovation drive lies ahead, Spyraki said.
The role of hydrogen and green hydrogen in particular needs more clarification, following the publication of the EU's Hydrogen Strategy earlier this year, Spyraki said. Related to that, the role of existing infrastructure and natural gas as energy transition enablers needs immediate examination and investment, especially with Greece and other countries looking to retire lignite generation power plants in the near-term.
Ville Niinistö MEP said that now is a "key period for energy policy in Europe," and that energy storage is a big part of making the transition to renewables as economically and sustainably as possible. Niinistö agreed that there should be a focus on green hydrogen – especially for areas such as maritime and heavy industry that are not easy to electrify.
Niinistö also said that the EU needs to think about the changing relationship between citizens and energy. From a simple consumer-producer relationship to an energy system built around not just centralised generation but also local energy production and storage, the system needs to become more sophisticated to keep up. Things like real-time energy pricing and vehicle-to-grid (V2G) and batteries as storage will help the system become "more effective', the Finnish MEP said. Ville Niinistö also said that thermal energy storage can help absorb surplus renewable energy production and help keep electricity prices low.
Some 50 million Europeans are in energy poverty today, MEP Niels Fuglsang said. While there is perhaps a wider debate to be had there on growing inequality, Fuglsang said, "storage is a key element in fighting energy poverty". "If we go in the direction of renewables, we also have a more unstable energy system unless we can store energy and provide to people that need it. EU needs to invest in energy storage to fight energy poverty. That's an important message from this report," Niels Fuglsang said.
Fuglsang also said that money being spent – taxpayers' money – on supporting the import of shale gas and oil and natural gas projects should end. Instead, that money should be sent "towards energy storage projects that are built on sustainable energy, on renewable energy," the Danish MEP said.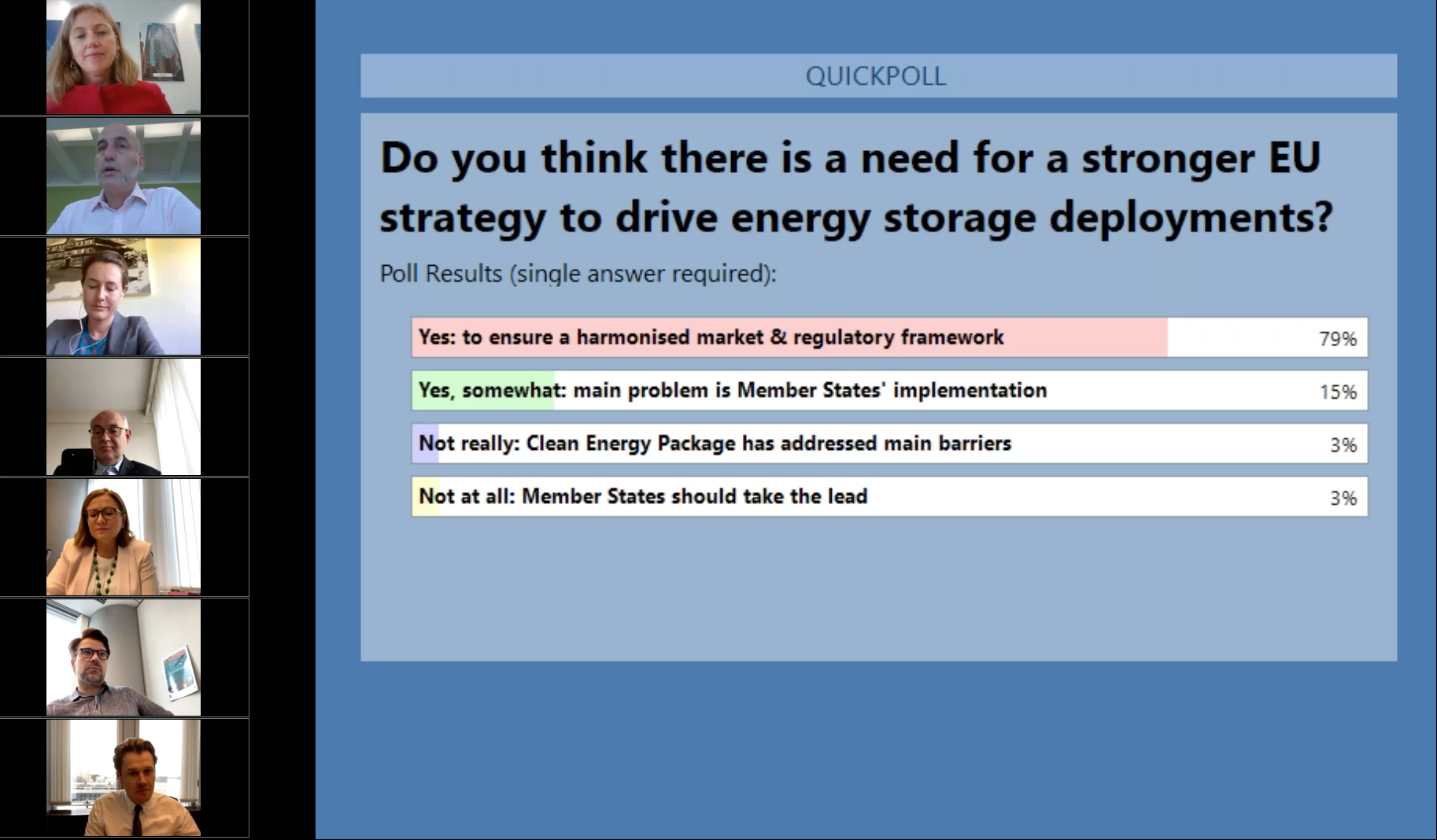 'Key enabling role for energy storage', European Commission Principal Adviser says
Following their remarks and questions from EASE's Patrick Clerens, the European Commission's principal adviser to the Director-General for Energy Dr Tudor Constantinescu responded with a brief overview of how the EC is looking at energy storage.
According to the adviser, the EC "very much welcomes" the European Parliament's resolution on formulating a comprehensive approach to energy storage. At a technology level, but also in terms of developing policy understanding and direction at European level, Constantinescu said it was "a very good approach which will help commission and member states, including the most vulnerable ones."
Constantinescu agreed that Europe needs to do more to "make storage an integral part of the energy system," through a technology neutral approach, although he conceded that it appears electrochemical storage at present seems to have the most potential for renewables integration today.
Agreeing with the assertion from the MEPs that a whole system-level approach needs to be created, the EC adviser said that energy storage in the energy transition has "a key enabling role which has to be exploited".
"On one hand we have to remove existing barriers, on the other we have to create a level playing field. The Clean Energy Package tries to do this – we still need to develop network codes, flexibility regime and all that. We need to develop incentives for all technologies to play their potential role in an optimal way," Constantinescu said.
While the EU Green Deal proposals are still on the table and the COVID-19 pandemic still ongoing, Constantinescu said that both the need to invest in clean and renewable technologies and stimulate economic recovery from the coronavirus-induced recession "work together very well".
Finally, he said, the energy transition must work to the benefit of all stakeholders. The co-existence of large energy production facilities with distributed ones will "be a challenge," but energy storage can support both.