We have often heard that while batteries and other hardware may be the most visible and talked-about components of an energy storage system, it is often software that defines what that energy storage system can do.
The recent acquisition of Advanced Microgrid Solutions (AMS) saw energy storage technology provider and system integrator Fluence take on a company with "one of the most powerful AI-enabled software engines available in the industry," according to Fluence CTO Brett Galura.
This article requires
Premium Subscription
Basic (FREE) Subscription
Enjoy 12 months of exclusive analysis
Regular insight and analysis of the industry's biggest developments

In-depth interviews with the industry's leading figures

Annual digital subscription to the PV Tech Power journal

Discounts on Solar Media's portfolio of events, in-person and virtual
Or continue reading this article for free
Fluence launched its sixth generation of battery energy storage systems earlier this year: technology agnostic, modular systems aimed at the grid-scale, solar-plus-storage and commercial and industrial (C&I) market segments. Now, the company also has AMS' artificial intelligence (AI)-enabled optimised bidding software for energy storage and renewable energy assets in its suite of offerings.
The announcement earlier this month "illustrates how system integrators [like Fluence] are diversifying though a clear digital strategy and advanced software capabilities," IHS Market research manager for energy storage Julian Jansen told Energy-Storage.news as news of the deal broke.
Energy-Storage.news editor Andy Colthorpe asked Fluence CTO Brett Galura and former AMS CEO – now Fluence's chief digital officer – Seyed H. Madaeni some key questions about the acquisition: what the two companies have been working on, and what sort of combined capabilities each will benefit from and be able to leverage going forward.
The two companies have been working together since 2019 – what sort of work have you done together so far and what do you think can be achieved going forwards?
Brett Galura, Fluence: Fluence is on a mission to change the way we power our world. A big part of that involves energy storage as we transition to clean energy. Storage is the first truly digital asset that you can put on the electric network. That means the smarter we are with digital, the better job we can do powering the entire network. AMS plays a huge role in that on the markets side.
We've partnered with AMS for over a year now, working together to provide additional market functionality to Fluence customers. Bringing AMS into Fluence makes a lot of sense: it increases AMS' reach – we think we can expand the technology significantly in the markets we address – and it brings a new product to the Fluence portfolio.
Seyed Madaeni: In the past two years, AMS has been extremely focused on building AI and machine learning and optimisation for the sole purpose of optimising and operating assets in different wholesale electricity markets. Our software platform is built on bidding algorithms to provide revenue for renewable assets like wind and solar and storage.
One philosophy we had at AMS that resonates with Fluence is technology agnosticism. Our software can provide value for different assets instantaneously. Fluence pursues the same objectives of being technology agnostic, which initially allowed collaboration in the form of a channel partnership. The combined offering we are now providing as a company, we were previously providing through a channel partnership.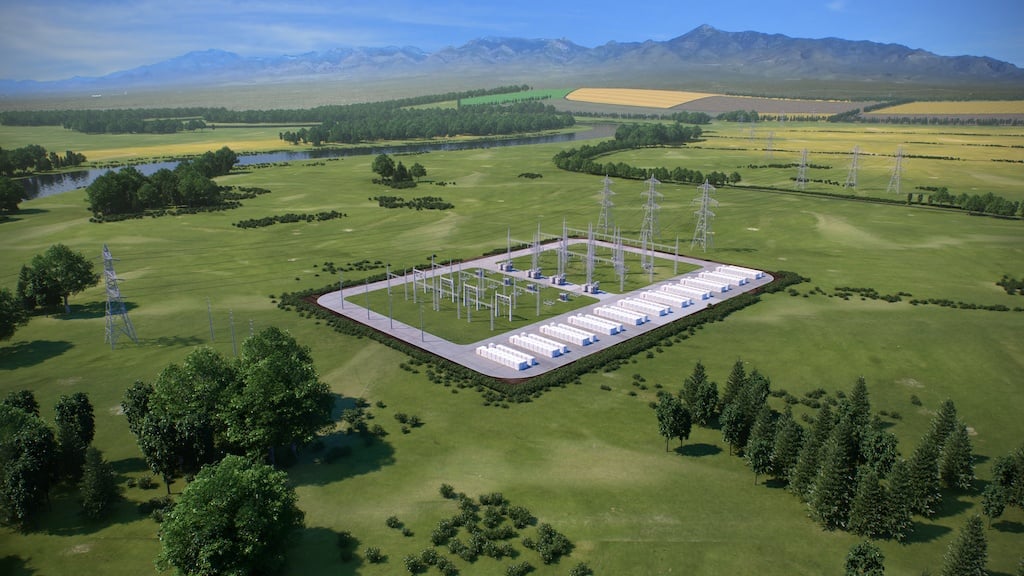 'We've really passed the proof of concept phase'
Is it fair to say AMS has had its biggest success in the North American and Australian markets, while Fluence is approaching a large number of territories (we've just reported on deals in Chile and South East Asia to name but two other markets). Will this make AMS' proposition a more global one?
Seyed Madaeni: Yes, we are currently in two markets. AMS has focused on the Australian National Electricity Market (NEM), which is incredibly complex and volatile, as well as the California ISO. The acquisition will enable us to bring our technology to more markets globally in the long-term, but we're being really thoughtful about how we do that.
Fluence has been perhaps best known for its work in the utility-scale segment, but released a product aimed at the commercial and industrial (C&I) space earlier this year. How will the acquisition of AMS and its platform(s) build upon progress in these different segments?
Brett Galura: We've been focused on utility-scale because that's the part of the market that can see the most value. There are behind-the-meter opportunities in C&I, and it's absolutely another market segment we're developing.
But the initial value is accruing to generation-like assets owned by utilities or developers.
AMS conversely has been well known for its work in the C&I and virtual power plant markets – what will the acquisition by Fluence mean for AMS and the scope of its activities?
Seyed Madaeni: AMS started off in C&I / behind-the-meter and virtual power plants but sold that business earlier this year to Stem Inc. It pivoted in 2018 from a project development company to a technology company with a software-as-a-service business model focused on optimising front-of-the-meter, utility scale assets.
We've really passed the proof of concept phase. AMS is optimising about 15% of all the wind and solar assets in Australia. For us to go global and be able to scale, going from 2 countries to 22 countries, we needed a technology-oriented partner that not only shared the same mission and vision but is big on digital technology. Fluence gives us the technical and marketing support to go global and bring the advantages of this AI-driven software to more and more users.
We are excited to have the backing of Fluence and work to integrate our offering more tightly with their technology, but also to continue to provide it as a standalone software product for renewable energy and non-Fluence energy storage assets. The goal AMS and Fluence share is to create a more open, efficient ecosystem that advances the energy transition as quickly as possible.
We have heard that the addition of AMS' technologies and available services can improve the return on investment on energy storage assets – a jump from around 10% to as much as 30% in going from manual trading to using the software and halving payback time from six years to three. That sounds significant, but how will it be achieved and what sort of assets will this be applicable for?
Seyed Madaeni: Here we are talking about short-duration, front-of-the-meter battery assets (0.5 hour to 2 hour) located in dynamic electricity markets like the Australian NEM and CAISO. In these markets, we generally see revenue uplift figures of 50-100% vs. a human trader bidding batteries into the system.
The reason for the uplift is that market conditions are increasingly volatile and constantly evolving through the trading day. AMS's algorithms use A.I. and state-of-the-art optimisation technology to crunch hundreds of thousands of decision variables every few minutes. Human traders cannot handle this complexity, and so they leave significant value on the table.
Consider the example of the Australian electricity market. Traders in this market have the opportunity to bid every 5 minutes. The batteries in this market that are being traded by humans are bid 5-10 times per day. AMS's battery bidding algorithms bid batteries every 5 minutes (i.e. 288 times per day). This precision trading strategy is what delivers the revenue uplift for storage assets.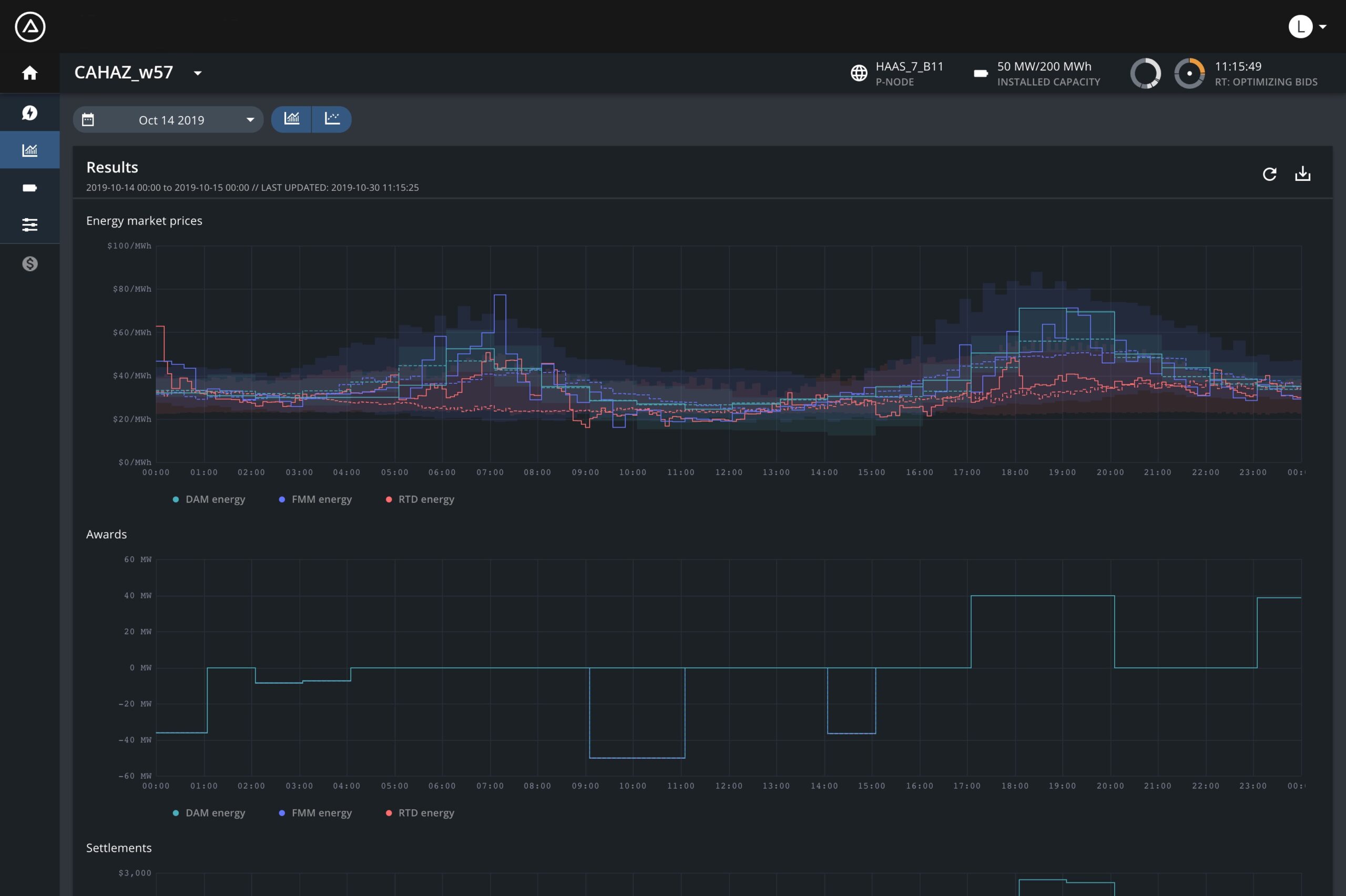 'Digital applications are critical to delivering value'
We have seen big changes in the US regulatory space recently, such as FERC Order 841 and Order 2222 that could improve the economics and benefits of distributed energy storage and other DERs. Do you have a view on how important these regulatory changes could be and are there any other big changes either taking place now or expected in future that you think could be transformative?
Brett Galura: We're seeing the regulatory landscape adapt steadily to the reality that energy storage – both behind-the-meter and in front-of-the-meter – delivers tremendous value for the grid. The theme connecting these orders is that storage improves the economics of our electric grid, and wholesale markets need to adapt to allow consumers to receive the full benefits of storage.
As an industry, we're in a good place today, where storage makes economic sense in every market and is beginning to penetrate at greater scale. Into the future, we expect further improvements around the mechanics of market dispatch, storage as a transmission asset, hybrid resource participation, and capacity qualification, to enable the grid to capture the benefits of storage more fully.
On a related note, what else still needs to happen for opportunities for energy storage to enable a clean energy future to really open up, both in the US and in other markets?
Seyed Madaeni: A lot of it is education and getting people comfortable with really advanced technology. We're using AI software in algorithmic trading to manage day to day monetisation and wholesale bidding and market-facing activities that tie to the profitability of an asset.
We're working against the status quo: most of these functions today are done using 20th century software, mostly using Excel spreadsheets.
We spoke to an analyst at IHS Markit about the acquisition, and we heard that the deal "bolsters Fluence's strategy to create a digital value proposition that can command a premium in the market". We also heard that this strategy may also help the company "avoid being pulled into fierce price competition" in the energy storage space. Is this accurate and so in a big picture sense, how do you see the energy storage (and related industries particularly renewable energy) developing in the coming years?
Brett Galura: Our goal is to provide packaged, tailored solutions that meet customer needs. As costs have come down dramatically, the industry is increasingly being driven by the ability to bring more and new value to customers. We believe digital applications will be critical to delivering that value, particularly as things become more complex.
Seyed Madaeni: These assets are critical elements of modern, sustainable grid – the more we can take advantage of these assets, the faster we can transform the way we power our world. The smarter the assets, the smarter the system. This acquisition is driving toward value-driven propositions for asset owners, making the grid more affordable and reliable, and lowering emissions across the world.
Cover Image: AMS' machine learning price forecasts assessing opportunities and optimisation of battery assets in the Australian frequency control ancillary services (FCAS) market. Image: Fluence-AMS.
This article has been amended to reflect that AMS' CEO Seyed H. Madaeni is now chief digital officer at Fluence following the acqusition.