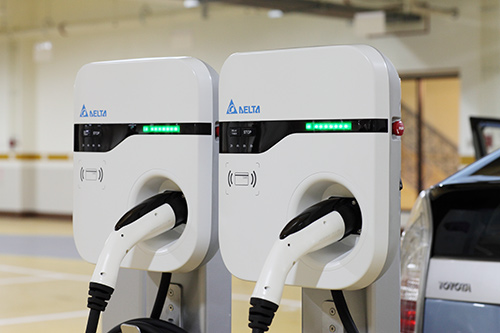 The Thailand subsidiary of Delta Electronics, which makes equipment including solar inverters, has confirmed that it is investigating energy storage systems as part of a clean energy drive, following reports in local press.
Earlier this week, Thai news outlet Bangkok Post said that Delta Electronics Thailand, an arm of the Taiwanese electronics and engineering solutions manufacturer, was "studying the feasibility of an energy storage business in response to the global popularity of electric energy".
However, Delta Electronics representatives in Thailand told Energy-Storage.News on Thursday that while the general gist of the report was correct in stating that the company is exploring energy storage solutions for Thailand's grid network and business users of electricity, a headline in the Post which stated Delta is building a 500MW demonstration project in the country was inaccurate.
David Nakayama, a marketing specialist and spokesman said that the project, at a Delta Electronics production facility on Bangpoo Industrial Estate, Bangkok, will be a 500kWh system, adding that the project was still in its early stages.
"This project is still under development and as such our company may disclose details or further developments in the future," Nakayama said.
The Bangkok Post spoke to Delta representatives, including the company's southeast Asia director Kittisak Ngoenngokngam, who was actually meeting with journalists to discuss Delta's new products in solar and EV charging. Ngoenngokngam was quoted as saying that Delta is investigating opportunities both at home and overseas for storage.
Other regional divisions of the company are already active in energy storage markets elsewhere. It makes container cabinets, backup power battery modules and other components as well as complete systems and compatible inverters.
Last year, Energy-Storage.News heard from the company's sales leader for the EMEA region, Andreas Hoischen, that as the global energy storage market gradually reaches maturity with new markets opening up all the time, there is still a real role for technology providers to play in educating customers and investigating the wider values of the technologies and their applications.
"I think that is an important point, because in fact the potential customer who is putting this kind of system in place is looking at the manufacturer to be the specialist in order to provide the technology," Hoischen said.
"They are very often running it more from the business point of view, but not from the technology point of view. So we as manufacturers need to fulfil this technology leadership position in order to advise the customer which technology to use."
The parent group just reported its financial results for the first quarter of 2018, with consolidated revenues of NT$50,870 million (US$1712 million), net income after tax of NT$2,781 million, making NT$1.07 earnings per share.