Walking around Energy Storage Europe this year, hoping that as a British citizen I won't be needing a VISA to come back to Germany next year somehow, it was obvious that the show, like the market, has grown from a small handful of "strong believers" as one source put it, to a forward-looking show focused on a 'business-as-usual' scenario.
"We're not in the discovery phase anymore, we're almost in a run-of-the-mill phase," Olivier Chabilan, product marketing manager of Skeleton Technologies says.
This article requires
Premium Subscription
Basic (FREE) Subscription
Enjoy 12 months of exclusive analysis
Regular insight and analysis of the industry's biggest developments

In-depth interviews with the industry's leading figures

Annual digital subscription to the PV Tech Power journal

Discounts on Solar Media's portfolio of events, in-person and virtual
Or continue reading this article for free
"The technology is already well implemented with the main key players, but there's still a lot of people turning up [at the trade show]", Chabilan said.
We heard from German trade association BVES' senior expert in communications and markets Valeska Gottke that there's a growing recognition that the aims of the country's Energiewende cannot be achieved without "better system integration of energy storage technologies". And not only in Germany, but across Europe and the whole world, there's a growing recognition that business-as-usual scenarios will require a holistic view of the entire energy system – from power to energy, from grid to off-grid and from transport to heat to electricity.
From lithium to ultracaps to hydrogen… and beyond
Energy storage is increasingly being seen as a key cornerstone and enabler of the transition to renewable energy worldwide. Yet for the most part, we have seen the advanced energy storage market dominated by lithium-ion batteries. Trade events such as Energy Storage Europe, which encompasses both downstream and upstream topics, gives providers of competing – or complementary – technologies, a chance to enter the conversation.
Skeleton Technologies is a maker of ultracapacitors and ultracapacitor-based energy storage systems and solutions. Ultracaps cost more upfront but can deal with aggressive cycling while delivering intense bursts of power to the grid. Skeleton Tech's systems have been deployed at a project on the Scottish Isle of Eigg, where ultracaps work alongside an existing flywheel system, improving the flywheel's reactivity.
"Battery cycles are limited, as everybody knows, whereas ultracaps can go to a million cycles," Chabilan says.
"If it's quick, intense bursts, very intense over a large number of kilowatts and very short time, you need to go for ultracaps, especially if you repeat this cycle many many times.
If you do not need to repeat the cycle many times and your ramp up and down requirements are gentler, then you need to look at lithium-ion. But you need a hell of a lot of lithium-ion to get to the power densities the customers may require.
Chabilan says there's a case for ultra-capacitors in the grid, "especially for blackouts, renewable energy management, frequency regulation," but of course, there were plenty of other non-lithium technologies on show.
At the other end of the spectrum was the Bluesky Energy Green Rock Battery. If it looks somewhat familiar, that's because you're being reminded of Aquion's aqueous saltwater batteries – the US start-up that promised a completely non-flammable, non-toxic battery format but went out of business just as it was starting to make waves internationally.
Bluesky was a client of Aquion's and was among those bidding to buy the company last year, but instead decided to launch its own second-generation saltwater batteries, aimed at the larger end of the residential market. Unlike ultracaps, the batteries are not energy dense and a 2.7kWh stack takes up a fair amount of space, but Bluesky is hoping that in cases where that isn't as important a consideration as safety and the overall ecological footprint.
And with a promotional video showing the battery safely not exploding when bullets are fired into it, or the company's CEO not dying when drinking used electrolytes from inside the battery, the saltwater battery certainly got attention that Bluesky will be hoping it can translate into sales.
Sector coupling, sector coupling, sector coupling
One of the benefits of having a broad range of technological solutions available for storing and then managing and using energy smartly, is that you can attack the big problems – even climate change – from a range of angles.
For the past few years, Energy Storage Europe, backed by local and federal government agencies, has pushed the agenda for sector coupling – finding ways to unite the decarbonisation of electricity, heat and transport in the energy transition.
One of the technologies primed to do this is hydrogen. Last year there seemed to be more focus on hydrogen than in the previous year in Dusseldorf, and this year was no different.
"I see big things coming up. People 10 years ago, they were talking about hydrogen electrolysis in the range of 100kW," Hans Schmitt, senior sales manager of AEG Power Solutions says.
"Today we are talking to people who want to install 100MWs! Really big stuff is on the way. It has to do with the evolution of the energy market and at the same time in the case of hydrogen to reduce the CO2 burden," Schmitt says, with ways to electrolyse hydrogen from renewables the desired outcome.
BVES' Valeska Gottke describes green hydrogen as a "flexible sector coupling tool", which can be injected into the gas grid as well as powering vehicles, for instance. Gottke said this form of long-term and flexible energy storage – and others – exemplify the aims of the second phase of the energy transition. After the rapid deployment of renewables should come their integration – with longer term storage or conversion options like power-to-gas having its own dedicated conference strand at the show.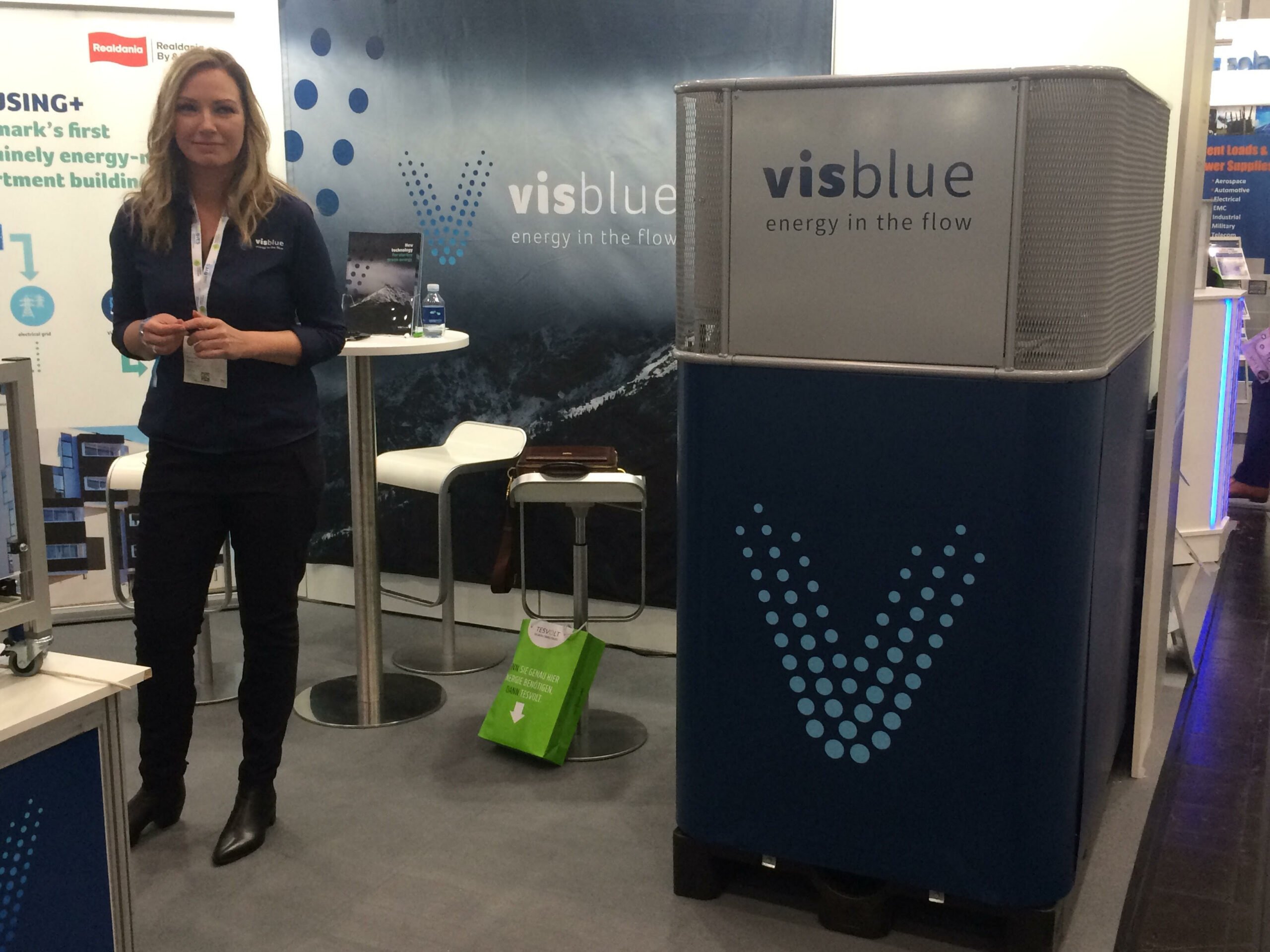 'Swiss Army Knife of the grid' reinvented
The other, most obvious trend dominating the energy storage space, and not just in Europe, is the growth of multiple application, or 'stacked' application systems.
"What's interesting to look at is that energy storage systems become more economically viable if you use them in so-called multi-use solutions. This one technology can be applied in many different ways," Valeska Gottke says.
Gottke talks about the way residential storage providers in Germany such as Sonnen and Senec have created behind-the-meter virtual power plants, or energy-trading communities between networked households. At large-scale, and in front-of-the-meter too, as certain grid services markets become saturated, storage systems need to become more and more versatile.
At the same time, many of the companies involved in Germany and the European energy storage market are looking to become more versatile. While the show demonstrated that there's a lot of demand for energy storage domestically, as the market matures even some of Germany's homegrown players are looking abroad and looking to broaden their suite of offerings.
Energy storage system provider Ads Tech brought an EV charger solution to the show which can enable the fast charging of multiple vehicles without causing unmanageable spikes to the grid, essentially by using integrated battery storage as a kind of buffer to grid demand.
"The biggest challenge [for EVs] is the charging infrastructure right now. Every manufacturer comes out with 100% electric cars. To provide that infrastructure is our challenge," Andreas Schimanski, head of sales at Ads Tech says.
While the fall of the feed-in tariff (FiT) regime provides an immediate economic case for households to self-consume solar energy rather than give it to the grid for free, Schimanski says nonetheless that there are other addressable opportunities for energy storage that are only now beginning to open up. One such example is a proposed plan to put batteries in mobile container housings, charge them from large wind farm installations overnight and then transport the storage systems to a point of demand for the daytime, such as a shopping mall.