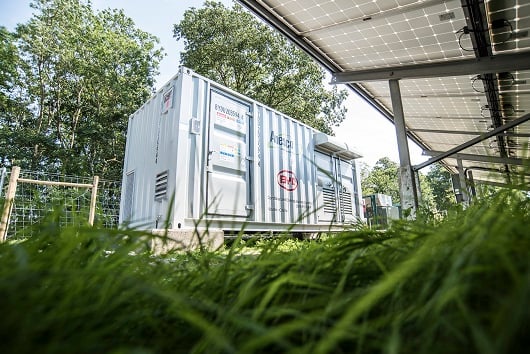 The UK government Department for Business, Energy and Industrial Strategy (BEIS) has incurred the wrath of battery storage asset owners by proposing significant changes to how their generation classes are derated within the Capacity Market (CM).
The CM is a mechanism co-ordinated to ensure "lights stay on" in the UK, with generators bidding to get paid for ensuring a proportion of their output is available for so-called stress events on the network. According to regulator Ofgem, the market, established as part of the ongoing Electricity Market Reform (ERM) process, is designed to incentivise the use of sustainable, low carbon technologies. Several energy storage developers have successfully bid into that market, since 2016 auctions.
This article requires
Premium Subscription
Basic (FREE) Subscription
Enjoy 12 months of exclusive analysis
Regular insight and analysis of the industry's biggest developments

In-depth interviews with the industry's leading figures

Annual digital subscription to the PV Tech Power journal

Discounts on Solar Media's portfolio of events, in-person and virtual
Or continue reading this article for free
The changes, which could see the majority of storage assets lose their current 96% derating status, could even be implemented as soon as the next T-4 auction currently slated for February.
Both BEIS and Ofgem have felt the need to consult on the proposals – outlined amidst a raft of other changes outlined in a consultation document published yesterday – following concerns raised by industry stakeholders that the current high rating of battery storage assets posed a threat to supply security.
It said that various industry stakeholders had raised the point that batteries participating in the CM had the potential to pose a risk due to batteries having shorter than required discharge periods, but remain rewarded as if they are able to generate electricity indefinitely in the same way as other generation types.
The government expects current battery designs to discharge at full capacity for periods of around 30 minutes to an hour, referencing the Enhanced Frequency Response tender in particular, which sourced battery durations of around 30 minutes.
This, the government says, would be of little use if stress events last longer than that battery duration; the performances of the batteries declines over time and, therefore, reduces their contribution to security of supply; or if batteries are not fully charged due to their participation in other commercial services.
The government therefore wishes to reflect these potential risks in proposed changes to the CM auction rounds relating to battery storage assets. It proposes to amend the battery storage asset class and separate it per minimum discharge time, ascending in 30 minute periods from 0.5 to four hours.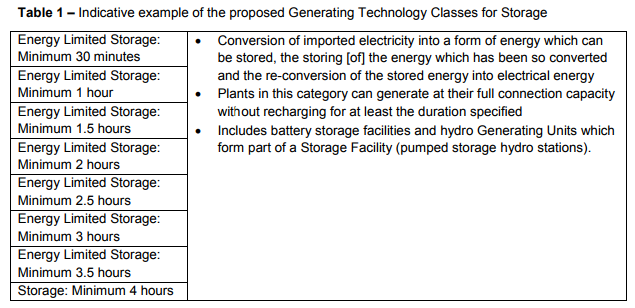 De-rating factors, which currently stand at around 96%, will also be changed as the government has concluded they are too high, perhaps swayed by previous historical performance and reliability of pumped hydro storage.
The proposed changes are to reflect the expected duration of that battery storage asset's participation in any stress event, with batteries only capable of durations of 0.5 – 1.5 hours set to be hardest hit.
The government does however state that it expects batteries capable of durations of four hours' energy storage to continue to be de-rated using current methodologies.
'Equivalent firm capacity'
The government's proposal in essence suggests that assets with shorter duration should be defined as 'energy limited' and be de-rated according to their 'equivalent firm capacity' (EFC), which is a measure of the amount of firm capacity that would be required to replace them to make the same contribution to the security of supply.
Those EFC values would be calculated using a simulation-based assessment similar to that already used to assess wind generators. The simulation would take into account various factors such as existing market penetration of storage, interactions with other commercial revenue streams such as EFR and FFR services, and the underlying reliability of the whole system.
That EFC value would be updated on a yearly basis to reflect changes in market penetration of battery types and system reliability.
Owners of battery storage assets would then be able to self-select the duration category and associated de-rating factor that should apply to them during the prequalification phase.
The government has however stressed that the rule changes will not be in place in time for the prequalification phase of the next set of auctions – the prequalification phase of which has already opened – so will therefore be selected after the final auction guidelines are published.
Holders of storage assets who do not agree with the applied derating for this specific auction, due to it being applied after prequalification, will be given a 10 day window to withdraw without penalty.
After auctions have taken place, the EMR delivery body will need to gather evidence to determine that capacity providers have not overstated their duration, which the government intends to facilitate through a testing regime.
Other proposed changes include the allowing of capacity providers to re-take metering assessments if necessary; the shifting of planning consent deadlines to January to avoid the Christmas period; strengthening of arrangements relating to satisfactory performance days; and the disaggregation of some of the generating technology classes to improve transparency.
BEIS' consultation document stresses that it expects the proposals to have a "minimal impact" on CM costs for the majority of businesses, but does go on to insinuate that storage and DSR stands to be hardest hit by the changes.
The document states that revenues to some kinds of battery storage projects are to be affected, but balances this with the expectation that deployment is unlikely to be affected significantly.
"The government supports the development of battery storage and DSR, which offers the potential for a cleaner, lower cost and more flexible power system; but wants this to happen in a way that is consistent with the continued achievement of high levels of security of supply through the CM," the consultation document states.
Work to be done
The timing of the consultation announcement – just days after the government and Ofgem signalled their intent to boost battery storage through various investments and policy changes – would appear counterintuitive, but the prospect of changes to battery storage derating has been mooted for some time.
Speaking at an industry event earlier this summer Rupert Steele, regulation director at Scottish Power, raised the risk of batteries "going flat" if there were to be a stress event that lasted longer than half an hour.
"We are pressing very hard for people to look at the rules around this to recognise that if things can only run half an hour then you can't give them the full remuneration of something that can actually run right through a stress event. You need to get these signals right otherwise you won't get the right products delivered," he said last month.
This followed Cordi O'Hara, director of UK system operations at National Grid, raising the subject at an event in March, where she said she believed that derating would occur but that work was needed to fully understand it.
"I think there's still plenty of work to be done on capacity but that's the nature of the beast because new technologies, understanding their evolution and contribution to the system, the way that they should be incentivised, and the revenue streams they should have access to is an evolving picture in new technologies and [on] forms of support or sufficient cost competition, there's more to go," she said.